1000 sycamore clones planted in Wroclaw! Ecological initiative of the international giant Selena company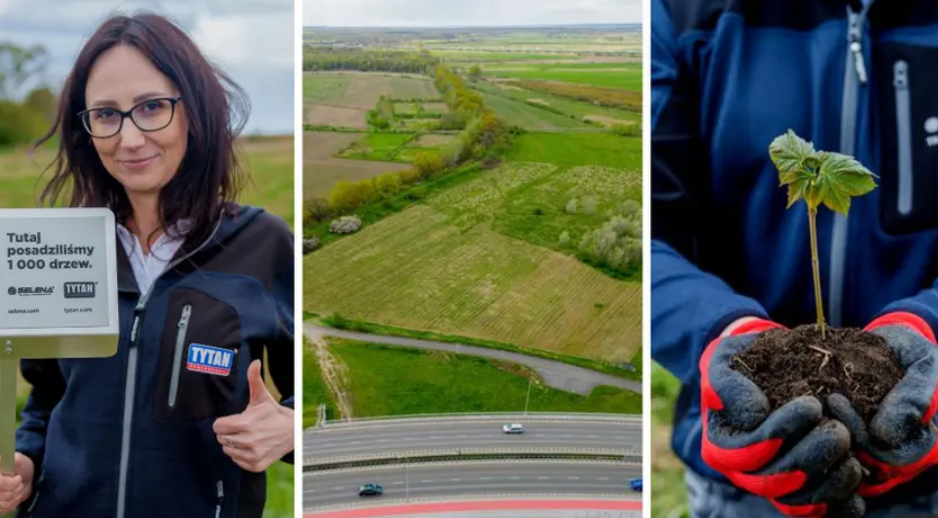 The Osobowicki Forest in Wroclaw has been enriched with 1,000 new trees - sycamore clones. This is an initiative of the Wroclaw-based Selena company, which does business on four continents. Why did they do it?
The Osobowicki Forest, part of Wroclaw's green lungs, has been enriched with new trees. The Selena Group, in cooperation with the startup Dotlenieni.org, planted 1,000 sycamore maples, thus expanding the green areas of the capital of Lower Silesia by a quarter of a hectare.
The new trees from the Selena company in the future will allow the production of about one hundred and forty kilograms of oxygen per day.
Located in the northwestern part of Wroclaw, on the right side of the Oder River, the Osobowicki Forest is a resting place for the city's residents and a refuge for many animal species. According to data provided by Dotlenieni.org, the new trees in the Osobowicki Forest will absorb up to 720 kilograms of carbon dioxide per year and, importantly, will allow the production of about 140 kilograms of oxygen per day.
Wroclaw is of special importance to us. Although our products are available on 4 continents, in 19 countries, making a total of more than 100 markets, it is in the capital of Lower Silesia that Selena Group's headquarters have been located continuously for more than thirty years. This is where we come from, so we want to bring added value to the local community.

Marta Michalowska-Tkocz, Global Brand Manager of Selena Group
What is Selena Group's vision of development?
Environmental activities are part of Selena Group's vision of sustainable development. They are one of the pillars of the company's business strategy. The Group, a manufacturer of construction chemicals, has adopted as its goal the delivery of products for climate-neutral construction, and at the same time it is undertaking cooperation with organizations that can support it in the implementation of green commitments.
Selena Group pledged to increase the number of trees in Wroclaw as part of a marketing campaign at this year's BAU World Fair for Architecture, Building Materials and Systems in Munich. The company invited its guests and customers to plant virtual trees, which then turned into real ones in areas in need.
- We feel a shared responsibility to build a sustainable world by providing high-performance solutions for construction, among other things, reducing the environmental footprint of construction projects, increasing the environmental and energy efficiency of buildings. For the benefit of ecology and the local community, we also want to act outside of business. Planting trees - in this case sycamore maples - is one example of our commitment," explains Marta Michalowska-Tkocz.
The Osobowicki Forest, part of the green lungs of Wroclaw, has been enriched with new trees
Based on the recommendations of Dotlenieni.org, Selena Group decided to plant trees of a native species - sycamore maples - in the Osobowicki Forest. These trees are less frequently attacked by pests, and more resistant to rising global temperatures, unlike species such as pine or spruce. Sycamore maples do better in local climates.
Selena international giant from Wroclaw
In mid-July 2022. Selena Group - a global manufacturer and distributor of construction chemical products, hailing from Wroclaw - celebrated its round 30th birthday with more than 250 employees and guests. The founder and main shareholder of Selena is Krzysztof Domarecki.