1,500 new jobs in Wroclaw. BNY Mellon has attractive proposals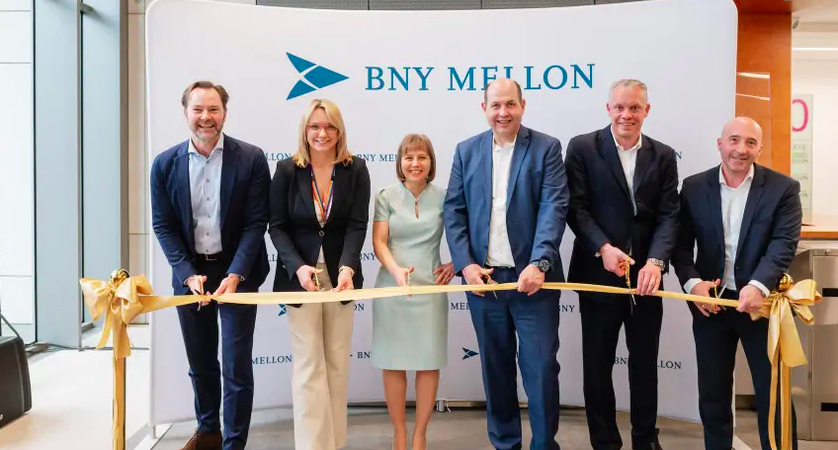 BNY Mellon employs 2,500 people in the capital of Lower Silesia, but some 4,000 specialists are expected to work there soon. Katarzyna Wiazowska talks with Roman Regelman, CEO of Securites Services & Digital at BNY Mellon, about the company's upcoming plans.
BNY Mellon has been present in Wroclaw since 2010. How has the company evolved during that time?
Next year, BNY Mellon will celebrate the 240th anniversary of the company's founding by Alexander Hamilton, the first US Secretary of the Treasury, who also helped create the US Mint - and his face is still on the $10 bill. We have been present in Wroclaw for 12 years and employ nearly 2,500 people here.
We aim to employ about 4,000 people at this location in the future. Considering that we have about 50,000 employees worldwide, Wroclaw is an extremely important location for BNY Mellon, already the Polish workforce accounts for 5% of our total staff, and soon it will be 8%.
Who are the specialists employed at the Wroclaw branch?
Our team in Wroclaw is extremely diverse, and we are very proud of that. There are young people with us, in the early stages of their careers, usually with higher education, many with postgraduate degrees. But also those whose careers are more advanced and were attracted to BNY Mellon by interesting roles.
We strive to attract well-educated people who are driven by curiosity. In the future, we will continue to look for such people in Wroclaw for a variety of positions - from technology to more specialized functions such as financial compliance, risk management or transformational project management. We are also diverse in terms of gender. Both the head and deputy head of the Wroclaw branch of the European Bank are women. We consider this to be our advantage.
Cooperation with 90% of major financial institutions
BNY Mellon is a global company. What does your business consist of?
As a global connector of capital markets, BNY Mellon is a provider of a platform through which institutions, our clients, build their businesses and individuals build their wealth. We have exposure to 20 percent of the world's investment assets and work with 90 percent of the world's major financial institutions. We leverage our market leadership to generate unique value for the success of our clients, and nearly 40 percent of our revenues come from markets outside the United States.
What do you consider to be the biggest success story in Wroclaw?
I am most proud of how the responsibilities and skills of our Wroclaw teams have evolved over the 12 years the bank has been in the city. Today, we employ people here who manage global processes and teams that are located in Western Europe and the US. Wroclaw employees also serve global customers from other countries and continents on a daily basis, often having direct contact with these customers.
These global and customer-focused roles are our company's greatest competitive advantage and the reason why many of our employees stay with us. We hire highly educated people and provide them with the opportunity to grow with us. They know that their career paths are not limited.
Philanthropy built into the company's DNA
It's not a well-known fact that BNY Mellon is committed to actively supporting the local community. What CSR activities are currently most important to the company?
We strongly believe in using the resources of our company and the talents of our employees to positively impact the communities in which we operate, especially in Wroclaw. We have a number of philanthropic partners here, and we also work with city authorities, universities, community organizations and charities. Philanthropy is in the DNA of our company. Just over a year ago, we witnessed the outbreak of the terrible conflict in Ukraine.
Our employees offered their time, their homes to the refugees, and we as a company not only supported them in these efforts, but also took our own actions. We have donated a significant number of laptops to Ukrainian students to enable them to continue their education, and our employees have volunteered more than 1,200 hours in projects supporting refugees arriving in Poland. We are very proud of the work we have done so far.
We will continue to help those affected by the conflict and provide ongoing support to many NGOs, including the Ukraine Foundation. However, our local efforts are not focused solely on people from Ukraine. We also support other charitable institutions, such as the Bonitum Association and the Przystanek Rodzina Foundation, working for the disabled or foster families.
So Wroclaw is very important for BNY Mellon's operations....
Wroclaw is one of six strategic locations for BNY Mellon's growth. We view our 12 years in Wroclaw positively and look forward to continuing operations here. We are a global bank, and this city has the potential to become a powerful hub for our operations and for our employees, creating new solutions and driving our customer-focused, culture- and performance-driven business.
Along with Manchester, Wroclaw is one of two strategic locations in the EMEA region. The office here is no longer where the core work is done. This part of our organization is already as significant as our other branches, where complex financial operations are carried out.
Thank you for the interview.