3M donated 150 thousand dollars for Polish language courses for Ukrainians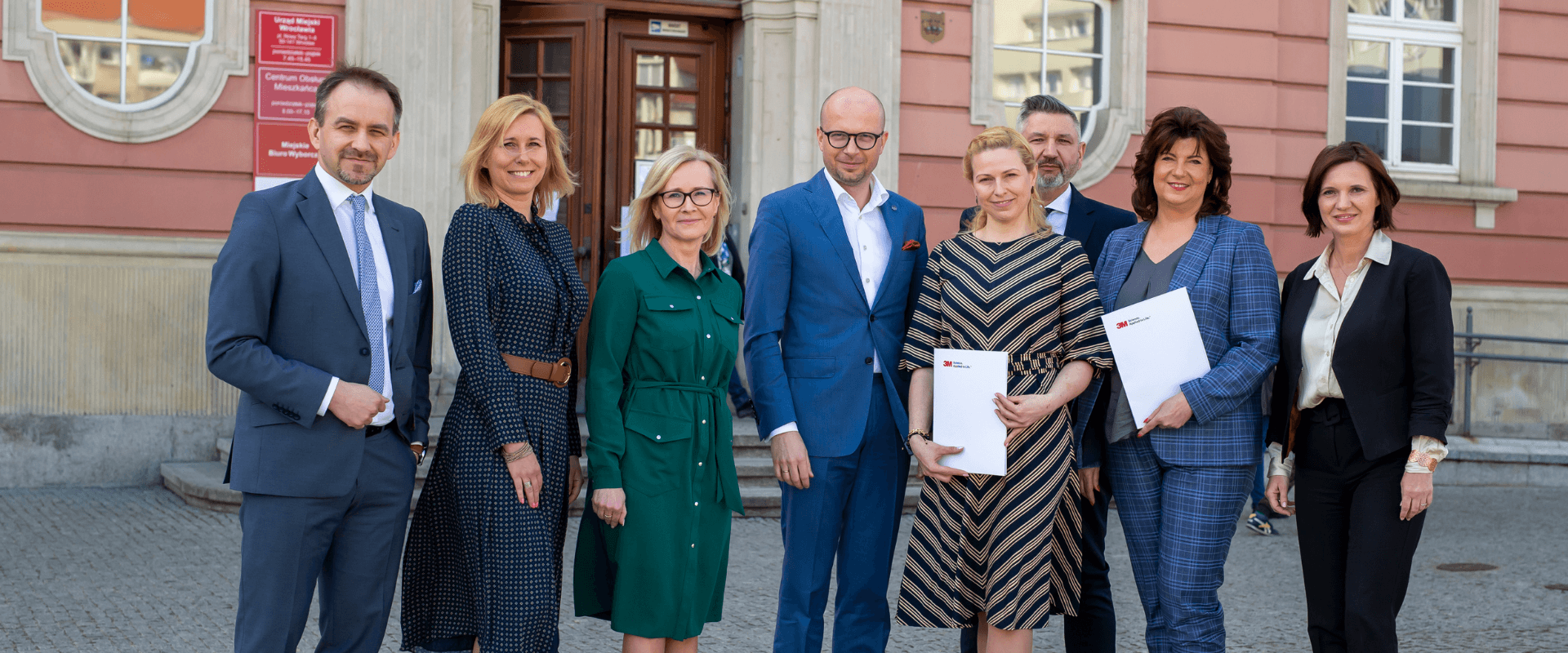 The 3M Company, through the Global Giving Foundation, donated $150,000 to the City of Wroclaw for Polish language courses for Ukrainian citizens who are settling here. The funds will support the Lifelong Learning Centre (CKU), which organizes courses for adults, as well as the new departments for students at 15th High School.
With the funds donated by 3M, the Lifelong Learning Centre will provide classes for adults, allowing them to integrate more quickly and adapt to the job market. Additionally, the donation will help fund day care centers for refugee children. The 15th High School will offer Polish language courses, psychological-educational assistance and career counseling. Necessary teaching materials will also be purchased.
- From the beginning, assistance for Ukraine has been based on many levels. It is a joint effort of local governments, non-governmental organizations and the private sector. I am glad that in this difficult moment, together we take responsibility for the fate of others. Integration and independence is extremely important for our Ukrainian friends. No matter how long they stay in our city. I would like to thank the 3M company for this initiative
The 3M company decided to support the aid activities carried out in Wroclaw. This is where the Superhub - one of the five largest 3M production centers in the world - operates.
- We're glad that thanks to our cooperation with the City of Wroclaw we can once again implement a long-term program that responds to the real needs of our surroundings. 3M has donated over $2 million to help Ukraine, including donations of medical products. Our employees are actively involved in helping the country, including 3M colleagues in Ukraine. We strive to respond promptly to their needs. The time has come for activities helping to activate new residents, and these are possible thanks to trusted partners
In agreement with the Department of Education and the Lifelong Learning Centre and 15th High School the scope of training was determined. Polish language classes will be conducted for adults, so that it will be easier for them, for example, to take up a job.
- Within the framework of the grant received from the 3M company we plan to launch 35 Polish language groups for refugees by the end of this year. Moreover, we will continue the activity of the day care center for Ukrainian children whose parents will participate in the courses or await the issuance of a PESEL number at the Wroclaw City Hall. We assume that about 1000 refugees will start learning Polish
Ukrainian students will also benefit from learning Polish under the 3M grant. In 15th High School already since September 2021, in 15 preparatory divisions there are students from different countries, mostly of Ukrainian origin. As of February 24, 2022, an additional 120 students from Ukraine have been admitted. The entire school community is integrating, creating an intercultural space for learning and development.
- The donated funds will finance Polish language courses for young people aged 15 to 18. Students who will start learning in the first classes of secondary schools in September 2022 will be offered an intensive summer course to prepare for the challenges of the new school year. All participants will have the opportunity to take advantage of psychological and pedagogical assistance, diagnosis of school difficulties, Oculus biofeedback training and career counseling classes. The necessary teaching materials will also be purchased, and the classes will be held in groups of up to 15 people not only at school, but also in various interesting places in Wroclaw. We plan to organize courses at A1 level from April to December 2022 for about 150 students of our high school and other high schools in Wroclaw who have come and will come to Wroclaw. We are open to the needs and will accept any student willing to learn
The Wroclaw Agglomeration Development Agency actively participated in the project. As a recipient of the 3M grant through the Global Giving Foundation it finalized an agreement with the Lifelong Learning Centre and the 15th High School.
- This is another project carried out by Wroclaw Agglomeration Development Agency and 3M in a similar formula. We would like to thank all the entities involved for their cooperation. Integration and quickly building self-confidence in new conditions for Ukrainian citizens fleeing war is crucial
Active help since the beginning of the war
By the end of March, nearly 3000 3M employees had donated more than $436,000 through the Emergency Relief Fund in Ukraine. The company has declared to double the amount donated by its employees, thanks to which over $872,000 were allocated to meet the basic needs of the victims of the invasion in Ukraine. This provided them with food and shelter, as well as access to education and psychological support.
3M has also donated an additional $2 million from the 3Mgives Program to directly support relief efforts for the people of Ukraine. These funds will provide financial assistance to non-profit organizations that are actively meeting the needs of Ukraine. In turn, 3M business groups are donating - through humanitarian organizations - medical supplies for doctors and other workers helping those in need. These include state-of-the-art wound care systems for surgeons at hospitals in Kiev, including dressing materials, hearing protectors for children and nearly 400,000 dust masks.
The 3M Community in Action
Polish 3M employees are also involved in helping refugees in many ways. Not only do they provide financial and material support, but they also help with transport and welcome refugees in their own homes.
- We host our 3M colleagues in Ukraine, as well as families of our colleagues who have not left their country. Currently there is a group of 48 people. We've created "friend zones" for each family so that our guests feel the support of volunteers on a daily basis
Various 3M locations in Poland collect, among other things, hygiene products, medicines and food. In Wroclaw, 3M is working in cooperation with the Wroclaw City Hall and the Wroclaw Agglomeration Development Agency. Transports with donations leave from 3M to the aid station CK Czasoprzestrzeń.
The 3M concern has also financed the purchase of clothes for a group of young football players from Kyiv, who came to Wrocław in February for a football tournament, but the war kept them in Poland for longer.
- Apart from implementing specific actions, we also have systemic solutions to support the helpfulness of our employees. Volunteers can take an extra day of vacation for this purpose, and we provide our Ukrainian employees with free psychological support in their own language
3M is also showing its support in a symbolic way - in both of the company's Wroclaw locations Ukrainian flags are waving on masts alongside Polish flags and flags with the 3M logo.
3M Poland Sp. z o.o. is a technology and production company, a division of the international 3M concern. The company has been operating on the Polish market for almost 30 years. It has invested over 650 million dollars. Using science and acting in accordance with the principles of sustainable development, it creates innovative solutions to improve the quality of life of people around the world.
3M currently has 4 manufacturing centers in Poland: two in Wroclaw, one in Janinow near Grodzisk Mazowiecki and one in Rabka, which employ over 4,500 people. The company's headquarters is located in Kajetany near Warsaw.
The 3M Innovation Center has been operating in Wroclaw since 2013. It is a space where the company presents new technologies and solutions. In turn, since 2016, the 3M Shared Services Center for Europe, the Middle East and Africa has been operating in the capital of Lower Silesia. On the other hand, the 3M Training Center was opened here in September 2017. The concern offers around 12,000 products within 4 business groups: Safety & Industrial, Transportation & Electronics, Healthcare, and Consumer Products.