A gigantic deal in Wroclaw! All thanks to BNY Mellon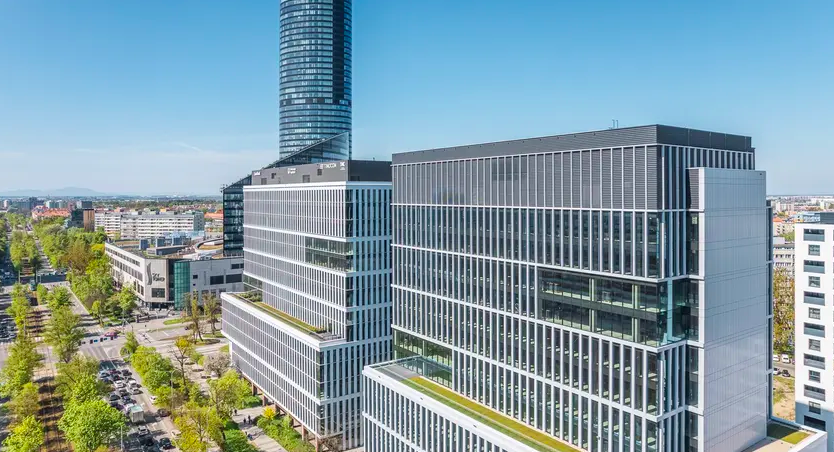 The largest transaction in Wroclaw in the last three years. BNY Mellon is leasing the entire 55-meter skyscraper in the Centrum Poludnie complex on Powstancow Slaskich Street.
BNY Mellon, a multinational banking and finance company, has leased the entire office space of the building belonging to Phase II of Wroclaw's Centrum Poludnie complex developed by Skanska.
Employees of the new tenant will have at their disposal about 20,300 sqm of comfortable office space equipped with energy- and water-saving technologies. The office is scheduled to open in April 2024, the largest lease in Wroclaw since 2020.
BNY Mellon - the oldest bank in the US. What are they doing in Wroclaw?
Founded in 1784, BNY Mellon is the oldest bank in America and the first company listed on the New York Stock Exchange (NYSE). Today, BNY Mellon drives capital markets around the world with comprehensive solutions that help clients manage and service their financial assets throughout the investment lifecycle.
BNY Mellon has custody or administration of $46.6 trillion in assets and manages $1.9 trillion in assets (as of March 31, 2023). The bank is among the world's most respected companies and best places to work for innovators according to Fortune magazine.
The selection of Centrum Poludnie for its new Wroclaw location by such a prestigious international company as BNY Mellon is an honor and a great reason for us to celebrate. It also proves the validity of our strategy to create sustainable, innovative, energy-efficient and high-quality workplaces.

Marek Stasienko, head of leasing at Skanska's office company in Central and Eastern Europe.
BNY Mellon in Poland is growing rapidly and increasing employment
BNY Mellon in Poland is growing dynamically. Just a few weeks ago we announced the opening of the Wroclaw branch of our European Bank, and we are additionally planning to increase employment in the coming years.

Ewa Carr-de Avelon, BNY Mellon Poland Country Executive
- We want to provide our current and future employees with the best possible work environment so that they can focus on cooperation and providing the highest quality solutions for clients. Our Wroclaw office will be a modern, sustainable and vibrant workplace where employees can spend time together productively and pleasantly," adds Ewa Carr-de Avelon.
The tenant has decided to lease 20,300 sqm of office space and 191 parking spaces. This is the largest lease since 2020 in the Wroclaw real estate market. By comparison, according to Jones Lang LaSalle, leases for about 137,000 sqm were signed in Wroclaw in all of 2022.
Centrum Poludnie is a perfect example of the highest quality and ESG standards that a modern office building can offer. The building fits perfectly with the bank's long-term goals and will support further development in Wroclaw. I am pleased that JLL advised BNYM on this significant transaction in the Wroclaw market.

Karol Patynowski, regional markets director at JLL
Centrum Poludnie an icon of Wroclaw's business district
The second phase of Centrum Poludnie was completed in January 2023.
Like every Skanska investment, the Swedish developer's Wroclaw flagship was designed and developed in accordance with ESG principles. This is reflected in its accessibility for all, including people with disabilities, and openness to the Wroclaw community, thanks to interesting landscaping.
Among other things, the developer has planned a publicly accessible basketball court, swings and comfortable seating here. Thanks to this, the employees of Centrum Poludnie and Wroclaw citizens will gain a new place to work and relax. The comfort of office users will be taken care of by, among other things, particulate filters that stop pollen and fungal spores, air humidifiers, ventilation systems and quiet air conditioning based on chilled beams.
The building is also equipped with numerous technologies to reduce its impact on the environment. It is fully powered by electricity produced from renewable sources.
Energy-efficient LED lighting is used in public areas. There are also technologies to reuse gray and rainwater, among other things. As a result, the building can use as much as 40% less energy and 58% less water over the course of a year compared to a LEED-certified base building.