American concern in a ultramodern office building in Wroclaw. 3M Global Service Center Poland in new premises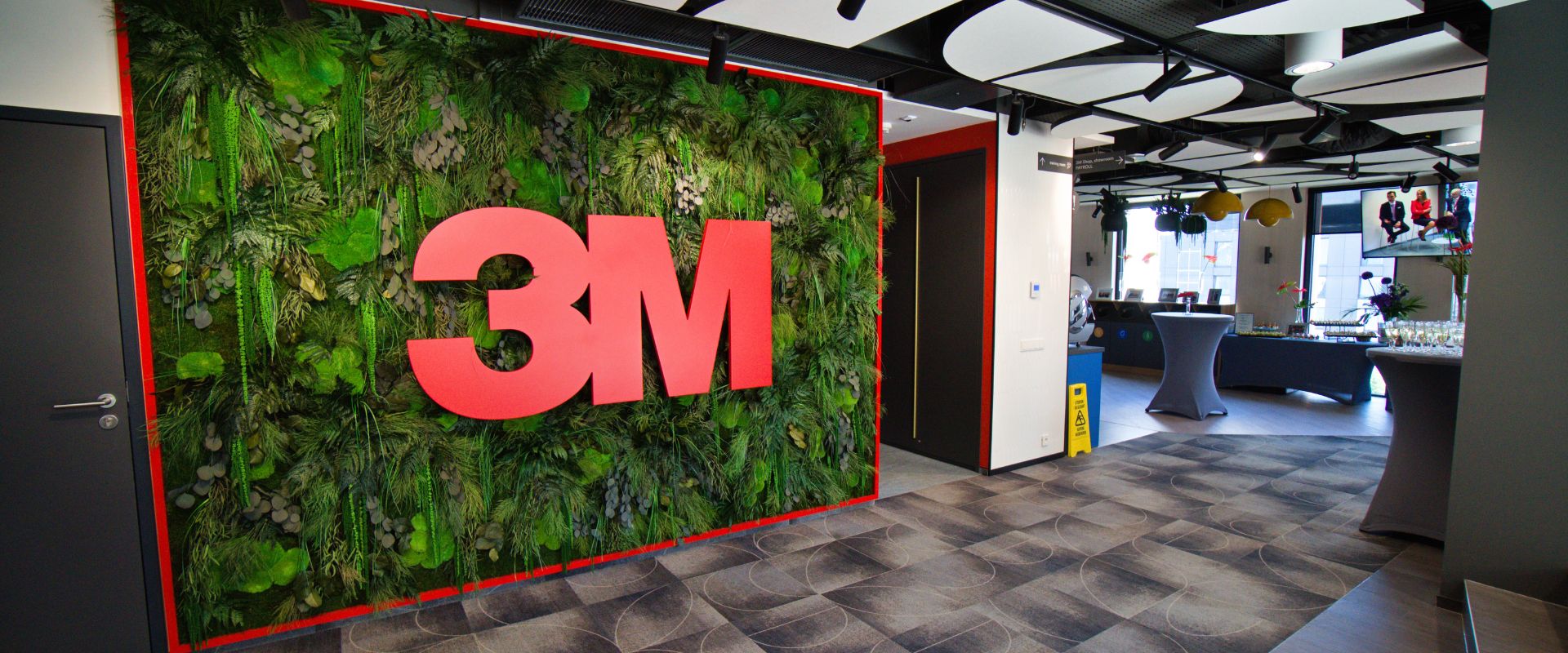 What connects the American giant 3M with MidPoint71 - the largest office building in Wroclaw? From June 10, 2022 it's a common address at Powstańców Śląskich Street - on that day, 3M Global Service Center Poland celebrated the opening of its new headquarters in the capital of Lower Silesia. 3M GSC Wroclaw is the most modern 3M office in Europe and there is a chance to work in it, because the company is looking for employees.
3M Global Service Center Poland in Wroclaw in the MidPoint71 office building
The new headquarters of 3M Global Service Center Poland in Wroclaw (Shared Services Center) is impressive because it is in the ultramodern office building MidPoint71 - in 2022 it is the largest completed office building in Wroclaw. Right next to MidPoint71 the office complex Centrum Południe in Wroclaw is being built with the newest 55-meter high skyscraper - the Wroclaw business center with the largest office buildings.
The opening ceremony of 3M Global Service Center Poland in Powstańców Śląskich Street was attended by 200 people, including the company's employees and honorary guests, such as Jakub Mazur, Deputy Mayor of Wroclaw, Dominika Fox-Matulewicz from the American Chamber of Commerce in Poland, Maciej Borkowski from the Association of Business Service Leaders (ABSL) and Katarzyna Ignaszak from PWC.
Deputy Mayor of Wroclaw emphasizes that such a global brand as 3M in Wroclaw, facilitates the talks with new potential investors, who want to open their business in our city.
- 3M for Wroclaw is the history of our business. They are, among others, the ones who initiated direct investments. It's also the thousands of employees who have grown attached to our city and come from over a hundred countries from all over the world. It is also innovations, science and patents that are created here - says Jakub Mazur, Deputy Mayor of Wroclaw.
3M Global Service Center Poland in Wroclaw: what does it do?
3M Global Service Center Poland in Wroclaw is responsible for sales, marketing, finance, purchasing, human resources and IT processes. The center serves over 80 countries, including countries in the EMEA region (Europe, Middle East, Africa).
3M Global Service Center Poland: moving to larger office
June 10, 2022 celebrated the opening of 3M Global Service Center Poland in Wroclaw in a new, larger office on Powstańców Śląskich Street - until now, the 3M Shared Service Center has operated since 2016 at 41 Dubois Street in Nadodrze.
The company admits that initially the decision to change to a larger office was not obvious due to the viability of office space in the era of pandemonium. It was decided after a number of business simulations and after analyzing the company's growth plans in the coming years.
- The new, innovative space for our employees is an investment in the further development of the local 3M branch as one of the key players in the Wroclaw labour market. We look forward to further dynamic recruitment of new talent, and thus to broadening the competence portfolio of our teams. Locating all business operations in one building has proven to be the most effective solution in the face of introducing a new, hybrid work model. I hope that the new space will be a new source of motivation, energy and inspiration for our employees, and for future candidates - an additional incentive to join the 3M community - says Vangelis Savvas, Director of 3M Global Service Center Poland.
A large part of the new office is dedicated to virtual meetings and video conferences. Phone booths have also appeared there, which will allow for comfortable short conversations. A large co-working space is also available - not only open spaces and meeting rooms, but also auditoriums and training rooms.
The new 3M Global Service Center Poland office has also plenty of green, relaxing zones - perfect for calming down after stressful meetings. There are also game rooms and rooms with massage chairs.
An interesting and unusual space in the 3M office is the showroom, designed according to the avant-garde concept of a spaceship, where one will be able to see various products created by the American company.
3M Global Service Center Poland in Wroclaw: jobs, recruitment
3M Global Service Center Poland in Wroclaw employs 1600 people, but there are plans to increase the number of jobs: recruitment.
The office change means not only a new Wroclaw location for the American company, but also new opportunities to start your career. 3M GSC Poland is currently conducting a number of recruitment processes, among others for the department responsible for handling business processes for customers (Customer Operations team), for the HR department (Hire to Retire team) and for the IT department.
The key for potential candidates will be knowledge of foreign languages: Spanish, Italian, Russian, Czech, Slovak and Turkish as well as communication and team management skills.
3M for 31 years in Poland and Wroclaw
In 2021 3M celebrated 30 years since the company started its operations in Poland. During that time it has become one of the largest investors and employers in the country, employing 4.2 thousand people.
However it is in Wroclaw where most of the concern's centers are located, employing a total of 3.5 thousand people. This makes Wroclaw Superhub the company's largest production center in the CEE region. 3M manufactures in Wroclaw over 12,000 innovative products, which are exported with the "made in Poland" label to almost the whole world.
In addition to the production facilities in the capital of Lower Silesia 3M has a modern Research and Development Center where over 200 scientists develop new products, adapt them to local markets and create innovative solutions for customers around the world. 3M Innovation Center is also located in Wroclaw, an interactive center where the company's technological capabilities are presented. It is also the home of the 3M Training Centre, a 2,000 sqm laboratory where the company's products can be tested. It is a space for open exchange of experience between professionals, where practical solutions for many fields of industry are created.
3M for Wroclaw: for the local community
In 2022, 3M, through the Global Giving Foundation, donated $150,000 to the City of Wroclaw for Polish language courses for Ukrainian citizens who are settling here. These funds supported, among others, the Continuing Education Center, which was visited by representatives of the company's management board on May 26th.
During the 2021 Economic Forum in Karpacz, 3M was the winner of the Wroclaw Mayor's Award - Socially Responsible Business.
3M in Wroclaw: investment calendar
1991 - start of business as 3M Poland Sp. z o.o., employing 8 people
1997 - construction of the 3M Poland headquarters in Kajetany near Warsaw
2001 - purchase of the Wroclaw factory Viscoplast S.A., a producer of, among others, plasters and medical dressings, the beginning of its modernisation and launching the production of new 3M medical products
2004 - the launch of the Scotchcast™ stabilising bandages factory (the so-called "light plaster") in Wroclaw
2005 - opening of the Research and Development Centre in Wroclaw
2006-2013 - construction and expansion of the new Superhub manufacturing center in Wroclaw
2013 - opening of the Innovation Centre in Wroclaw
2015 - location in Wroclaw of one of the three Shared Service Centers, which supports all 3M plants and offices in Europe, the Middle East and Africa
2017 - Opening of the Training Center in Wroclaw, where more than 11,000 customers from this part of Europe will be trained in the following years
2020 - The 1,000th employee is hired in the 3M Shared Service Center (GSC)
2020 - All of our facilities in Poland achieve zero landfill status, meaning that none of the waste generated at 3M goes to landfill.
2020 - We invest over 100 million PLN in a new production line for industrial filters, essential for manufacturing pharmaceuticals, including vaccines for COVID-19
2021 - All 3M plants and offices in Poland are powered by 100 percent renewable energy
2021 - together with the City of Wroclaw, we launch an industrial automation lab at the Vocational Training Center under the Manufacturing & Academic Partership (MAP) program
Business service centers in Wroclaw: a good location for SSC
Lower Silesia is a region where foreign companies have been locating their business service centers for years. In 2022, the ABSL estimates that as many as 208 companies from the SSC (Shared Service Center) sector operate in Wroclaw alone, including 28 companies with more than 500 employees.