Americans near Wroclaw are opening a massive plant for more than a billion PLN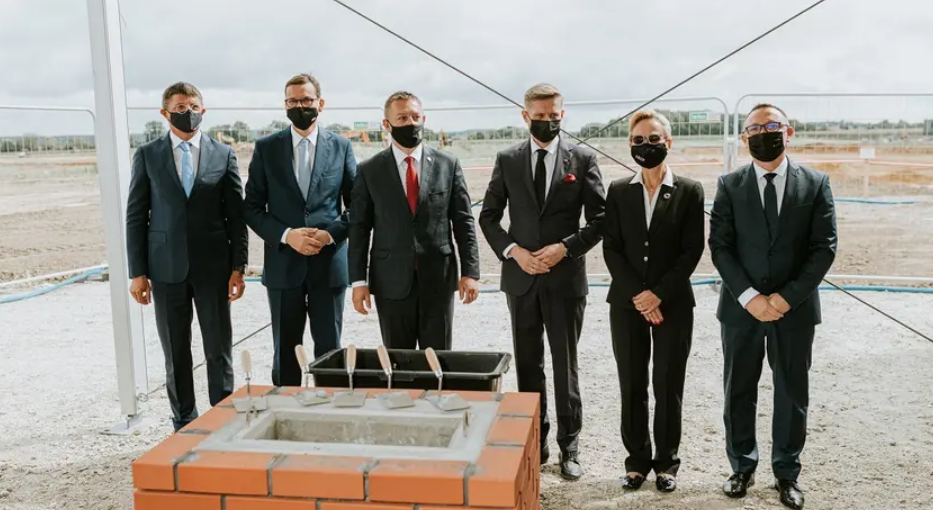 It's been less than 20 months since the groundbreaking ceremony for PepsiCo's snack plant in Swietem near Sroda Slaska. The construction of PepsiCo's fifth plant in Poland and the most environmentally sustainable in the European Union has just been completed. The plant's grand opening will take place on May 31, 2023.
PepsiCo to invest more than PLN 1 billion
The new facility will become the largest and most environmentally sustainable PepsiCo facility in Europe
The investment will create 450 jobs in the region, and products manufactured at the plant will be exported to more than 20 European countries
The facility will become climate-neutral by 2035 and will use the latest sustainable technology solutions
As a reminder, PepsiCo - an American conglomerate, one of the world's largest producers and marketers of beverages and food products. On August 26, 2021, the cornerstone was laid for a state-of-the-art Frito Lay chips plant. This is an investment in the Wroclaw agglomeration for more than a billion zlotys and several hundred new jobs.
PepsiCo representatives emphasize that their investment near Wroclaw will be "the most environmentally sustainable PepsiCo snack plant in Europe."
The plant will be built a dozen kilometers from Wrocław, in the village of Swiete in the Sroda Slaska municipality, next to the Wroclaw-Sroda Slaska road 94, near the Lufthansa Xeos plant.
PepsiCo - Frito Lay chips plant near Wroclaw
A groundbreaking ceremony for the new factory was held on August 26, 2021. Participants included the Prime Minister of the Polish government, the US Consul General, representatives of PepsiCo, the general contractor and local authorities.
The investment worth more than PLN 1 billion - the company's fifth production facility located in our country - will be carried out in stages until 2025. It will be a plant producing Frito Lay chips (Frito Lay is part of the PepsiCo concern) and will be built by Budimex S.A.
We have been investing and operating in Poland for 30 years. The central location is conducive to the development of our food production in Central and Eastern Europe. However, the development must take place in a sustainable manner - we are committed to making our plants the most environmentally friendly facilities not only in Europe, but around the world. In Sroda Slaska we are creating the future of food production. We want to build a model facility in terms of sustainability throughout Europe.

Silviu Popovici, president of PepsiCo for Europe
New jobs in the Wroclaw Agglomeration
The investment will create 450 jobs in the region. Local farmers can certainly count on cooperation.
"Throughout our global operations, agriculture plays a key role - we work with more than 3,900 farmers to source the highest quality potatoes, oats, corn, apples, nuts and milk locally" - reports PepsiCo.
Agricultural products for the new plant's snack production will be supplied by Polish farmers working closely with PepsiCo under the so-called Agrarian Program. The program was initiated 28 years ago, and PepsiCo currently works directly with 80 farms across Poland, annually sourcing more than 230,000 tons of potatoes grown exclusively in a sustainable manner from them. With the launch of the new plant, it is estimated that this amount will increase by about 60 thousand tons per year by 2023.
In addition, the company will establish cooperation with corn producers, contracting up to 30 thousand of this raw material for the production of Doritos nachos by 2027. With the start of construction of the new snack plant, PepsiCo will significantly expand the reach of the Agrarian Program in Poland, increasing the total area of agricultural production to 7,500 hectares and the number of cooperating farms to more than 100.
Budimex will build a crisps factory near Wroclaw
Budimex, commissioned by PepsiCo, will build a Frito Lay plant along with internal installations, including electromechanical works, as well as landscaping and technical infrastructure. The plant will be built on a property of just over 30 hectares in a subzone of the Legnica Special Economic Zone.
PepsiCo - US food giant is 56 years old
American conglomerate PepsiCo was founded in 1965 when Donald Kendall, president of Pepsi-Cola, and Herman Lay, president of Frito-Lay, formed a single company. Today, the company is one of the world's largest producers and marketers of soft drinks and food products. It owns, among others: Pepsi, Lay's, Cheetos. They are available in more than 200 countries and regions around the world, and each of the 22 best-selling brands generates annual revenues in excess of one billion US dollars. With operations in more than 100 countries, PepsiCo employs 59,000 people.
PepsiCo has been in Poland since 1991 and has 3,200 employees. Production facilities are in Michrow, Znin, Grodzisk Mazowiecki and Tomaszow Mazowiecki.