"Bez Mikro Nie Ma Makro": Wroclaw and Kobierzyce on local business development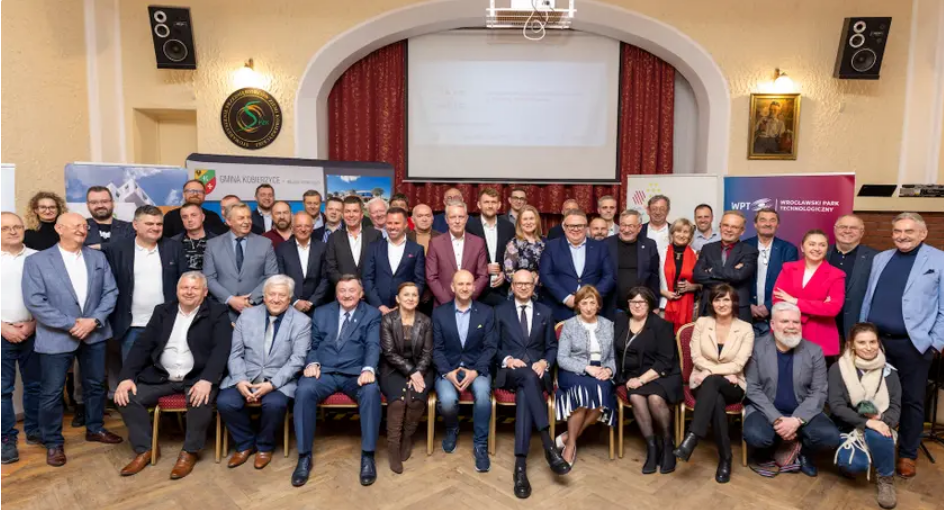 Dozens of entrepreneurs from the Kobierzyce municipality met on Thursday, April 13 to talk with representatives of the Wroclaw Technology Park, the Wroclaw Agglomeration Development Agency and the Wroclaw Agglomeration Association about opportunities for the development of their companies in cooperation with these institutions. This was the first meeting of the "Bez Mikro Nie Ma Makro" project.
"Bez Mikro Nie Ma Makro" is a project aimed at promoting and strengthening micro-enterprises operating in the Wroclaw Agglomeration. It has included competitions to promote support for local companies, a database of information on micro-entrepreneurship and the Wroclaw Craftsman action.
The "Bez Mikro Nie Ma Makro" project is led by the Wroclaw Technology Park.
Small business was, before large corporations appeared, is and will be, if one day large companies decide to leave us. Therefore, it is the most important. Micro-entrepreneurs account for 97 percent of businesses in Poland. This should not be forgotten.

Maciej Potocki, president of the Wroclaw Technology Park
- I think that for some time we have talked a little too little about their issues. Poland is a country where business is not easy. An entrepreneur in our country is a brave man who, in addition, takes responsibility not only for himself, but also for his employees and their families. Therefore, he should be respected. In Wroclaw we have many programs to support companies of all sizes. We are also keen on activities aimed at people who are just about to open their business. We would like to expand these activities to the surrounding municipalities as well," added Maciej Potocki.
Small companies have conditions to develop more and more beautifully
During the meeting, representatives of the Wroclaw Technology Park and the Wroclaw Agglomeration Development Agency presented tools to support the formation and development of local business and opportunities for cooperation with small businesses.
- Wroclaw and all neighboring municipalities are one functional system. Although we often work for large investors who operate here, we are also very willing to bend to the issues of smaller companies. I see very great potential for cooperation with entrepreneurs from municipalities such as Kobierzyce," stressed Magdalena Okulowska, president of the Wroclaw Agglomeration Development Agency.
It is nice to see how small and large companies together create a new quality on the european level. We are a community that should not have complexes. We are at the forefront when it comes to business development and the attractiveness of investing in our area, accessibility to education, culture and self-development. We are all well aware that we are the team that creates these great conditions not only for those largest businesses, but also for the small ones. Thanks to this, also these small businesses can develop more and more beautifully.

Jakub Mazur, Deputy Mayor of Wroclaw
Kobierzyce business is not only big investors
As Ryszard Pacholik, Kobierzyce Commune Head, said during the meeting, the place is mainly associated by everyone with big companies like LG or Cargill. However, there are also many one-, two- and three-person companies operating here, of which several thousand are registered in the municipality.
This is the first meeting with our entrepreneurs where we can talk about business-local government cooperation and social integration. We hope to learn lessons and continue to work effectively in this direction. In fact, Wroclaw has merged with the outskirts of the city. It is already one agglomeration. That's why our cooperation is so important.

Ryszard Pacholik
- We are micro, but as a group we are macro. Our companies represent a whole cross-section of industries and crafts. As a group we can really do a lot. That's why we share experiences, exchange our services, and support each other on a daily basis," said Wieslaw Gaczynski, president of the Association of Entrepreneurs of Kobierzyce Land.
The meeting was co-organized by the Kobierzyce municipality and the Association of Entrepreneurs of Kobierzyce Land.