Blood is the main character of the Ultrakrew 'Everyone has his bloodstream' campaign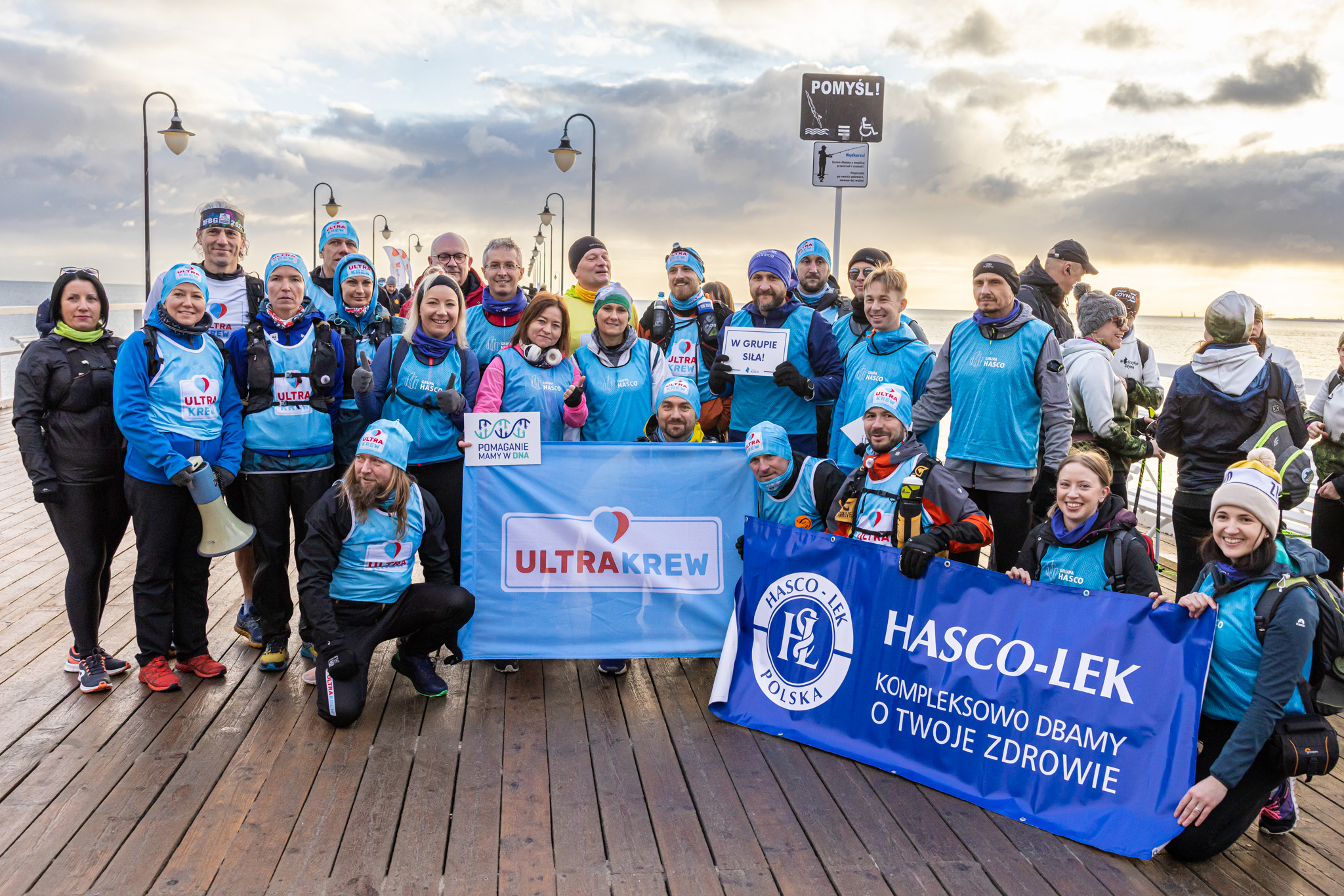 Ultrakrew 'Everyone has his bloodstream' is an event promoting honorary blood donation, in which you can get involved in two ways: taking part in a charity run or donating blood at any Blood Donation Center in Poland. Thanks to the campaign, which has been taking place for 7 years, more than 3,800 liters of blood have been collected, which has given a statistical chance to save health and life for more than 24,000 people. This year, the end of the collection falls on January 31.
The sports part of the Ultrakrew is a coast-to-coast run from the west to the east of the country, with the entire route covering more than 550 kilometers. This year's participants set off from Rumia to reach the finish line in Piaski after 7 days. Participants could be joined at selected locations to jointly encourage blood donation and thus save lives.
The active participants in the sports part of the event were employees of Hasco-Leek in Wroclaw, who joined the runners and covered the route between the moles from Gdynia Orlowo to Gdansk Brzeźno.
An integral part of Hasco-Lek's activities is supporting local and national sports events, as well as charity initiatives. By joining the Ultrakrew action, we want to raise public awareness of how important regular blood donation is for human life. Moreover, the idea of the event is consistent with our company's mission, which is to take care of the health and comfort of millions of Poles.

Agnieszka Han, Member of the Management Board of PPF Hasco-Lek S.A.
All residents of Wroclaw can join in the campaign, as Hasco-Lek's initiative has an ongoing collection at the SPZOZ Military Blood Donation and Hemotherapy Center on Weigla Street in Wroclaw, where blood can be donated under the slogan 'Ultrakrew' from January 23 to 30.
'Everyone has his or her own bloodstream' is the slogan of our campaign, during which we want to motivate everyone to take action and raise awareness of how much can depend on ourselves. The idea is to show how we can save lives without financial outlay. Ultrakrew has been organized for 7 years now, and every year more and more people, as well as partners, join it actively. People are good by nature, sometimes they just need someone to take them by the hand and show them that something can be done.

Jacek Bastian, marathoner and initiator of the Ultrakrew run
Any willing person can still join the campaign by donating blood at Regional Blood Donation Centers with the slogan 'Ultrakrew'.