BNY Mellon with Wroclaw Mayor's Award - Socially Responsible Business. These bankers are impressive!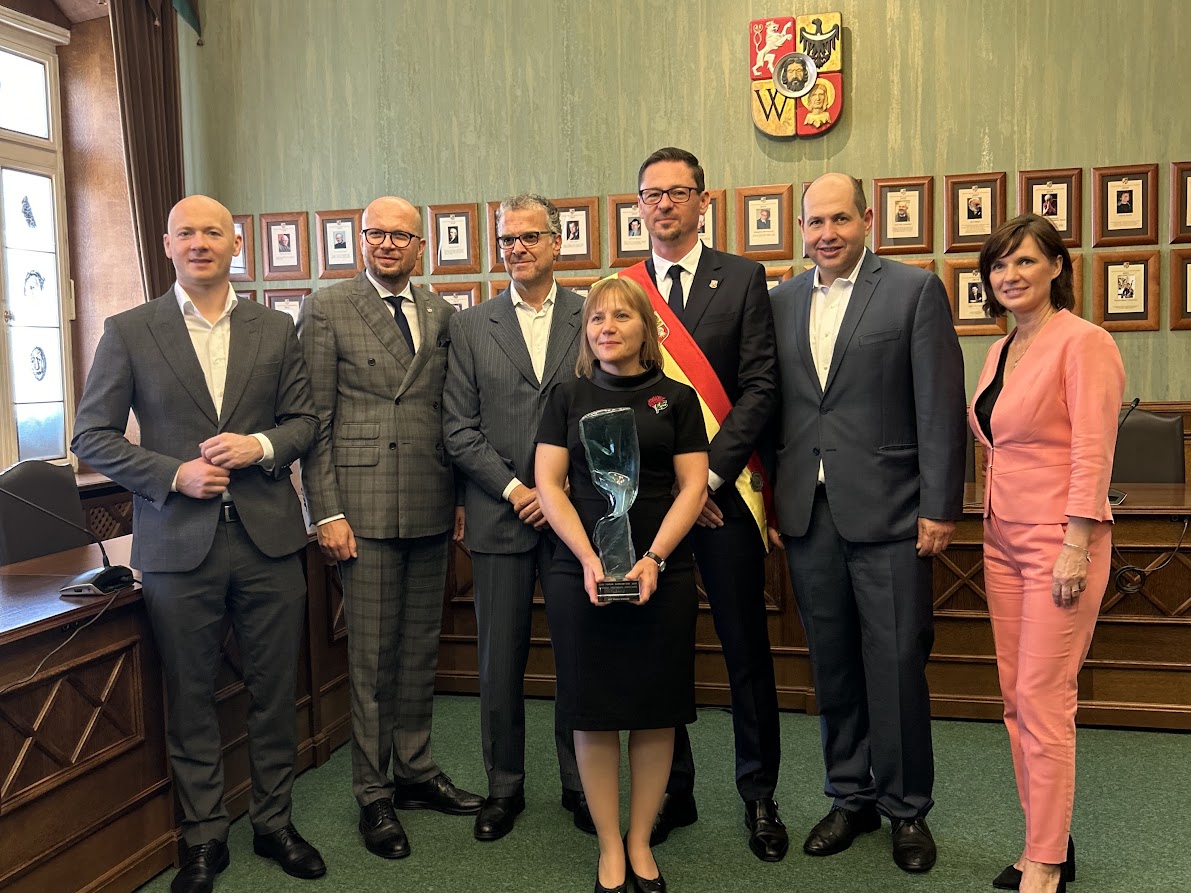 Bank New York Mellon has received the Award of the President of Wroclaw - Socially Responsible Business. The American bank was recognized for its employee volunteer program for the benefit of neighboring communities. See what Americans are doing in Wroclaw.
A special meeting and an important award - on Wednesday, September 27, representatives of BNY Mellon Bank (Bank New York Mellon) - an international leader in investment management and investment services - received the Wroclaw Mayor's Award - Socially Responsible Business at City Hall.
Presenting the award on behalf of the mayor, Jakub Mazur, deputy mayor of Wroclaw, stressed the importance of BNY Mellon's pro-social activities for the city, especially their commitment to helping the struggling Ukraine.
BNY Mellon in Wroclaw has its headquarters right next to the Central Railway Station. Their employees were at the station to help as soon as trains with refugees started arriving in Wroclaw. The company was also very quick to donate money to help Ukrainians. For this and their other actions for the benefit of the city and residents, we are grateful to them

Jakub Mazur, Deputy Mayor of Wroclaw.
Receiving the award, Roman Regelman of BNY Mellon said that the bank has been in business for 240 years, but for them it is not only business that is important.
Creating and building relationships with communities are important. In this regard, our and Wroclaw's values fully coincide. This was especially confirmed by the war in Ukraine and the support that Wroclaw provided to refugees. We are trying to do the same and both locally in Wroclaw and globally. The award of the mayor of Wroclaw is especially important for us, because we have been recognized for our support and help to others.

Roman Regelman, Senior Executive Vice President, Global Head of Securities Services and Digital.
This year's Mayor of Wroclaw - Socially Responsible Business Awards were presented in early September during the XXXII Gala of the Economic Forum in Karpacz. At that time (representatives of BNY Mellon could not be present) they were received by BASF - for its commitment to cooperation with the scientific community and the development of a culture of equality in Wroclaw, and the Selena Group, which was recognized for its assistance during the pandemic and environmental initiatives in Wroclaw, including the planting of the Osobowicki Forest.
- In the Award of the Mayor of Wroclaw - Socially Responsible Business, you have to show that you invest not only in the development of the company, but also in the development of our entire community, and BNY Mellon does this perfectly," said Sergiusz Kmiecik, chairman of the Wroclaw City Council, on Wednesday, September 27.
- It is gratifying that foreign investors who locate their capital in Wroclaw also participate in social life and get involved in city projects," Karol Przywara, the mayor's plenipotentiary for foreign cooperation, stressed.
BNY Mellon is getting involved in Wroclaw. What are they doing?
The Americans emphasize that the Polish branch of BNY Mellon has been involved in solving important social problems since the beginning of its operation in Wroclaw, i.e. for more than a decade when they started organizing employee volunteering and investing in the development of local socio-cultural projects.
- The pillar of socially responsible activities in our Wroclaw office is employee volunteering for the benefit of neighboring communities, which allows our employees throughout the year to get involved in projects for the charges of local NGOs, including Wroclaw Hospice for Children, St. Brother Albert's Association, Ekostraza, Matuzalek, Bonitum Association, Przystanek Rodzina Foundation, WrOpenUp Foundation, Ukraine Foundation, Diversja Association, Sunbeam Foundation or League of Unusual Minds, - enumerate representatives of BNY Mellon.
Each BNY Mellon employee has an annual pool of 24 hours available for community service.
- To strengthen the commitment of our staff, we offer each BNY Mellon Poland team member an annual pool of 24 hours for community service - in addition, duplicating each volunteer hour with a financial donation to the NGO to which he or she has given his or her time, energy and skills. We are extremely proud of the time our employees have dedicated to community service - given that it was not easy to return to such a strong commitment after the hiatus caused by remote work as a result of the pandemic. Our managers, who make it easier for employees to take part in volunteer projects by setting an example through their own community involvement, deserve special appreciation," say BNY Mellon representatives.
BNY Mellon in Wroclaw helps Ukraine
It is worth recalling that after the outbreak of war in Ukraine, both employees and the management of BNY Mellon's Wroclaw branch became very involved in helping Ukrainians. In addition to supporting global charitable causes, they decided to help the Ukraine Foundation locally through a $100,000 grant and by donating 178 laptops.
BNY Mellon - the oldest bank in the US. What are they doing in Wroclaw?
Wroclaw is one of six strategic locations for BNY Mellon's growth - along with Manchester, one of two strategic locations in EMEA (Europe, Middle East and Africa).
BNY Mellon has been operating in Wroclaw since 2010. In 2022, due to its global growth strategy and location optimization, Wroclaw was named BNY Mellon's Strategic Growth Location. The Wroclaw branch has been growing steadily, serving a support function for other BNY Mellon entities, mainly in fund accounting, investment operations and technology.
Founded in 1784, BNY Mellon is the oldest bank in America and the first company listed on the New York Stock Exchange (NYSE: BK). Today, BNY Mellon drives capital markets around the world with comprehensive solutions that help clients manage and service their financial assets.
BNY Mellon has custody or administration of $46.6 trillion in assets and manages $1.9 trillion in assets (as of March 31, 2023). The bank is among the world's most valued companies and best places to work for innovators according to Fortune magazine.
Next year, BNY Mellon will celebrate the 240th anniversary of its founding by Alexander Hamilton, the first U.S. Secretary of the Treasury, who also helped create the United States Mint - and whose face is still on the $10 bill.
BNY Mellon with a giant deal in Wroclaw! What did they do?
In May 2023, wroclaw.pl reported that BNY Mellon had leased the entire office space of a building belonging to Phase II of Wroclaw's Centrum Poludnie complex developed by Skanska. In practice, the Americans have leased the entire 55-meter skyscraper in Centrum Poludnie on Powstancow Slaskich Street. This is the largest transaction in Wroclaw in the last three years.
BNY Mellon and 1,500 new jobs in Wroclaw
March 2023. Roman Regelman, vice president and general manager of Securities Services and Digital at BNY Mellon, in an interview with Katarzyna Wiazowska, reported that BNY Mellon employs 2,500 people in the capital of Lower Silesia, but that some 4,000 professionals are expected to work in the location soon.
American investment in Wroclaw and the Wroclaw agglomeration in 2023.