Record-breaking production of BSH at ul. Żmigrodzka. The company announces new investments and employment growth.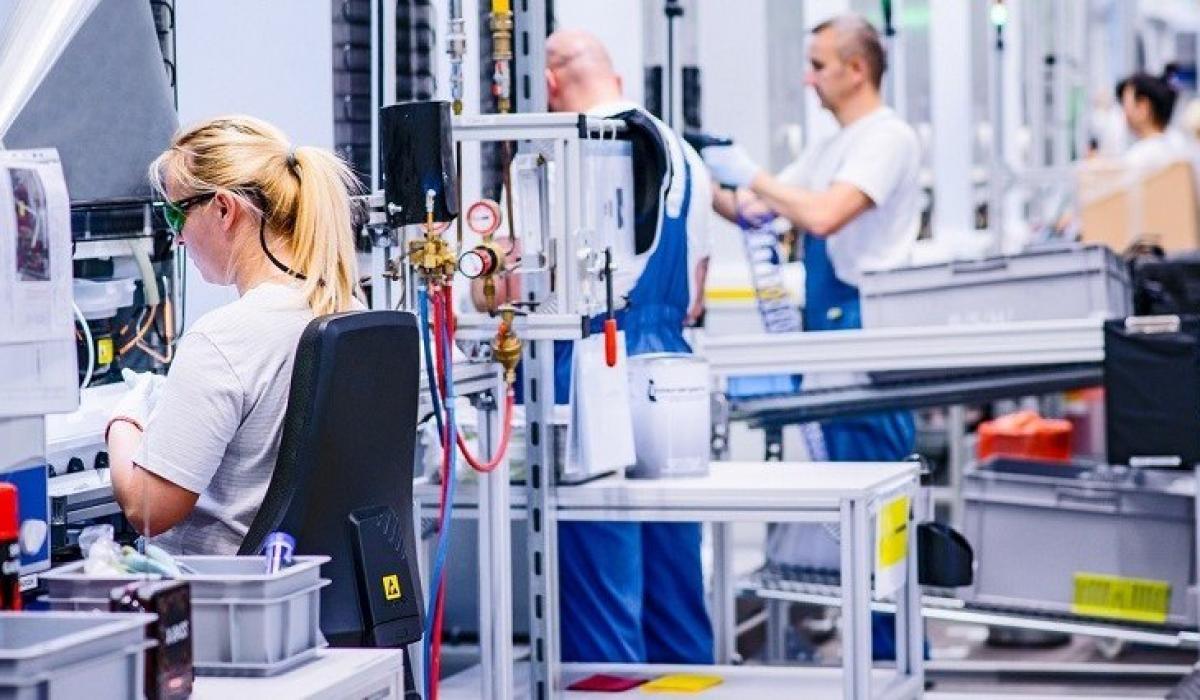 The millionth refrigerator rolled off the production line in the BSH production in Wrocław. This year, the company will produce a two-millionth oven in the capital of Lower Silesia. The company announces a further increase in production and employment as well as further investments.
BSH, the largest European manufacturer of household appliances, at its plants at ul. Żmigrodzka breaks a new production record.It was reported on October 4th this year that one million refrigerators and almost two million ovens have just been produced in the BSH plant in Wroclaw. On this occasion, the company's heads, employees, representatives of the city and invited guests met at the company's headquarters. The company celebrated its production records by planting commemorative oaks near its Wrocław factories.
We have a lot to celebrate, because as we started our business in Wrocław four years ago, we said we wanted to hire 500 people. Today we already have 1,600 employees. The total value of BSH's investments in Wrocław exceeded PLN half a billion. We are still developing. The millionth refrigerator has rolled off our tapes and we want to have a two millionth oven by the end of the year. Ultimately, we want to produce two million devices annually. When increasing production, we also think about the research and development zone in Wrocław. Solutions developed here are later used in our plants around the world. - Konrad Pokutycki, President of the Management Board of BSH Hardware Gospodarstwa Domowego in Poland.
BSH Wroclaw investment for over PLN 500 million
On the occasion of the record production, Konrad Pokutycki thanked the employees for their commitment, and the city authorities for their help. - I believed that we would succeed, because Wrocław is very strong in production, services and technical thought. The team of people we employ here has incredible energy. They know how to solve problems and create something new - he emphasizes.
Jakub Mazur, the vice-president of Wroclaw thanked BSH for hundreds of workplaces in Wrocław and social sensitivity, for which BSH received an award from Jacek Sutryk, the mayor of Wrocław, during the Economic Forum in Karpacz - Socially Responsible Business.
The activity and development of BSH is a civilization leap for Wrocław. If BSH is among the world's best, then Wrocław is also in this group. This helps us build the city's sustainable development strategy. - Jakub Mazur, Deputy Mayor of Wroclaw.
BSH Wroclaw helps and is socially involved
BSH has been supporting charities and local communities in the cities where it operates for many years. The company's regular beneficiaries include Tobiaszki Foundation in Wroclaw (they run, among others, a community center for children in Karłowice in Wroclaw), which has received a symbolic millionth fridge and an oven.
Last year, as part of the #BoschwPogotowiu campaign, BSH donated household appliances worth one million zlotys to medical institutions fighting coronavirus. From this, many devices went to public health centers in Wrocław and the Dolnośląskie Voivodeship.
In 2021, BSH planted around 100 trees and built 600 meters of bicycle path and pavement near the factories at Żmigrodzka Street.
BSH Wrocław: refrigerators and ovens Made in Wroclaw
In Wrocław, refrigerators, fridge-freezers and ovens of world-famous brands Bosch and Siemens are manufactured. The devices find their customers mainly in Western Europe, but are also available on the Polish market.
Two Wrocław factories of BSH Hardware Gospodarstwa Domowego were launched in 2017. They were built on the site of the former household appliances factory at ul. Żmigrodzka 143. BSH has invested here in new facilities and modern production systems.
BSH household appliances plant is part of the international BSH Home Appliances Group. The German company offers household appliances from Bosch, Siemens and Gaggenau on the Polish market. Read also: Interview with Andreas Marek, director of BSH in Wrocław: About technological novelties, the increase in production during the coronavirus pandemic and the tradition of household appliances at ul. Żmigrodzka.
The company introduces modern solutions in the field of industry 4.0.

The oven factory already has the first autonomous vehicles supplying components for production.

In order to use the warehouse space more effectively, BSH will monitor the distribution of finished products using drones.

In 2020, BSH opened a new logistics center with an area of ​​30,000 sq m in Wrocław. sqm with its own railway infrastructure.

Due to the dynamic development, in 2022 BSH intends to lease an additional warehouse with an area of ​​approx. 45 thousand square meters. sqm
BSH Wroclaw: work and employment
BSH in Wrocław is looking for new employees in connection with the company's development. Monthly, the company can employ up to several dozen people.