BSH's latest investments in Wroclaw. How they use modern technologies and save energy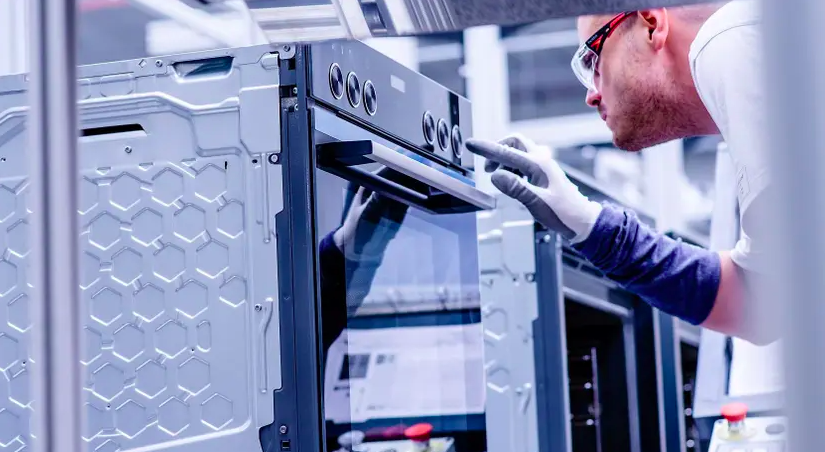 Thanks to investments in modern technologies, the German company BSH in Wroclaw has reduced annual electricity consumption at its refrigerator and oven factories. The energy savings of the Zmigrodzka Street plant amount to the amount of electricity used annually by 1,400 families in their homes. BSH's Wroclaw plants also need less gas and water. Soon there will be photovoltaic panels on the roofs
In January 2022, the two-millionth BSH oven rolled off the production lines of BSH Domestic Appliances in Wroclaw and at the end of 2021 the one-millionth BSH refrigerator in Wroclaw. German corporation BSH is expanding its facilities on Zmigrodzka Street.
BSH Wroclaw: more and more products and less and less energy consumed
Since 2017, BSH Home Appliances in Wroclaw has continued to increase its production capacity in the capital of Lower Silesia. For the past 5 years, more than two million ovens and more than one million refrigerators have already been made at BSH's Wroclaw plants. Ultimately, the two factories will produce one million appliances a year each.
The company is developing in accordance with the principles of sustainable development, which is part of the strategy of the entire BSH Group. Recently, for example, the company has modernized the skimming area for oven bodies.
Thanks to the new degreasing technology, we have reduced the water consumption needed to fill the machines once by more than 80%, and gas consumption is reduced to zero in the process. This means a decrease in production costs, which at the same time becomes more sustainable.

Adrianna Krzysztofik, Process Engineer at BSH
In recent years, the company has also improved the process of welding oven parts. Thanks to a specially designed device, production machines are automatically and precisely calibrated during operation.
BSH's Pawel Skorupski, who is responsible for this modernization, emphasizes that BSH's Wroclaw plant has thus reduced its annual carbon dioxide emissions by about 80 tons.
Sustainability at BSH
As of the end of 2020, all BSH factories, warehouses and offices worldwide are carbon neutral. This means that every BSH product is made without leaving a carbon footprint. The BSH Group replaces 63 percent of its energy with green sources. The remaining 37 percent is offset by Gold Standard and Verified Carbon Standard certified projects.
In Poland, BSH factories are powered by electricity from only renewable sources, primarily wind farms. In addition, BSH will install photovoltaic panels on the roofs of factories, warehouses, offices and parking lots at all locations in Poland. Such BSH installations are already in operation in Warsaw and Rzeszow. As a result, the company will annually convert the sun's rays into about 10 percent of its annual electricity needs.
BSH Wroclaw: an investment for more than PLN 500 million
In 2020, the company opened a new 30,000-square-meter logistics center in Wroclaw with its own rail infrastructure. However, due to its rapid growth, the company leased an additional warehouse of about 45,000 sqm last year. BSH in Wroclaw is looking for employees: jobs, employment.
Two factories in Wroclaw: refrigerators and ovens of BSH Home Appliances were launched in 2017. They were built on the site of former household appliance factories at 143 Zmigrodzka St. BSH has invested more than half a billion zlotys in new facilities and modern production systems at the site.
In 2021, BSH received an award - Socially Responsible Business - from Jacek Sutryk, Mayor of Wroclaw, during the Economic Forum in Karpacz.