Centrum Południe in Wroclaw with the newest 55-metre high skyscraper. Wroclaw business centre with the largest office buildings is being built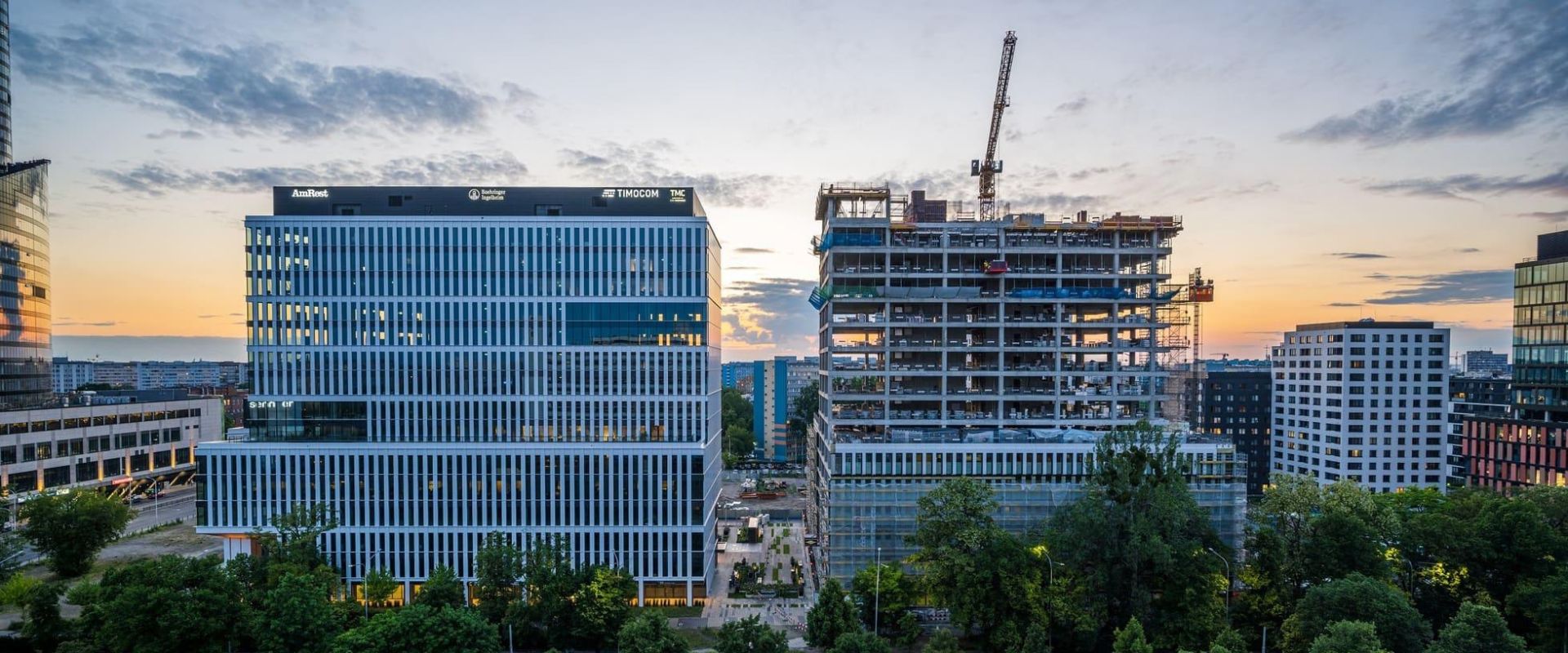 17 storeys, over 21 thousand sqm of office space, terraces for tenants or a basketball court - this is how the newest skyscraper in the Centrum Południe office complex, which Skanska is building at Powstańców Śląskich Street, will look like. Centrum Południe is being built next to MidPoint71, the biggest office building in Wroclaw completed this year.
A new Wroclaw city and business centre is being built at Powstańców Śląskich Street
Before the war there were residences and tenement houses of rich citizens of Wroclaw. In the 80s it was the place to go to the circus and in 1997 Pope John Paul II celebrated a mass there to close the International Eucharistic Congress. Now, at the intersection of Powstańców Śląskich and Szczęśliwa Streets, Skanska company is building Centrum Południe.
On June 9, 2022, a special screening for the media showed what is happening at the construction site of Centrum Południe, and that is where the 55-meter high skyscraper is being completed.
- Despite the pandemic and its challenges, we were able to complete this phase of the project fully on schedule. This phase of Centrum Południe, just like the earlier phase of the complex, will bring a completely new quality to the Wrocław market. The building will apply for the most important office certificates. It will be equipped with large, attractive loggias and innovative technologies facilitating everyday work, such as Connected by Skanska platform. What's more, its execution will allow to create an attractive space between buildings of the first and second phase, which will be a place for meetings, relaxation and rest, also for nearby residents - says Agnieszka Zawada-Biszczad, project manager in Skanska office company in CEE region.
Centrum Południe: the newest 55-metre high skyscraper for EUR 47 million
It is now certain that the newest skyscraper in Centrum Południe at Powstańców Śląskich Street will be no higher. The traditional topping out ceremony, 55 meters above the ground, was held on top of the new skyscraper, which means the completion of construction works.
- We're building another office building in Wroclaw, because we're convinced that in the times after the coronavirus pandemic the hybrid work model will become more and more popular. This kind of mix: office-home, is a good solution for many employees. On the one hand, not everyone has the conditions to work at home, and on the other hand you need an office, that is a place where you can work, meet and talk. Online work won't give us that - says Marek Stasieńko, lease director at Skanska.
The 55-metre skyscraper being built by Skanska company is the second stage of Centrum Południe complex. The investment valued at EUR 47 million is to be ready in the fourth quarter of 2022 and it will provide 21 500 sq. m of space to the Wroclaw office market.
- The office building will have 15 floors above ground level, including two technical floors, and two underground levels with 200 parking spaces.
- In the skyscraper there will be from 2 to 2.5 thousand workplaces.
- On the first floor a public catering and restaurant area is planned.
- The building will apply for numerous certificates: LEED Core&Shell at the Platinum level, WELL Core&Shell, Barrier-Free Facility, as well as the latest one - WELL Health-Safety Rating. The latter is awarded to office space with the highest safety parameters, reducing the risk of disease transmission and creating healthy and safe workplaces.
Between the buildings, the developer has planned interesting landscaping, including a public basketball court and comfortable seating.
- Thanks to that, the employees of Centrum Południe and the inhabitants of Wroclaw will gain a new place to work and rest. It will be complemented by diverse, including evergreen vegetation - adds the investor.
This building, as all new Skanska investments in Poland, will have a "Facility without Barriers" certificate, which proves its suitability for use by people with different needs - including people with disabilities or parents with small children.
Centrum Południe Wroclaw: history of Skanska investment
Wroclaw's Centrum Południe business complex is Skanska's largest construction project in the capital of Lower Silesia. In April 2019, the cornerstone for Centrum Południe was laid. There will be 85,000 sqm of office and retail space in five buildings. In August 2020, the first two buildings, totalling about 28,000 sqm, were made available to the tenants. Those buildings were bought by Swedish Stena Real Estate BV in January 2022. Centrum Południe houses, among others, a branch of Coventry University in Wroclaw.
Centrum Południe offers tenants many modern solutions. Filters, adiabatic humidifiers and a ventilation system provide 30% more fresh air than the norms for office space. In the buildings there are technologies allowing, among others, for reuse of gray and rain water. The public areas are illuminated with LEDs, thanks to which the complex consumes as much as 1/3 less energy than reference buildings.
Centrum Południe: eco-friendly solutions
The first phase of Centrum Południe was recognised as the best sustainable project in the CIJ Awards Poland 2020 competition and received the PLGBC Green Building Award 2021.
It is the first investment in the capital of Lower Silesia to use green concrete. At the first stage, about 1380 sqm of anti-smog pavement was built, which helps neutralize the pollution emitted by cars. Interestingly, Centrum Południe is powered by electricity from a wind farm.
The first phase of Centrum Południe. The office building rises 11 cm per hour
As far as construction trivia is concerned, it is worth mentioning that during the construction of the first stage of the complex, the so called sliding technique was used when constructing the core of the office building. Thanks to a special concrete mix and a platform which was rising together with the building, the construction was going up at the rate of about 11 centimeters per hour, 24 hours a day. In this way, 14 floors of the core of the office building were built in just 3 weeks.
Centrum Południe: Lwowska Street commemorated
As a part of Centrum Południe investment, Lwowska Street, which was one of Wroclaw's landmarks years ago, has been symbolically commemorated. Skanska has placed a commemorative plaque at Centrum Południe and created an open space with small architecture, greenery and a fountain.
Wroclaw's city and business center: Centrum Południe and MidPoint71
Centrum Południe, which is being built next to MidPoint71 on Powstańców Śląskich Street, is the largest office building in Wroclaw completed this year. Echo Investment's investment expanded the office market in Wrocław by over 36 thousand sqm.
MidPoint71, in Powstańców Śląkich Street, is an office building with a Wroclaw area code in its name. The investor, Echo Investment, emphasizes that the leading slogan of the whole investment is "Hit the point - MidPoint71", which directly refers to the city center, and adding the number "71" taken from the area code of the capital of Lower Silesia emphasizes the Wroclaw spirit of this place. We wrote about the start of construction of MidPoint71 in January 2020.
The investment has been completed and now the 14-storey MidPoint71 is the biggest office building completed in 2022 in Wrocław. Medusa Group studio was responsible for the architectural design of MidPoint71.
New office buildings in Wroclaw in 2022. See what is being built in 2022
- If developers meet the deadlines, the Wroclaw office market will expand by over 90 thousand sqm by the end of 2022. There is nearly 117 thousand square meters of office space under construction, 80 percent of which should be completed by the end of the year - says Anna Patrzyk-Sperzyńska, Associate Director, Knight Frank.
In 2022, 117 thousand sqm of office space in Wroclaw is under construction, of which nearly 80 percent is expected to be ready by the end of this year. The largest investments still under construction are Centrum Południe II (20 thousand sqm, Skanska) and Infinity (22 thousand sqm, Avestus Real Estate).
Wroclaw: office market in Q1 2022
Why is Wroclaw an attractive place for business centers (BPO/SSC) and companies planning to enter the Polish market? And how much does it cost to rent an office in Wroclaw? - Answers to these questions are in the report "Wroclaw: the city's attractiveness and the office market in Q1 2022" published by the London-based Knight Frank - an international expert in advising on real estate markets.