Construction of the Infinity office building is underway at John Paul II Square. The structure of the building is almost ready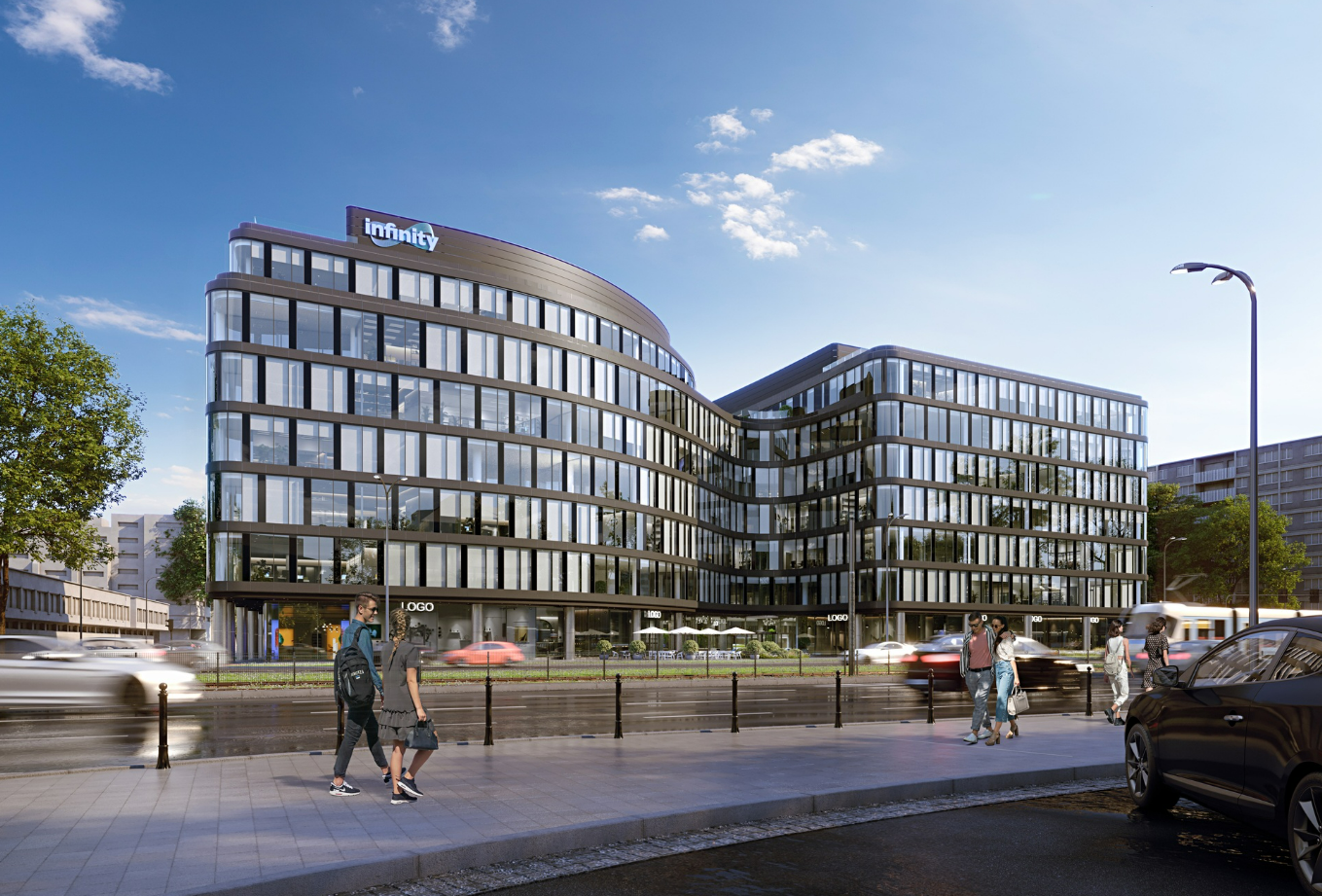 The Infinity building under construction at Jana Pawla II Square is a six-story office building with a retail section. The installation of the glass facade - from Legnicka Street - will begin soon. The developer is performing additional tasks at the same time: it is changing the traffic lights at the intersection of Legnicka and Nabycinska streets, and will soon start renovating the sidewalk and bicycle path along Legnicka.
Construction of the Infinity office building, between Legnicka, Nabycinska and Sokolnicza streets, began in March 2021. A year and a half later, the building's structure is almost ready. The first floor facade is already there, and glazing of the upper levels is currently underway.
Concreting of the last ceiling on the +7 level is scheduled to be completed by mid-November, while reinforced concrete work related to elements on the roof will last until around mid-December. At the same time, intensive installation work is underway: sanitary, electrical, as well as teletechnical. Finishing work is also being carried out on the underground levels and lower floors of the building.
developer Avestus Real Estate
Wave, sidewalk and bike path
In a city where office buildings abound, it's worth standing out, including in appearance. A distinctive feature is the structure's wavy appearance, which you can see in the gallery of photos taken in early October. It's likely a reference to the name. Infinity means "infinity," which is symbolized by two wavy letters es joined in a figure eight.
Infinity is a seven-story office building with retail space and a three-level underground parking garage. The building will have a lobby, while terraces with greenery will be created on the roof.
The developer, while implementing the project, is improving the surrounding area. It has started reconstructing the traffic lights at the intersection of Legnicka and Nabycińska streets, and in the coming weeks will begin renovating the sidewalk and bike path along Legnicka Street.
Avestus Real Estate plans to complete the entire development in the second quarter of 2023. The Infinity office building is the South African company's first investment in Europe. The architectural design was prepared by AD Studio. The general contractor is Eiffage Polska Budownictwo, and JLL is responsible for commercialization.
Infinity - basic information
Total lease area - 21,847 square meters (offices, retail units and warehouses);
Number of parking spaces - 311 in the underground garage;
For cyclists: 120 bicycle racks in an enclosed area in the building's arcade;
Locker rooms and showers on level -1;
Address: 16 Legnicka Street;
Investors: Alchemy Properties and Avestus Capital Partner