Discussion on Wroclaw's business and aid for refugees - meeting of representatives of local authorities with entrepreneurs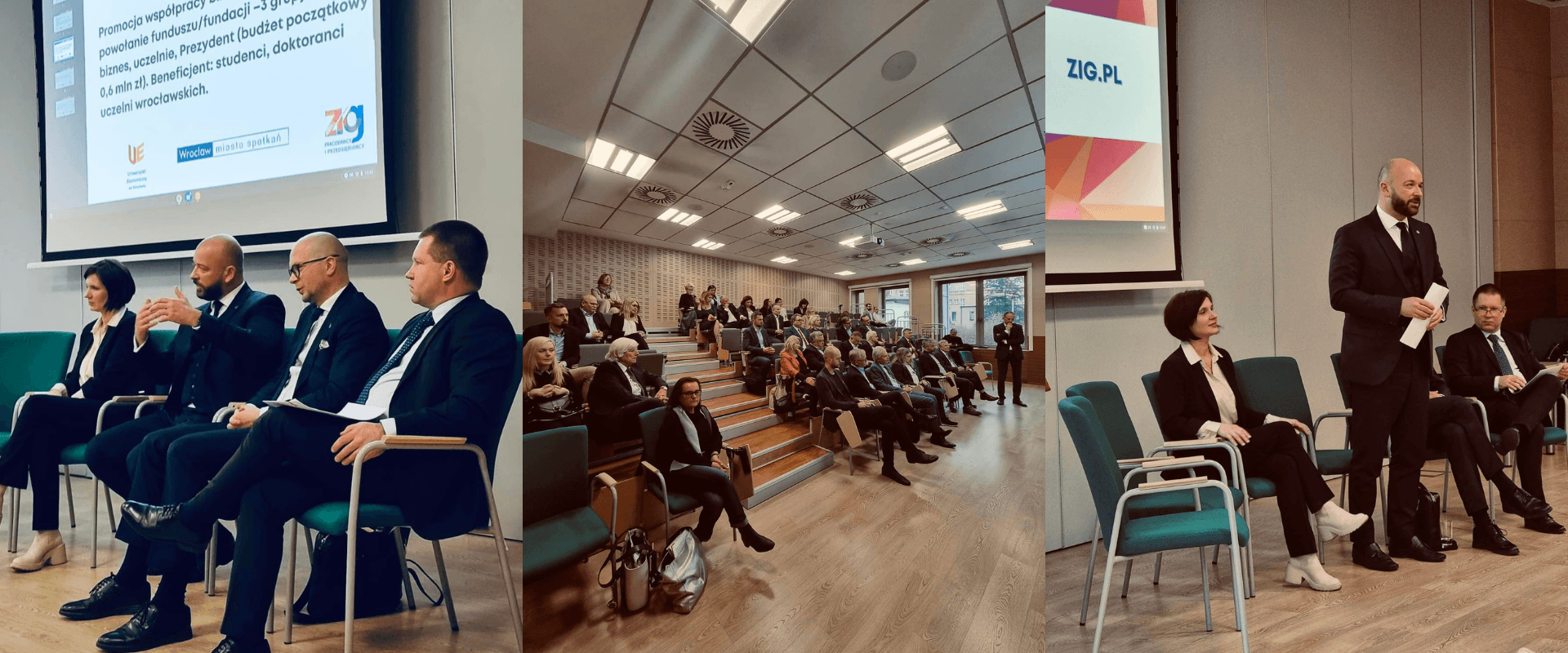 Directions of the city's development, promotion of cooperation between business and science and possibilities of helping the Ukrainians coming to Wroclaw were the main topics discussed during the meeting of representatives of the local government with entrepreneurs, which took place at the Wroclaw University of Economics and Business.
Representatives of the city authorities and the Wroclaw Agglomeration Development Agency met with entrepreneurs associated in the Western Chamber of Commerce - Employers and Entrepreneurs to talk about the most important directions of development in Wroclaw and cooperation, among others, in the field of assistance to Ukrainian citizens.
It is difficult to make distant plans when the situation is uncertain
One of the topics was Wroclaw's actions aimed at developing the agglomeration's economic strength. Participants drew attention to the difficulties connected with the introduction of tax changes related, among others, to the Polish Order, which to a large extent condition the state of the city budget and its intentions.
- It is very difficult to plan for the long term in such conditions. Meanwhile, it is such plans that allow for comfortable and safe management, which is well known to entrepreneurs. Despite this, we are working on a strategy for the city for 2020-2050. However, given the current circumstances, we do not know what our budget situation will be next year. On top of all this, the situation is not very clear when it comes to blocked European funds from the National Reconstruction Plan. This money is not only for the Polish state, for local governments, but also for entrepreneurs. If they reach us, it will be after a long delay. Meanwhile, we need it now, when we are all a bit battered by the pandemic and the war on our eastern border
Another important topic raised during the meeting was helping refugees coming to Wroclaw.
- We try our best to support Ukrainian citizens who come to our city. We quickly launched a system of collecting job offers from entrepreneurs. We do it in cooperation with the Poviat Labour Office in Wroclaw, which as the first in Poland created its information center. Currently there are over 6 thousand offers, also prepared with the Ukrainian citizens in mind. We have already managed to employ over 1,200 people. Many companies simply want to help and declare their support. Our large investors, who located their businesses in our agency last year, created 5 thousand jobs. Now it will certainly be easier for them to find employees. Therefore it is also an opportunity for the development of the city
As Magdalena Okulowska pointed out, Poviat Labour Office in Wroclaw has funds for activation, which can be used for learning the Polish language, organizing internships and subsidizing work places for Ukrainians.
Business wants to cooperate with the city
Entrepreneurs are also keen to create a number of initiatives together with the city, e.g. an ecological certificate awarded to companies that modernise their operations with a view to minimising their impact on the environment, as well as support for creative scientific projects.
- We are committed to increasing cooperation with the city. We want there to be more joint projects and promotion of our activities. After talks with representatives of the city, we see that there is a need and a chance for joint activities. We are also committed to the adoption of mutual specific commitments in this area