Diversity is an asset to be respected. Employees of modern business services celebrated World Values Day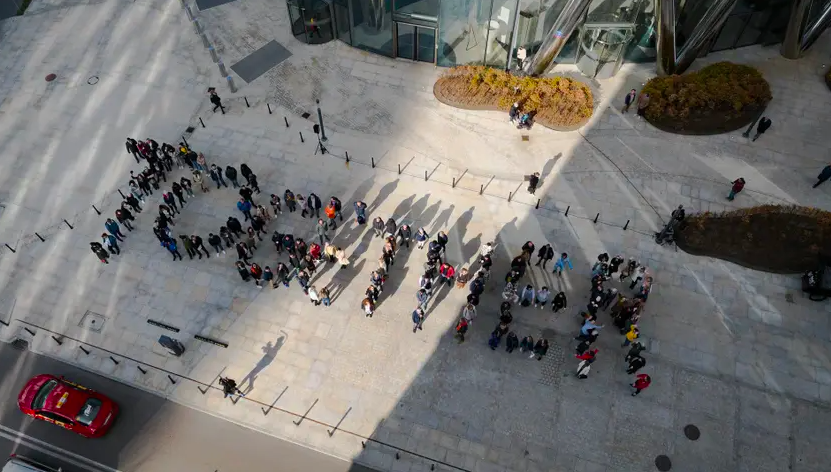 On World Values Day, employees of the modern business services sector and representatives of municipal authorities took to the streets of cities together to manifest shared values. In Wroclaw, the celebration organized at the Business Garden was attended, among others, by the Deputy Mayor of Wroclaw, Jakub Mazur.
The modern business services sector in Poland employs more than 400,000 people and is one of the most diverse in terms of employees. 93 percent of business service centers operating in Poland employ foreigners. Representatives of five generations work in the sector, and the share of women in the total workforce is 53 percent. The ability to consciously manage diversity, an inclusive organizational culture and workplaces created to respect individual differences are essential to maintaining a competitive edge in the international market and attracting foreign investors.
Team diversity is a great strength
The Association of Business Service Leaders, ABSL, has been pointing out for years that building an innovative, competitive and investor-attractive economy requires respect for diversity in many dimensions including age, gender, experience or cultural capital, among others.
Diversity is a great strength and differentiator of the business services sector in Poland compared to other sectors of the economy. It is worth remembering that diversity breeds difference of opinion and brings different perspectives closer, and every company needs this. To reap the benefits of team diversity, it is not enough to be open to it, but one must also be willing to take the associated risks. And it is this willingness to take risks that is the company's chance for success.


Agnieszka Orlowska, vice president of ABSL, managing director of Olympus Business Services in Wroclaw
Nearly 14 percent of employees are foreigners
Multiculturalism is a characteristic of the business services sector in Poland. Foreign workers account for nearly 14 percent of all employees. They come from 50 countries and provide services in a total of 36 languages, with an average of seven languages used per center. The age structure is also an important factor in building diversity. The largest group (46 percent) is made up of people aged 27-34.
The sector is also diverse in terms of gender. More than half of all employees are women. For managerial positions at the team leader level, the share of women is 46 percent, and for senior management it is 39 percent. These levels are much higher than in other areas of the Polish economy and have remained stable over the past three years.
Proper communication is of great importance
ABSL, in its "Declaration on Diversity and Inclusion," considers nurturing respectful, inclusive language that does not discriminate against anyone to be one of the key aspects of an inclusive organizational culture. Employers and organizations affiliated with the Association of Business Service Leaders declare that in all their activities they are guided by the principle of equal treatment in the workplace, regardless of nationality, disability, sexual orientation, gender, ethnicity, political beliefs, race, religion, gender identity, age, religion, form of employment, or any other grounds that expose exclusionary behavior.
Heinrich Boell said that language can be a beacon of freedom, but it can also become the most terrible expression of humanity. That is why it is so important to take care of the language we use every day, so that it does not exclude, respects difference and is the glue that cements human communities.

Prof. Adam Bodnar, human rights activist
Surveys conducted for ABSL's annual report show that nearly 80 percent of companies include diversity and inclusivity in their business strategy. At the same time, ABSL's analysis shows that quality of life - both the well-being of employees and the environment - plays an increasing role in attracting investment. From the perspective of investors, the attractiveness and image of cities is extremely important, translating into the ability to attract employees from the country and the world.
Need for cooperation between business, NGOs and the city
In Wroclaw, the celebration held at the Business Garden was attended by, among others, Deputy Mayor of Wroclaw, Jakub Mazur.
The strength of our city is openness and diversity. Wroclaw is a city of meetings of many cultures, people of different religions, nationalities, views. Tolerance, openness, diversity, equality and social justice are words that should be followed by concrete actions. Our ambition is to establish broad cooperation between the city, NGOs and business. All this to achieve synergy and efficiency in the actions taken.

Jakub Mazur, Deputy Mayor of Wroclaw
Wroclaw is one of the three largest business service centers in Central and Eastern Europe. The capital of Lower Silesia is currently home to 208 service centers, which employ 59,500 people. There has been an 8% increase in employment between 2017 and 2022, which means the creation of nearly 19,000 new jobs over five years.
The Association of Business Service Sector Leaders brings together more than 220 of the world's largest companies, currently employing more than 400,000 people in Poland. As many as 1.7 thousand service centers, scattered in more than 80 locations, form a thriving sector supporting economic development through, among other things, innovative solutions implemented by multinational corporations. Its goal is to build attractive and sustainable ecosystems that will create new jobs through positive engagement and responsibly grow investment and business in local communities.