During the first day of the Economic Forum in Karpacz, Smart City was discussed. Is it good for Wroclaw?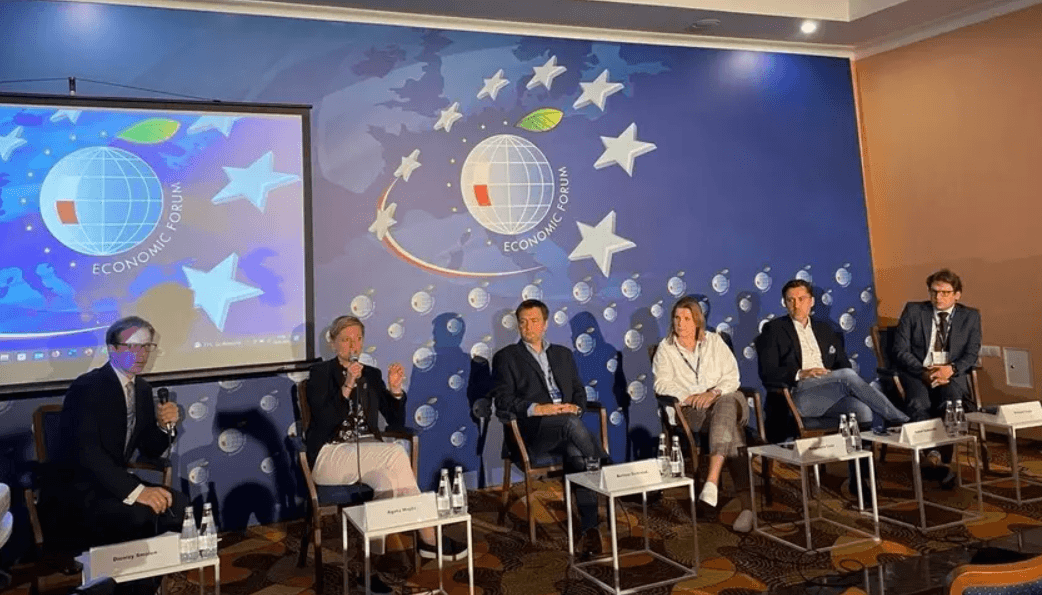 Is the Smart city the city of the future? - this was discussed by participants in a panel organized by the City of Wroclaw during the first day of this year's Economic Forum in Karpacz. Panelists included local government officials from Warsaw, Gdynia, Kielce and the capital of Lower Silesia.
Smart City is a concept of a comprehensive approach to urban development, which aims to improve the quality of life of residents. The development of cities must be adapted to the challenges that exist in it, e.g. climate change, demographic changes. Smart city uses modern technological solutions to help make rational decisions and thus meet the needs of residents.
Smart City - what do residents think about it?
Participants in the panel "Is the Smart City the City of the Future?" considered, among other things, whether the decisions made in this way actually meet the needs of residents. They also discussed whether the Smart City is the city of the future, and if so, what kind of city it will be.
The city of the future is a natural evolution of the urban idea. Above all, it is a city that is good for living. It develops in harmony with nature and respect for natural and social values. It is safe, green, energy-efficient and people-friendly. The city of the future should use both its social and cultural resources and modern technologies. Ideally, public transportation should function in such a way that you can get to any important place in 15 minutes.

Szymon Ciupa, Smart City and GIS expert
Education is needed to implement change
Panelists also stressed that implementing Smart City solutions can sometimes be quite difficult.
We have the prospects to create the city of the future, but it will still evaluate. You need to be able to define your resources and then use them optimally. It is important to have access to knowledge and to be able to use the data you have. I am aware that in many cities there are numerous roadblocks to the Smart City, including human or systemic ones. The most difficult in implementing these solutions is the mentality of officials and explaining to residents the reasons for innovations. That is why education is so important here.

Agata Wojda, Deputy Mayor of Kielce
Even misguided solutions are valuable
During the discussion, it was emphasized that Smart City should not be treated as a leading strategy. There are other processes brewing in the city of the future that should be taken care of so that they, too, have an impact on the satisfaction of living in the city.
On one side is the city, on the other side are companies offering modern solutions, and on the third side are residents. In order to combine these three elements, we created Wroclaw City Lab. It is such a laboratory where we can test various modern solutions. It gives us the answer as to whether they help the residents or not. We have a number of projects that, when tested, turned out to be very necessary, such as the parking space detection system for coaches and people with disabilities, or the rental of KTG machines for pregnant women. However, there were also some that didn't work, such as sensors for filling garbage bins. On the other hand, even if Wroclaw City Lab has burned on something, it is still valuable knowledge for us.

Robert Bednarski, deputy director for Smart City at Wroclaw City Hall
The city must be a moderator in discussions with residents
The role of local government in implementing modern solutions was also discussed.
It's up to us as a local government to propose solutions to residents that they will want to follow. Sometimes this is very difficult. .However, when we started to create them together with them, it was much easier for us to implement smart city solutions. Residents expect action based on current data. In the end, it is the resident who will say whether the city is smart or not, not advertising slogans.

Małgorzata Czaja, plenipotentiary of the mayor of Gdynia for open data
It emphasized that residents are a key element of what we call a smart city.
The city serves to meet the needs of its users, and among them the most important are the residents. However, this is not a homogeneous group. It is necessary to discuss with different groups of people. The city's role is to manage the social dialogue efficiently. Among other things, social media is important, even if officials may find it uncomfortable or even brutal. The role of the city is to efficiently manage social dialogue. It should step into the role of moderator in this discussion.

Bartosz Dominiak, deputy mayor of the Ursynów district of Warsaw