EY GDS has been operating in Wroclaw for 11 years. The company's relationship with the city is getting stronger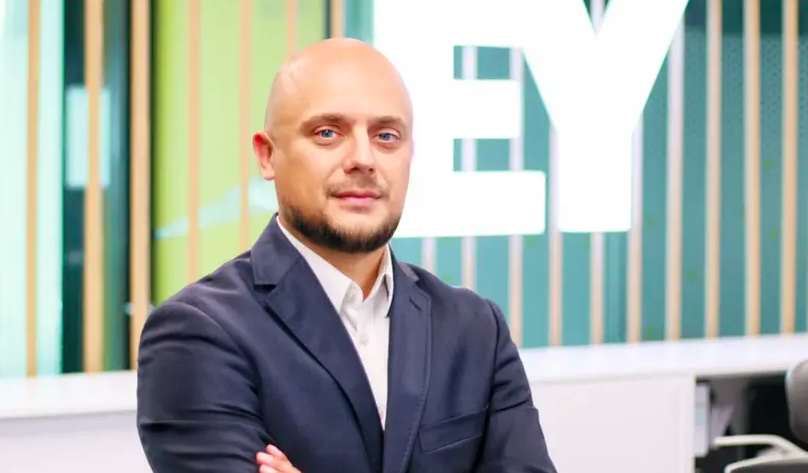 EY GDS is expanding its operations in the capital of Lower Silesia and plans to significantly increase employment. Katarzyna Wiązowska talks to Dominik Wozniak, head of EY GDS's Polish location, about what kind of specialists it is looking for, who it is helping and its plans for the near future.
EY GDS has been operating in Poland for 11 years. During this time, the company has increased its employment several times...
This is true. In the first year of operation, our staff numbered about 50 people. In contrast, over the past 3 years, the average annual employment has already been about 800 employees. As for our revenues, last fiscal year, that is, from July 2021 to June 2022, their growth was 48% over the previous year. In contrast, in the current fiscal year, which began on July 1, we anticipate a 50% increase in revenue. In addition, our location is leading the development of EY GDS in Europe. Last year we opened our second European headquarters in Budapest. At this point, the team numbers just under 70 people and specializes in tax. Meanwhile, in June we celebrated the opening of our 3rd European location in Malaga, Spain, where we already have more than 550 employees and plan to significantly expand the team in consulting areas. Our Polish teams are coordinating the hiring process in both locations. So EY GDS Poland is no longer just a hub for the global EY GDS network, but also a leader with potential for growth in other parts of Europe.
Do you have plans to expand your team in the near future?
We plan to hire between 1,700 and even 2,500 new employees in Wroclaw and Warsaw over the next five years. About 70-75% of the new hires will be people who will work in the area of new technologies, such as programming, SAP, digital, DnA, DevOps, AI/ML. They will also be Product Managers and Project Managers. In addition, we plan to expand into the latest, ever-growing areas of IT, such as Metaverse, and Data Computing. As much as 60% of the employees we are looking for will work there. Other departments where we need new specialists are audit, finance, risk management. We are also looking for project coordinators in each of our areas. Knowledge of foreign languages is important here, especially French and German.
We focus on hiring specialists
EY GDS is somewhat different from other shared service centers...
Indeed. We constantly focus on hiring specialists from the market. We are eager to work with people who already have experience. We also hire juniors in order to develop them later. Besides, we not only work for the internal customer, but we also have and constantly develop teams that directly serve external customers. This is certainly a factor that sets us apart from other shared service centers.
EY GDS employees can develop their competencies through special development programs. What do they consist of?
Our employees have the opportunity to earn an EY Tech MBA and an EY Masters in Business Analytics. These are diplomas awarded by Hult International Business School, regularly recognized as one of the best business schools in the world. The school offers all EY employees the opportunity to develop both technological and business skills. It is the first-ever fully accredited corporate MBA, which is available completely free of charge to all our employees, regardless of role or position, in more than 150 countries. Through an innovative virtual learning model, the MBA allows them to develop technology, leadership and business skills from anywhere in the world.
We also have a training program, called EY Badges, that focuses on skills development focused on enhancing existing competencies or developing new competencies. Our program includes training in programming, innovation, project management or marketing. It is up to the employee to decide which program he or she chooses and in which area he or she would like to develop his or her skills. As for statistics, EY GDS Poland employees have already earned 4820 badges, and another 3754 are in the process of being awarded. In addition, our employees who earn a certificate from ACCA - the Association of Chartered Certified Accountants (one of the largest and most prestigious international organizations that has been bringing together finance, accounting and management professionals for more than 100 years) can expect a 100% salary increase.
Students can learn about the company's work from the inside
EY GDS runs many projects with universities. What does this cooperation look like in Wroclaw?
For the time being, this is a small part of our recruitment strategy (90 interns hired last year), but this number will surely grow steadily. We are increasingly cooperating with the Wroclaw University of Technology and the University of Economics. We are developing programs for young people that will develop their skills and meet their generational needs. We are currently developing an exclusive program for students, which will allow them to create projects tailored to their needs and interests, and in addition, get to know the work at EY GDS from the inside. At the moment we can't reveal details, but the first edition is expected to start soon. We are also very open to young people who speak German and French well and have a basic knowledge of finance and auditing.
On a daily basis, you cooperate with local foundations and volunteer institutions. What does this cooperation consist of?
It is primarily cooperation with local NGOs and foundations. It covers two main areas: environmental protection and education of children and young people. This fall, our employees, in cooperation with Klub Gaja, planted more than 4,000 trees in Lower Silesia, in the Stolowe Mountains. Being part of these wonderful events for the planet and meeting the fantastic teams in person is inspiring and uplifting for me every time. I am proud of the significant initiatives we are taking at EY GDS Poland to accelerate environmental sustainability. We also continuously support young people on the job market. Together with the WrOpenUp Foundation in Wroclaw, EY GDS employees organize unique meetings between business people and young people. All this is done today to educate future leaders in key business competencies: intercultural communication, project management, sustainable development, creative problem solving. This year, the most important theme of all relief efforts, also at the heart of EY GDS, is the war in Ukraine. In this regard, we have partnered with the St. Hedwig's Dortmund-Wroclaw-Lviv Foundation in Wroclaw and are constantly responding to their current needs. In addition, our employees are eager to get involved in the local Ekostraz relief efforts, as well as mentoring programs for smaller foundations.
Multiple job growth
There are many indications that EY GDS has firmly established itself in the life of Wroclaw...
It's true. EY's ties to Wroclaw are very strong. EY GDS has been developing dynamically here for 11 years. It interacts with universities, institutions from the third sector, and gets involved in the life of the local community. Over the past 3 years, our average annual headcount has been around 800 employees. The Wroclaw office of EY Poland now employs 180 people and this number is growing rapidly. Therefore, we have decided to move it to a new office building and from October 2, 2023, the company's employees will officiate in the Centrum Poludnie complex. This will be the first office in Poland designed in accordance with the EY@Work program and taking into account the highest standards of sustainability, which should translate into a high level of work comfort. I am sure that the commitment of both EY GDS and EY Poland will grow all the time in Wroclaw.