EY opens Cloud Enablement Center in Wroclaw. This is the second such center in the world and a strategic investment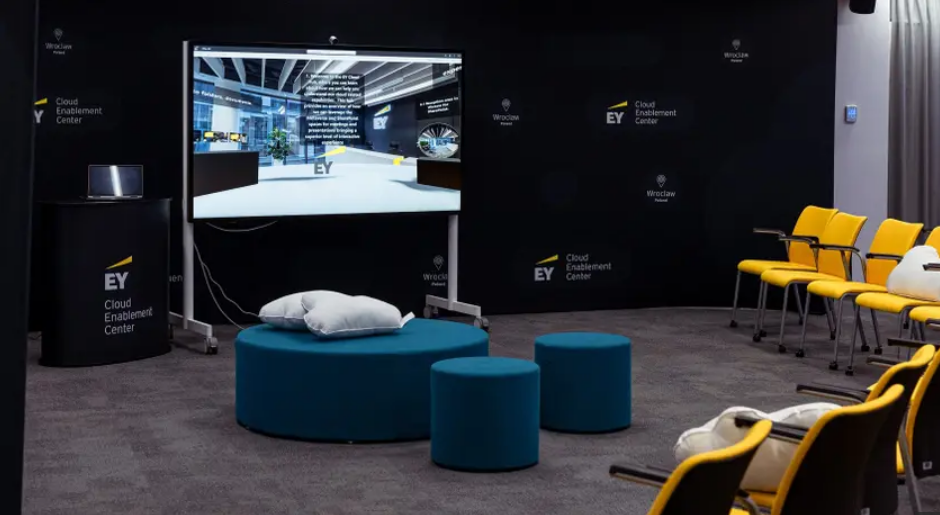 With the opening of the Cloud Enablement Center (CEC) in Wroclaw, EY is increasing its commitment to EMEIA markets, namely Europe, the Middle East and Africa. What EY will be doing at the Cloud Enablement Center in Wroclaw? Who has opportunities for employment?
EY explains its decision to open a Cloud Enablement Center in the capital of Lower Silesia this way: - Located in the heart of the continent, Wroclaw is the place of choice for many large financial and technology organizations and will serve as a scalable, modern base for both existing and new EY clients.
Why does EY choose Wroclaw?
EY emphasizes: - Given the presence of several top science and technology universities, financial services and IT organizations, and a flashing startup ecosystem, Wroclaw was chosen as a strategic location. The CEC reinforces EY's commitment to EMEIA's clients and markets, while offering a range of client- and industry-specific cloud solutions.
We are proud that EY's Cloud Enablement Center is located in EY Global Delivery Services (GDS) Wroclaw. The CEC will provide EY clients in EMEIA with significant support in building the digital landscape, as well as new cloud skills and know-how.

Sebastian Kulej, GDS Poland CEC Leader
Business worth billions. EY's Cloud Enablement Center opens in Wroclaw, Poland.
A cloud technology center - EY's Cloud Enablement Center (CEC) - has been established at the EY Global Delivery Services (GDS) office in Wroclaw. It is the world's second center after Phoenix, Arizona, USA. Together, they form an interconnected global CEC network that drives innovation and business transformation through the cloud in different regions.
It is worth recalling that EY GDS has been operating in Wroclaw for 12 years.
The center reinforces the EY organization's commitment to a $2.5 billion technology strategy to accelerate business transformation programs through technology - with a particular focus on artificial intelligence (AI), among other things. EY's cloud ecosystems are risk, regulatory and technology expertise to accelerate and advance business transformation.
EY's Cloud Enablement Center: what is it?
CEC offers physical and virtual Metaverse spaces to conduct insightful sessions with clients to provide knowledge and experience, demonstrate cloud applications and case studies on different platforms, create practical transformation strategies, explore innovative solutions together.
EY's CEC: who can benefit?
CEC is available to all sectors, new and existing customers at all stages of their journey to the cloud. It is supported by the globally integrated cloud team at EY GDS, which has a track record of more than 100 successful projects, ensuring safe, secure and fast business transformation.
The Cloud Enablement Center showcases what we do best - visionary thinking about the future and creating new experiences that help EY clients reimagine their business in a whole new way. With the CEC, EY clients can now access deep industry knowledge, leverage market-leading risk and regulatory management skills, an ecosystem of cloud service providers, industry-tailored solutions and a full range of cloud engineering talent, all under one roof

Ragu Rajaram, EY Global Cloud Consulting Leader.
Companies and countries are transforming their future in the cloud. Why?
EY highlights that organizations and entire economies in Europe are transforming their future in the cloud to become more resilient, sustainable and innovative.
Whether the goal is to accelerate the transition to greener energy sources, respond to supply chain disruptions or accelerate drug discovery, all of these transformations rely on the cloud, data and artificial intelligence. CEC will support enabling these goals in accordance with EU regulations and standards.

Rajan Sachdeva, EY EMEIA Technology Consulting Leader
EY cloud services for business. Awards
The EY organization has been recognized for its cloud services by various platforms, including being ranked 5th in the HFS Top 10 - Application Modernization Services, 2022, and was also recognized as a leader in The IDC MarketScape: Worldwide Cloud Professional Services 2022.
These technology hubs are building on the success of EY wavespace™, a global network of growth and innovation hubs that provide companies with access to immersive experiences, including design thinking, technology intelligence and deep business experience across all domains and sectors to achieve business transformation breakthroughs.
What does EY do globally, in Poland and in Wroclaw?
EY is a global market leader in professional services including audit, tax, consulting, and strategic and transactional advisory services.
Supported by data and technology, EY's diverse teams (audit, consulting, legal, strategy, tax and transaction) operate in more than 150 countries.
EY in Poland consists of more than 5,000 specialists working in 7 cities: in Warsaw, Gdansk, Katowice, Krakow, Lodz, Poznan and Wroclaw, as well as in the EY Shared Services Center.