From Wroclaw to Seoul directly by plane! This is the first intercontinental flight from the capital of Lower Silesia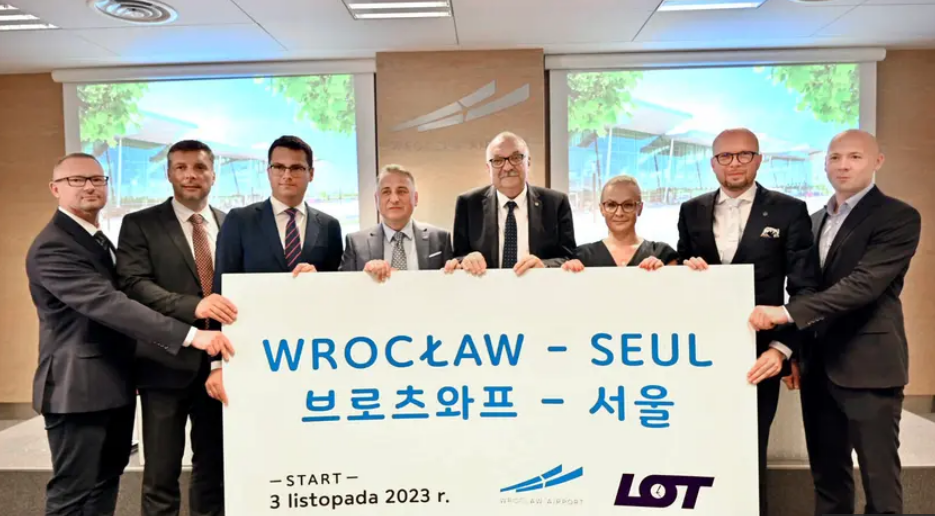 From Wroclaw to Seoul we will fly directly already in November this year. The distance covered by the plane will be more than 8 thousand kilometers. The connection is of great importance for business and tourism for Wroclaw. Passengers will fly to the capital of South Korea on the world's most modern aircraft - the Boeing 787-8 Dreamliner. Flights are scheduled once a week, on Fridays.
Flights from Wroclaw to Seoul take off in three months
Exactly from November 3 we will have a regular flight from Wroclaw to Seoul. It will be the first intercontinental flight to be carried out from Wroclaw Airport. The distance the plane will cover will be more than 8,000 kilometers.
The connection is of great business importance for the capital of Lower Silesia.
Wroclaw is the largest shareholder in the airport and we are extremely pleased that we managed to launch this connection. It is extremely promising. Let's remember that LG Energy Solution alone had 9 billion in profit last year. This is a very significant part of the exports and a very significant part of the economic chain that takes place in the Wroclaw Agglomeration and is also of great importance for Lower Silesia.

Jakub Mazur, Deputy Mayor of Wroclaw
The geopolitical location of the Wroclaw Agglomeration requires such connections, because it strengthens the city - thanks to Korean investments (such as LG Energy Solution, Industrial Bank of Korea) we have global corporations.
It is worth mentioning that more than 580 Korean companies are located in the Lower Silesian region. - This is 48 percent of all Korean companies that have invested in the whole of Poland, explained Cezary Przybylski, Marshal of the Lower Silesian Voivodeship also present at the conference at the airport.
The first direct flights between Wroclaw and Seoul will take off in November. Will one connection then be enough?
- Under the bilateral agreement between Poland and Korea, only five flights are possible for each side. On the Polish side, so far all connections have been made from Warsaw. LOT redirected one of them precisely to Wroclaw, noting how many Koreans fly from us and transfer further to Okecie. For Wroclaw, this connection is a great opportunity for further development, especially after the signing of a partnership agreement with Cheongju in April this year, where LG Energy Solution, which invests in th city, comes from," said Karol Przywara, Vice-president of Wroclaw Airport, and added:
- We will want Wrocław to receive another slot to enable the launch of an additional connection, but for this we need negotiations at the state level, he added.
Boeing 787-8 Dreamliner will reach Seoul in 11 hours
This was a long-awaited connection, which we also wanted. Passengers from Lower Silesia today still have to change flights in Warsaw. But starting November 3, they will be able to board the super-modern Boeing 787-8 Dreamliner every Friday afternoon and find themselves in Korea in 11 hours.

Katarzyna Piskorz, president of LOT
The Boeing 787-8 Dreamliner makes intercontinental runs to Mumbai, Delhi, New York, Chicago, Toronto, Los Angeles, Seoul, Beijing and Tokyo, for example. All intercontinental flights so far have been from outside Wroclaw. Now a flight from Wroclaw to Seoul can be added to that list.
The Dreamliner takes 252 passengers on board in three travel classes (Business, Premium, Economy).
Are transatlantic flights possible in the near future?
Jakub Mazur drew attention to the growing field of cooperation between the Wroclaw agglomeration and foreign investors. As an example, he cited the American company Intel, which plans to build a huge production plant in Miękinia near Wroclaw, and, on the other hand, Tokyo investing here in the production of Toyota car parts. Among other things, it is foreign corporations that raise the economic development of the place where they operate, but they also influence air connections.