Godel Technologies celebrates its first birthday in Wroclaw. It already employs 400 people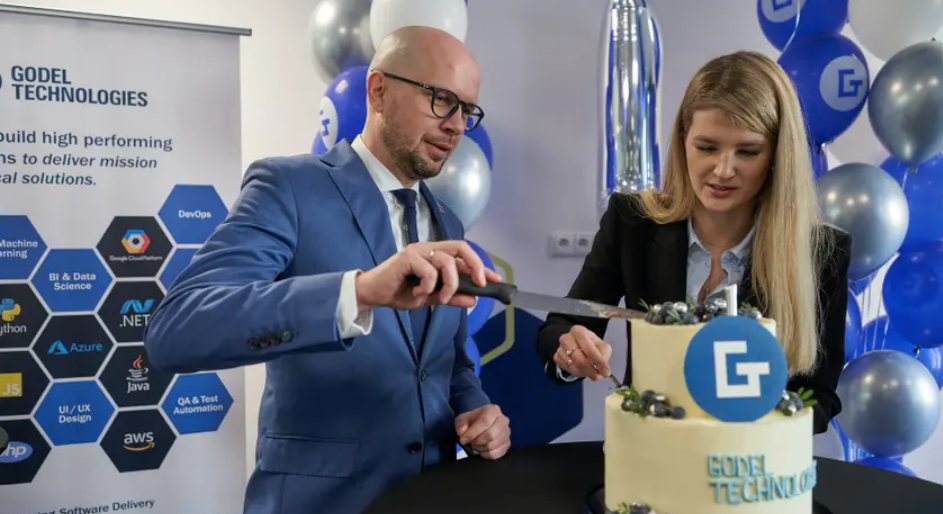 Nearly 400 employees, an increasing number of contractors and plans for further dynamic growth - this is how the first year of the Wroclaw branch of Godel Technologies can be summarized. The celebration was held at the company's headquarters in Wroclaw. There was a cake, congratulations and speeches by representatives of the company and the Wroclaw authorities.
Godel Technologies is a multinational company founded in 2002 that specializes in providing key software solutions for companies in technologically developed sectors. Customers appreciate it for its strong experience in creating partnerships based on transparency and teamwork. The company has also had a branch office in Wroclaw for a year. The company is headquartered in the Business Garden complex on Legnicka Street.
Our Wroclaw office employs 400 people - engineers and specialists needed for software development. Customers like to come to our Wroclaw office. They spend time here with their teams. We plan to further develop this partnership and cooperation with our clients and plan to expand our team.

Elena Polubochko, CTO of Godel Technologies
A development that even the owners did not expect
Godel Technologies celebrated its first birthday in Wroclaw on Wednesday, March 1, 2023.
This is already one year of the company's operation in Wroclaw. Godel is our next acquisition from the specialized IT sector. It develops very modern solutions for many different sectors. The IT sector in Wroclaw is very strong, and we want it to be even stronger. Any investment by such an international brand is a great pride for us. For one year it has grown to more than 400 employees. Even the owners themselves did not expect such growth. This only confirms that Wroclaw is a good and friendly place for business.

Magdalena Okulowska, president of the Wroclaw Agglomeration Development Agency
Plans to hire another 100 people
Godel continues its sustainable growth, while making sure to provide its customers with the highest level of service.
We definitely plan to grow further. We currently have 400 employees and hope to celebrate hiring 500 people later this year. We also intend to establish good relationships with universities, as students are our future. We also want to develop new markets here. So the plans are huge.

Elena Meleszko, Head of Operations, Godel Technologies Europe
Wroclaw's IT industry is going from strength to strength
The Wroclaw authorities also appreciate the company's contribution to the development of the local IT industry.
Godel Technologies is showing that it is able to provide services from here, from Wroclaw, for its global customers. These are various sectors including e-commerce, Fintech, artificial intelligence, the center of which we have in our city. This is also bringing a new culture to Wroclaw's technology parks. This company came to us a year ago. We are glad that in this difficult period it showed courage and decided to come to Wroclaw, which is now the largest center of this company of all that operate in the world. This shows that all those rankings in which we are placed at the top when it comes to friendliness to the business community, working in this city and personal development, are confirmed in practice. Godel Company is living proof of this.

Jakub Mazur, Deputy Mayor of Wroclaw