LG Energy Solution is developing near Wroclaw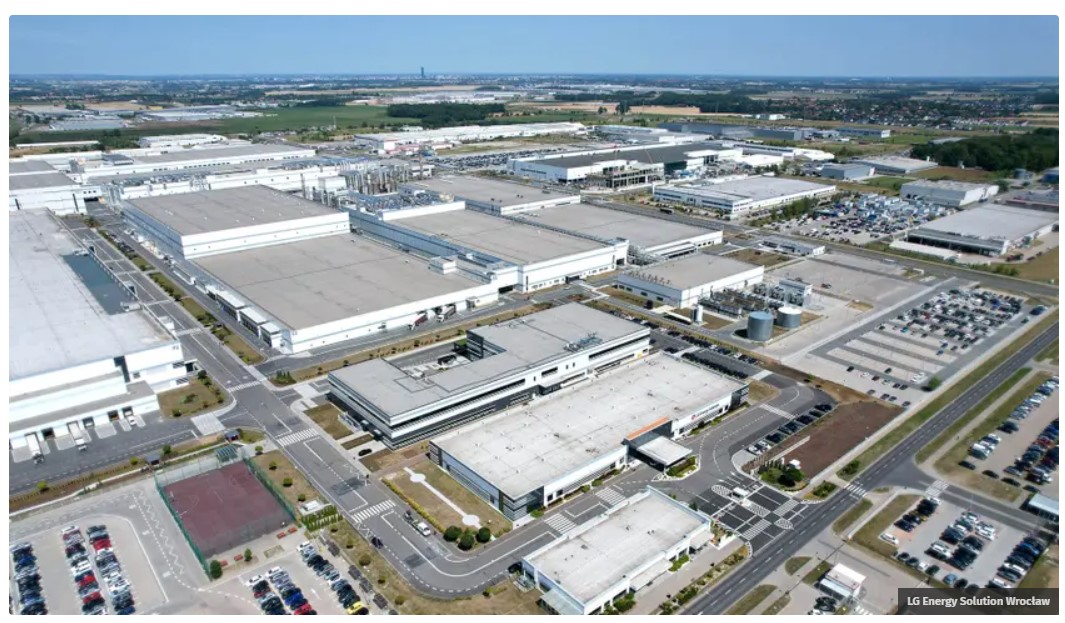 Every year, batteries for about 700,000 electric cars leave the LG Energy Solution factory near Wroclaw. Everything points to the fact that soon there will be even a million a year. At that time, the factory plans to expand its current workforce by about a thousand more employees.
LG Energy Solution Wrocław was established in 2016 in Biskupice Podgórne. It is the first, and Europe's largest, production center for lithium-ion batteries for electric cars. The investment has resulted in the introduction of cutting-edge technology to Poland, and has made our country a European leader in this sector.
LG Energy Solution Wroclaw also has a strong impact on the Polish economy. Already, exports of batteries produced in Poland amount to as much as 2 percent of the value of total exports. The batteries producedhere power electric cars of such brands as Audi, BMW, Fiat, Ford, Porsche and Volkswagen.
Increasing production potential
At the moment, the plant, which is located on an area of about 100 hectares, has dozens of modern production lines. Their current power capacity is 70 GWh. However, the company is in the process of expanding its technology park and plans to reach a power capacity of 86 GWh by the end of 2022, and up to 115 GWh in 2025.
More than a thousand new employees
LG Energy Solution Wroclaw is also one of the largest employers in Lower Silesia. It employs more than 10,000 people, including those from outside the Lower Silesian voivodship. Among them are not only production workers, but also engineers and specialists who work on batteries for the world's largest car companies.
New employees are also being searched for all the time - both production and office workers, as well as engineers. Recruitment is being carried out at the moment for about a hundred positions. The company will supply batteries for more than one million electric cars a year, after the factory grows and reaches its target production capacity. At that time it plans to hire another thousand people.

Agata Marcinkiewicz, press officer for LG Energy Solution Wrocław
Small innovative town
LG Energy Solution Wrocław is such a small town spread along LG, Seulska, Koreanska and Innowacyjna Streets in Biskupice Podgórne. It has several lines of zero-emission minibuses providing employee transportation. There are also canteens, stores selling Korean products, and a Learnig Center, a place where employees improve their skills in many fields. A kindergarten called "The Hive" has also recently been opened next to the factory. It can also be attended by children of people from outside the company. This is one of the company's social projects and its contribution to the well-being of the local community. It has also invested in building and equipping a firefighting unit and donated more than PLN 5 million to upgrade the local water supply infrastructure.
People are our priority. We try to meet their needs comprehensively. In addition to offering benefits such as medical care, training, insurance and social benefits, we initiate projects that help increase the well-being of the entire team and the local community. Jangha Lee, CEO of LG Energy Solution Wroclaw
They want to introduce themselves to the community
One of the new initiatives of LG Energy Solution Wrocław is the local campaign "With the energy of Wrocław we power Europe". It is intended to show the inhabitants of the capital of Lower Silesia that right next to them there is a modern factory where innovative solutions are being developed, shaping the future of the automotive industry. Large billboards with Wroclaw dwarves, are located in the most exposed parts of the city - on Powstańców Śląskich Street and near Grunwaldzki Bridge. The campaign will last until the summer of 2023.