GlobalLogic in Wrocław is programming the future. The company has moved into Nowa Strzegomska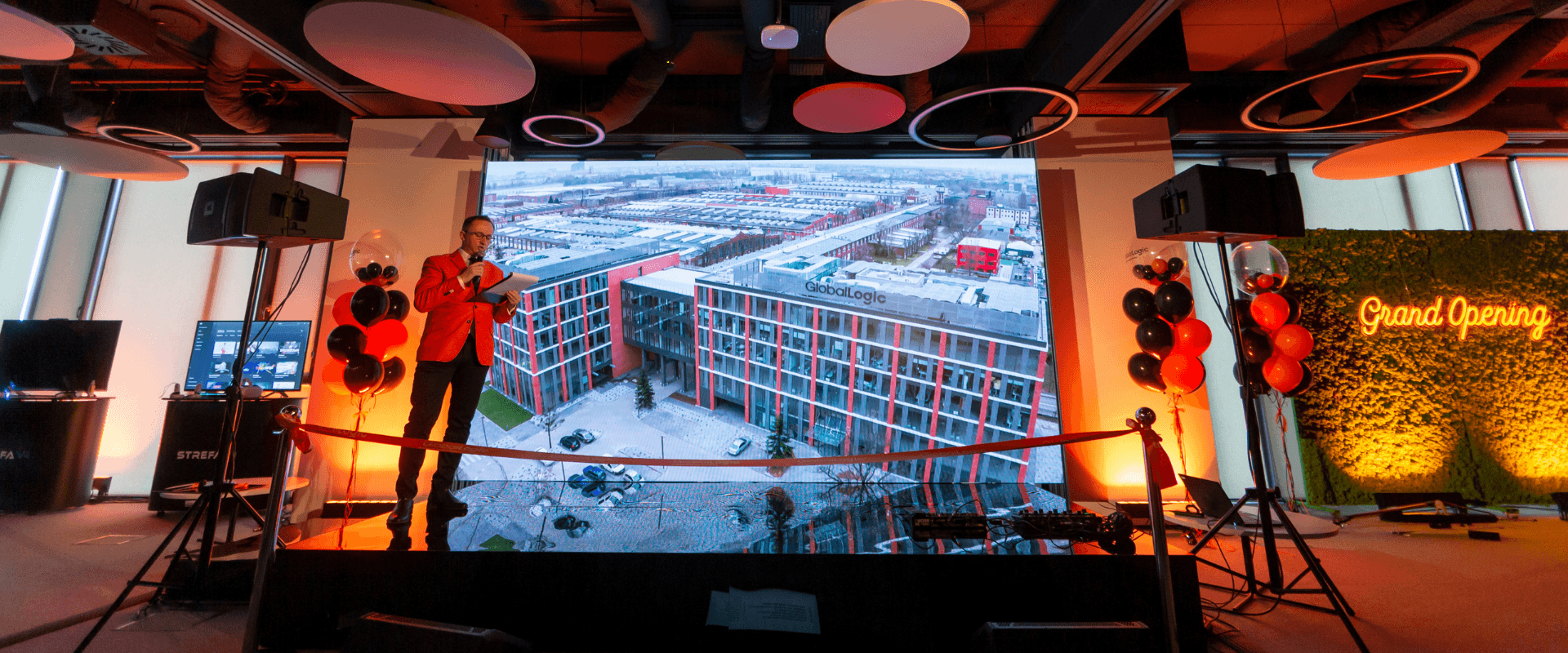 GlobalLogic, a Hitachi Group Company, has new headquarters in Wrocław. The most modern office and laboratories of this company in Poland were opened in the Nowa Strzegomska office building. It is an investment worth 60 million PLN. The company develops the latest technologies from the automotive industry, Industry 4.0 and the Internet of Things. They plan to double employment.
From 20 January 2022. GlobalLogic in new headquarters in Wroclaw.
Within two years GlobalLogic wants to increase employment in Wroclaw from 500 to 1,000 people.
GlobalLogic offers the latest solutions for the automotive, communications, financial services, healthcare, manufacturing, media and entertainment, semiconductor and technology industries.
January 20, 2022 marked the beginning of a new chapter for GlobalLogic. The company left its current offices in the Wroclaw Business Park and moved a few dozen metres away to its new headquarters - the Nowa Strzegomska office building.
- The new premises will enable further development of the company, which will result in employing further groups of specialists from the IT sector. Currently there are already over five hundred people working in Wroclaw, engineers and specialists. In the next two years we want to double our staff in Wroclaw. According to our forecasts, most of the employed people will work in the hybrid model which is becoming more and more popular in Poland - Marek Matysiak, operations director at GlobalLogic Polska in Wroclaw.
Representatives of the company point out that recruitment in GlobalLogic Polska is still ongoing, and employing several hundred new specialists will allow the company to respond even better to the needs of its partners, and at the same time further increase the importance of Wroclaw as "the IT heart of the region and a key point on the IT map of Poland and Europe".
GlobalLogic Wroclaw: innovative ideas, recruitment, jobs
GlobaLogic is an American company from Silicon Valley. It is one of the world's leaders in digital product engineering services. The company has 30 engineering centres and design studios and employs over 18 thousand professionals from all over the world. The headquarters of GlobalLogic Poland is located in Wroclaw.
The Polish branch of GlobalLogic specialises in creating software for embedded systems and digital transformation.
GlobalLogic Poland, which employs 2,000 engineers and managers, has branches in Wroclaw, Kraków, Szczecin, Koszalin, Zielona Góra, Bydgoszcz, Łódź and soon also in the Tricity.
GlobalLogic Nowa Strzegomska
Nowa Strzegomska is the most modern and adapted to hybrid work office of GlobalLogic in Poland. There are conference rooms with a total area of 650 sqm, open space and laboratories.
- The new premises are adapted to the specialised needs of IT teams and make use of innovative technological solutions - adds Marek Matysiak.
GlobalLogic: automotive, Industry 4.0, cloud, IoT
In its new headquarters, GL has advanced IT laboratories where experts can test and implement innovative solutions. Representatives of the company point out that this is where the future will be programmed - the developed projects that will come into common use only in a few years, bringing a revolution in various industries and consumers' lives.
In Nowa Strzegomska, GlobalLogic engineers will create, develop and test IT solutions for the automotive industry, Industry 4.0, Augmented Reality (AR) and the Internet of Things (IoT).
GlobalLogic for Wroclaw
GlobalLogic has announced that it will not only focus on technological projects but also engage in the development of the region and the local community. As a member of the Hitachi Group, the company creates innovative products and services to support its customers and local communities in solving their problems.
- I am proud of what we have built. This is our best office in Europe. The new premises will make it easier to share knowledge and experience through presentations and training. Our goal is to strengthen relations with universities, associations and organizations which enable the development of skills of citizens of Wroclaw and its surroundings - Aleks Kachmar, Vice President of European Operations at GlobalLogic.
GlobalLogic goes green: photovoltaics and beehives for bumblebees
The Nowa Strzegomska building has a BREEAM certificate. It confirms that the office building is environmentally friendly and comfortable for its users. A photovoltaic installation and beehives for bumblebees were placed on the roof, and modern and economical LED lighting was used inside.
- Taking care of the ecology in the Wroclaw region was one of our priorities while designing the new location. The office has also been fitted with special glazing to reduce heat build-up in the summer, which reduces costs associated with cooling the space. A VRF system was used to heat the building, which ensures optimum comfort for those working in it - enumerates Agnieszka Augustynów, CRO at GlobalLogic.
GlobalLogic in Wroclaw - a success story. IT industry Wroclaw
GlobalLogic has been part of Japanese giant Hitachi since 2021. GlobalLogic Poland has been based in Wroclaw since January 13, 2016, when the US Silicon Valley company announced the acquisition of Wroclaw-based REC Global - considered one of the fastest-growing R&D companies in Central Europe.
The creator of REC Global was Krzysztof Kuliński, who is the winner of "30 Creative Wroclaw 2016", he was also honoured with the award of the Mayor of Wroclaw in 2008. It is thanks to him, among others, that Wroclaw and the agglomeration are referred to as the Polish "Silicon Valley".
During the opening of GlobalLogic's new premises, Marek Matysiak recalled the company's history and the people who had an impact on its fate.
- I closely follow the development of the IT industry in Wroclaw and I keep my fingers crossed for the success of GlobalLogic's Wroclaw projects. It is important that what we started a decade ago, thanks to talented engineers from Wroclaw, is being successfully developed - says Krzysztof Kuliński, former head of GlobalLogic in Wroclaw.
The IT sector in Wroclaw consists of over 36 thousand people and the modern business services sector employs another 52 thousand and such international giants as KYNDRYL (former IBM), Accenture, Capgemini, Dolby, Opera Software, Volvo IT, 3M, Nokia, GlobalLogic, BNY Mellon and Infor. There are also 110 large IT and R&D centres on this list.