Made in Wroclaw and EXPO exhibition - the future at hand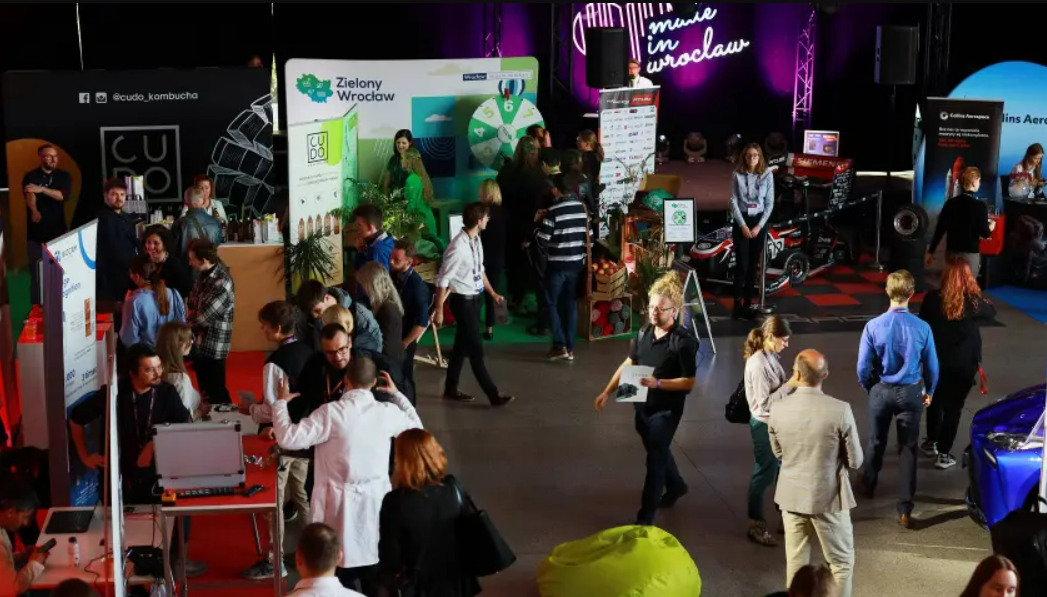 Entrepreneurs, scientists and inventors met at the Wroclaw Congress Center to present their latest innovations. A humanoid robot based on artificial muscles and human anatomy, a face finder, a machine that pours drinks on its own, or a hydrogen car - these are just some of them. All of them were of great interest to visitors to this year's Made in Wroclaw and EXPO.
Made in Wroclaw is a celebration of innovation that attracts hundreds of entrepreneurs and experts from the world of science to the Wroclaw Congress Center every year. The motto of this year's event is Future Mindset.
In its tradition and modern thinking, Wroclaw always tries to think about the future in order to be at least one step ahead of others. This is not a competition. This is embedded in the DNA of Wroclaw's people, business and academic community and local communities that create the beauty of this city. Our city with more than a thousand years of history is constantly evolving, precisely because of innovation. In Wroclaw, we put the human being at the center and his needs are met not only technologically, but also humanely. Here we also talk about space technologies, increasingly used by us. Also important are solutions created by startups, of which there are the largest number here per capita in the region. We cheer them on a lot and support these unique initiatives, which then radiate around the world.

Jakub Mazur, Deputy Mayor of Wroclaw
They talked about business, technologies and... the future
Made in Wroclaw is an opportunity to talk about different faces and scenarios of business, technology and work models. During this year's sixth edition of the event, you could admire the results of more than 50 innovative brands and about 30 startups.
We are a strong economic region, not only in Poland, but also in Europe, as evidenced by numerous rankings, innovations achieving international success and more companies joining our ecosystem. All this is created by people - scientists, innovators, employers, business environment institutions and local government officials. Socio-economic changes are not spoiling at the moment, but all the more reason for us to look to the future in order for this development to continue and to maintain our competitive advantages and not slow down. We need to be interested in the future, because after all, that's where we will spend the rest of our lives. Hence Future Mindset - the slogan of this year's edition.

Magdalena Okulowska, President of the Wroclaw Agglomeration Development Agency
An opportunity to meet the creators of the business ecosystem
Made in Wroclaw was also an opportunity to take part in three panel discussions and unique lectures on, among other things, what we should change in the future and what technologies can help us do it. Discussions included the future of the ICT industry, the changing labor market and the increasingly strong space industry in Lower Silesia. There were also examples of activities and successes of companies from the local market.
There are few events that are so deserving of presence, so moving and engaging, and so relevant to our city, as Made in Wroclaw. This is at least the fifth time I've been here and will continue to be as long as this event is on our city's calendar. It's a unique opportunity to meet the people who make up our business ecosystem, representatives of the local government, ARAW, and to be updated on what's happening in the city, but also to find out what the visions are not only for the near future, but also for the further future in terms of business.

Kacper Grabowski, Michael Page
Experts from companies and institutions such as JP Weber, Wroclaw University of Technology and Sciences, Coventry University Wroclaw, Scanway and SatRev took part in the conference as panelists.
Interesting facts to remember
A companion event to Made in Wroclaw was the EXPO, which showcased technologies that are being developed in Wroclaw, especially in the auto-moto-aero-space, Green Deal, Industry 4.0 and life-enhancing technology industries.
I'm glad that we have an Expo, because there are those curiosities that catch your attention and sink into your memory and allow you to think about the future in a somewhat tangible way.

Jakub Mazur
One could admire the achievements of both large international companies like Collins Aerospace, but also thriving local companies - Scanway, SatRev, BZB UAS, NG Engineering or Urvis.bike. There were also student initiatives carried out by the PWr Aerospace, PWr in Space and Project Scorpio circles. It was also possible to talk to representatives of Poley.me, Muke Sp. z o.o., Cudo Kombucha, or Mala Szklarnia. In turn, in the zone dedicated to Industry 4.0, i.e. based on digitization and new technologies, one could admire the achievements of the companies ISCAS, Astor Mission Critical or Dig in Vision. Urban projects such as Pij Kranowke and Green Wroclaw were also presented.
This is a celebration of technology. We are here as a Smart City to show what technologies foster a high quality of life and what products are already present in Wroclaw. We want to build them further and strengthen them so that the city is much better and more comfortable to live in. We are committed to making this quality of life really high.

Robert Bednarski, Wroclaw City Hall
Innovations as if from a science fiction movie
The last zone dedicated to the area of technology-driven living featured a state-of-the-art glucose meter for diabetics by GlucoActive, a remote and non-contact system for diagnosing the digestive system by means of capsule endoscopy created by Biocam, and Public Mirror, which is a face finder and media monitoring tool aimed at looking for mentions of a person based on a photo. Also present was Clone, which is working on the world's first biomimetic humanoid robot based on artificial muscles and human anatomy. Also on display at the EXPO were a hydrogen Toyota Mirai and a car from the PWR Racing Team.
Participants of the event particularly emphasized the opportunity to gain up-to-date knowledge about the latest technologies and business developments.
I am here periodically every year. Both the conference and the fair are always at a very high level. On the one hand we have knowledge here, on the other hand the business and academic community, and on the third hand startups. We are looking for gems that we can partner with, but we also want to learn a lot more. Knowledge is power, the world is changing exponentially, and we need to adapt. For this to be possible, we need to know what the trends are.

Krzysztof Jarzyna, Industrias Alegre