Mayor of Wroclaw awarded socially responsible companies during a gala at the Economic Forum in Karpacz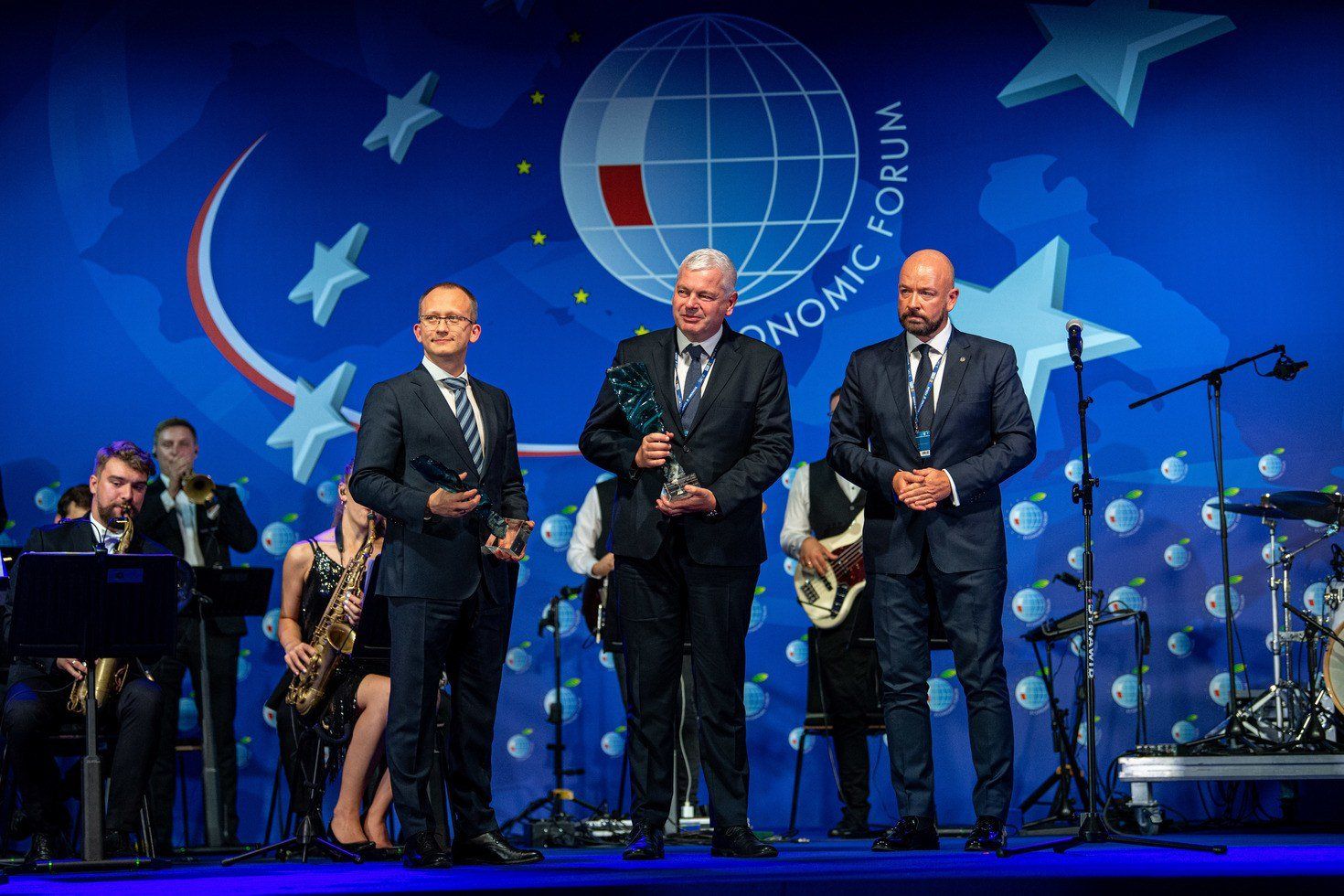 Impel, Nokia and Whirlpool are the winners of this year's Wroclaw Mayor's Socially Responsible Business Award. These companies were honored at a gala ceremony on the first day of the XXXI Economic Forum in Karpacz. This is the second edition of this award. See photos from the gala.
The Wroclaw Mayor's Award - Socially Responsible Business was awarded for the second time this year. It honors companies that care about the local community, as well as the working and living comfort of their employees. It is a form of honoring their activities, as well as an inspiration for other entities operating in Lower Silesia.
This year the award was given to three companies: Impel, Nokia and Whirlpool.
Socially responsible companies not only build the economic tissue of our country and region, but also engage socially, and this at a time when both in the morning and in the evening we wonder where to get money for our activities. This is the case not only in local governments, but also in the economic sector. Meanwhile, the companies awarded today are able to share what they have and realize their corporate responsibility. For this I would like to thank them sincerely.

Jacek Sutryk, Mayor of Wroclaw
Pandemic and war were great tests
One of the winners is Whirlpool.
Three important units of the concern operate in Wroclaw, where about 2,000 people work. The first is a factory for free-standing refrigerators and freezers - the only such Whirlpool plant in Europe. The second factory produces ovens, most of which go to one of the largest retail partners - Ikea.
An R&D center is also located in the capital of Lower Silesia, where about 300 people work.
This year we are celebrating a beautiful anniversary in Wroclaw, as we have been present here for 20 years, when we took over the Polar company. We have also been working with the local government here for a long time and are very sensitive to local needs. The first big test for us was during the pandemic, when we had to think not only about employees, but also about our institutional partners, NGOs. The second huge challenge was the outbreak of war in Ukraine. Here we had to take care of our employees very quickly, of whom we have several hundred in Wroclaw alone. It was a great lesson in humility for all of us. For us, Wroclaw is one of the most important places in Europe, hence our great commitment to the community.

Zygmunt Lopalewski, corporate communications director of Whirlpool Company Poland Sp. z o.o.
They support sick children, sports and Ukraine
Impel S.A. was also another winner of the Wroclaw Mayor's Award - Socially Responsible Business.
This company has been supporting companies and institutions by offering business outsourcing services for 30 years. It operates in almost all industries supporting both the largest entities in the market and smaller companies.
Awards for economic achievements are given quite often. In contrast, recognition of social activities of business is a much rarer phenomenon. We treat this as a summary of the 32 years of our company's presence in Wroclaw and the Lower Silesian market. We help, we invest, we donate to many initiatives. We support the Foundation to the Rescue of Children with Cancer along with the Cape of Hope project, the Ukraine Foundation. We also help the Procuro Foundation, which activates children with disabilities. We donate time and resources to the Lower Silesian Griffins and sports. I think that over the years we have donated tens of millions of zlotys to social causes. However, we also commit our time and energy to social activities. We are proud that we can create not only this economic fabric of Wroclaw, but also build this city from the social side.

Jakub Dzik, vice president of Impel S.A. Poland Sp. z o.o.
The most important immediate environment and local community
The award of the Mayor of Wroclaw - Socially Responsible Business was also given to Nokia, which creates telecommunications technologies for operators.
It is here that ideas and projects in the field of broadband access technology are created. In Wroclaw, the concern has unique laboratories on a European scale, where you can find the latest generation of equipment, designed to test system and telecommunications solutions and virtually every mobile telecommunications technology currently available in the world.
The company's activities undertaken in the area of CSR are based on four pillars: raising awareness, engaging, inspiring and helping. It focuses on the immediate environment. It cares first and foremost about employees and their families. It also cares about the local community, the environment and supports charitable organizations.
Nokia employees can use as many as two days a year for charitable activities, forming the "Nokia Hereos" community. Also, after the start of the war in Ukraine, several hundred beds were prepared for war refugees from Ukraine in Nokia's building on Srubova Street. This is just one of the forms of assistance offered by the corporation in this difficult situation.
Unfortunately, due to health reasons, a representative of the corporation could not receive the statuette during the ceremony in Karpacz.