Modern business services sector in Poland 2022 - ABSL report. Wroclaw among the leaders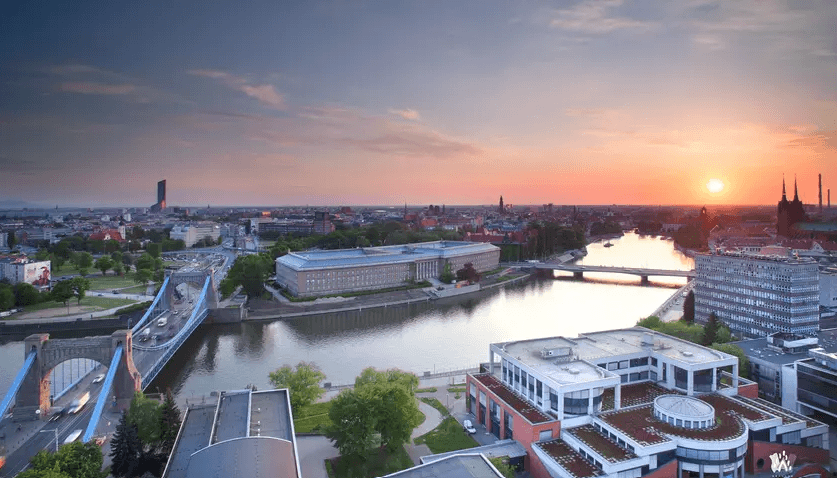 From ABSL's latest report, "Modern Business Services Sector in Poland 2022," we learn that growth in this industry was greater than expected. There were 130 jobs created daily, an average of 75 of them in highly specialized places. Nearly 60,000 people work in Wroclaw's business service centers.
ABSL report "Modern Business Services Sector in Poland 2022"
The ABSL report "Modern Business Services Sector in Poland 2022" shows that at the end of Q1 2022, the modern business services sector in Poland is currently creating jobs in 1,714 business process outsourcing (BPO), shared services (SSC/GBS), IT and research and development (R&D) centers.
The centers employed 400,300 people, an increase of 11.6% over the previous year. This means that nearly 42,000 new jobs were created in the second year of the pandemic. It is worth mentioning that 46 new centers began operations last year, creating 6,400 new jobs. Currently, 72 percent of all centers are owned by foreign investors, coming from 46 countries. One in five Fortune Global 500 companies has opened a service center in Poland.
Over the past two years, reality has exceeded our wildest expectations, as evidenced by record growth in business services exports. The sector has adapted exceptionally quickly and nimbly to the circumstances. Business models have evolved, plans have been refined to ensure operational continuity, and there has been a focus on value. Flexibility and speed of adaptation to change allowed the sector to grow spectacularly, mainly through reinvestment, and this means that we were able to seize opportunities and convince global companies to increase their investments in Poland. This work has been done to the greatest extent by center managers with their teams. They provide invaluable support for economic diplomacy.

Janusz Dziurzynski, president of ABSL
ABSL reports that for the first time the share of highly specialized knowledge-based services (KIBS) exceeded 50 percent of all services provided in centers in Poland. This is 6.5 p.p. higher than before the pandemic.
We have just crossed another important boundary. The share of highly specialized services reached more than 50 percent of all services provided in Poland for the first time in ABSL's history. This clearly proves that our market has changed a lot and reached maturity. Taking into account that 130 jobs were created in the sector every day, an average of 75 of them are in highly specialized places, and this shows how important the so-called competencies of the future are.

Dariusz Kubacki, vice president of ABSL
The report was prepared by the Association of Business Service Leaders (ABSL) in cooperation with Colliers, Mercer, Randstad and Randstad Sourceright.
Modern Business Services Sector. Leaders: Warsaw, Krakow, Wroclaw
The report highlights that Warsaw also remains the leader in terms of the number of active business service centers. At the end of Q1 2022, 330 entities were operating there. The leader was followed by Kraków (261), Wrocław (208), Tri-City (184), Katowice and GZM (126), Poznań (125) and Łódź (101).
Wrocław business service centers: number, employment
Wrocław in ABSL report - key data: modern business services sector
59,495 employment in business service centers in 2022.
208 number of business service centers (Q1 2022).
28 number of centers employing at least 500 people (Q1 2022).
3 number of new centers established in 2021 and 2022.
8.0% cumulative growth in employment in the sector (CAGR) from 2017 to 2022.
18,921 number of jobs created since Q1 2017.
2.80 location factor.
64,200 projected number of jobs in the sector in Q1 2023
Examples of new investments include: Boehringer Ingelheim, GlobalLogic, Klika Tech. Among those operating in Wroclaw are McCain, Merck Business Solutions Europe, Nexer, Olympus Business Services, Parker Hannifin, PPG GBS, QIAGEN Business Services, Schaeffler Global Services Europe, Smith and Nephew, SoftServe, SSAB, Thaumatec, Toyota, UPM, UPS Global Business Services, Volvo, XL Catlin Services.
Wroclaw in the ranking of managers and quality of life
In the evaluation of location as a place to do business (2022), Wroclaw is ranked first by managers. Behind the Lower Silesian capital are the Tri-City and Warsaw. However, in the classification of quality of life, Wroclaw is second in Poland, behind the Tri-City and ahead of Poznan.
Wroclaw office market: space, rents, vacancies
Existing space 1,253,100 sqm
Newly delivered space 21,800 sqm
Vacancy rate 16.7%
Demand 135,400 sqm
Supply of flex space 23,000 sqm
Space under construction 230,000 sqm
Asking rents for the best buildings (sqm per month) €13.50-15.50

The authors of the report calculated that the existing office space in the Wrocław market is 1.25 million sqm, which ranks the city second among regional office markets.
In 2021, developers delivered 21.8 thousand sqm, 63% less than in 2020. These included two projects: Krakowska 35 (11.8 thousand sqm) and Wrocław Business Park - Nowa Strzegomska (10 thousand sqm). In the construction phase at the end of 2021 with a completion date of 2022-2024, there was 230 thousand sqm of modern office space. In 2021, gross demand for office space in Wroclaw increased by 6% compared to 2020 and amounted to 135.4 thousand sqm.
Among the largest transactions signed in 2021 were the new location of 3M Service Center EMEA at MidPoint 71 (12.3 thousand sqm), the renegotiation of IBM at Wojdyla Business Park II (8.9 thousand sqm) and the renegotiation of HPE.
The market for flexible office space in Wroclaw is growing dynamically. In 2021, its supply increased by 46% to 23 thousand sqm, thanks to three major signed transactions - City Space in West4Business Hub I, RISE in Sagittarius and City Forum 2.
At the end of 2021, the vacancy rate increased by 1.7 p.p. compared to Q4 2020 and stood at 16.7%, which translated into 208.7 thousand sqm of available space. This is the highest value of this indicator among all regional cities.
Rents for office space in modern Class A tenant projects range from EUR 13.50 to 15.00 sqm per month in central zones and from EUR 12.00 to 13.00 sqm per month in non-central zones.