New Business Link in Wroclaw officially opened. High popularity of flexible offices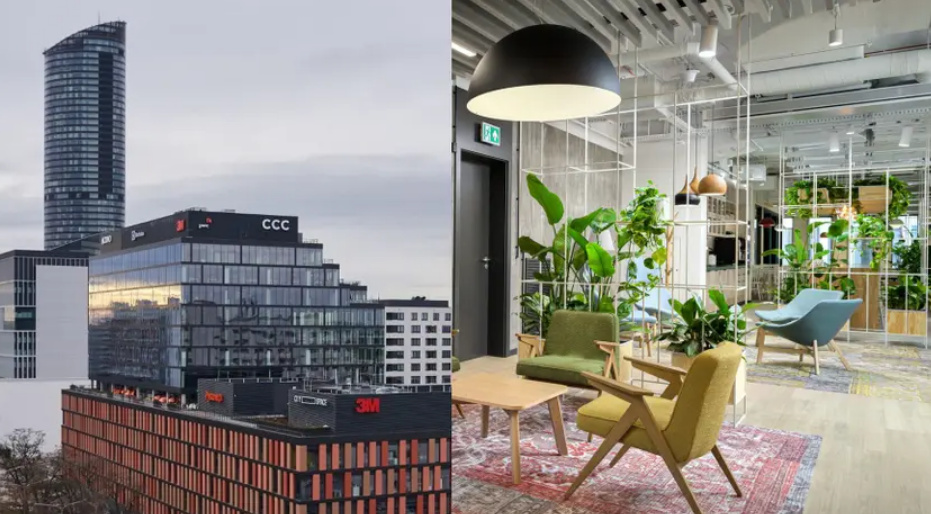 A new Business Link flexible offices has opened in Wroclaw. In the Centrum Poludnie office building, built by Skanska, on Powstancow Slaskich Street, tenants can use more than 1,700 sqm of modern office space. How is the office market in Wroclaw?
The company's first location in the capital of Lower Silesia was the Green2Day facility, located on Szczytnicka Street. The opening of Business Link's second office in Wroclaw is the operator's response to the growing interest in flex space.
Business Link in Wroclaw. What do they offer?
- With the opening of Business Link's new space, the offer of flex offices in Wroclaw becomes even more accessible to local companies and their employees. Accessibility is absolutely key in this context, as the market increasingly expects well-located offices with convenient access," stresses Ewelina Kaluzna, managing director at Business Link and director of Strategic Workplace Advisory at Skanska, adding that in the operator's existing locations demand for flex space remains high, with over 90% occupied.
Everything operates surrounded by plenty of greenery and a color palette in a Scandinavian climate, which is the theme in Business Link's new locations, emphasizing the Swedish roots of the operator's parent company.
- The spaces we created feature Scandinavian design, a variety of workspace types and a WELL approach. When furnishing the space, we took care to use eco-friendly materials and local suppliers. It is also one of our greenest locations," says Tomasz Pater, Director of Expansion and Workplace Advisory at Business Link.
Centrum Poludnie, modern office buildings on Powstancow Slaskich Street
Skanska pays special attention to the aspect of sustainable construction. The Centrum Poludnie complex was also designed in such a spirit, providing employees with adequate natural light, clean air and thermal comfort.
It is the first investment in Wroclaw to receive the WELL Core & Shell certificate, which distinguishes spaces that benefit the health and well-being of users. The first phase of Centrum Południe also received the prestigious LEED Core & Shell certification at the Platinum level, verifying the building's environmental impact.
The South Center has been equipped with solutions that make the building friendly to people and the environment, including air-purifying filters, state-of-the-art humidifiers and ventilation systems that add up to 30% more fresh air for users than the standards for office space stipulate.
The office building is also fully powered by electricity generated from renewable sources.
As of 2022, Phase I of the Centrum Poludnie office complex is owned by Stena Real Estate BV.
Office market in Wroclaw: space
In the TOP 3 of the largest players in Poland's regional office market, there is no surprise - Wroclaw is among the leaders. Invariably, the largest office markets in Poland (after Warsaw) are Krakow, Wroclaw and the Tri-City.
According to the latest Savills report "Market in Minutes: the office market in regional cities" (Q1 2023), three of the regional cities offer more than one million square meters of modern space: Krakow (1.75 million sq. m.), Wroclaw (1.31 million sq. m.) and the Tricity (1.02 million sq. m.), while three more are: Katowice - 725,800 sqm; Lodz - 631,900 sqm; and Poznan - 623,100 sqm.
New offices in Wroclaw and an office building sold for €100 million
A record-breaking office market transaction took place in Wrocław in 2022. The MidPoint71 complex on Powstancow Slaskich Street was sold for more than €100 million. This is the largest completed in 2022, an office building in Wroclaw. Thus, Echo Investment's investment increased the Wrocław office market by more than 36 thousand sqm of space. See who is already working at MidPoint71.
A Wroclaw city and business center is being built at Powstancow Slaskich Street.
MidPoint71, located right next to the under-construction Centrum Poludnie, is a massive office complex, with a 17-story building currently under construction that will accommodate more than 21,000 sqm of office space, terraces for tenants or a basketball court.