New IT investment: specialists in digital transformation of enterprises will work in Wroclaw city business center.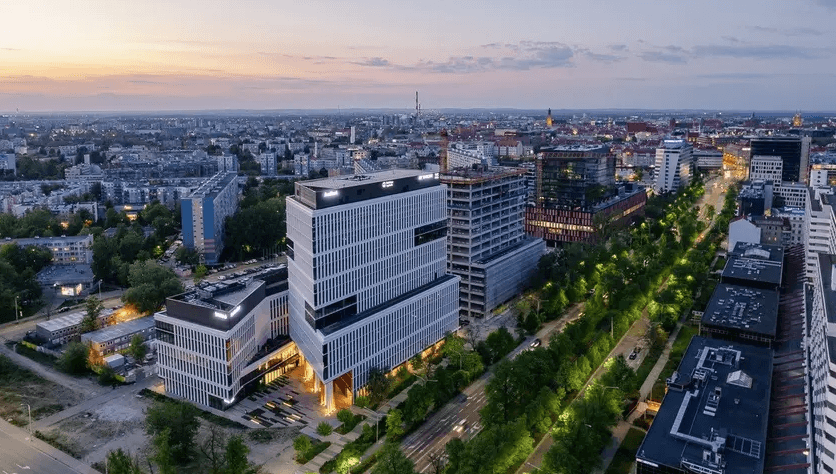 They are already in London, now they will be in the Wroclaw city business center under construction. Here it is already certain - Anegis will work in the office complex Centrum Południe at Powstańców Śląskich. The company specializes in digital transformation of businesses using Microsoft technology solutions. They invite Dynamics 365 consultants and developers to work with them.
Factory of Digital Transformations - Microsoft & Anegis
It has just been announced that the Centrum Poludnie office complex under construction on Powstancow Slaskich Street being developed by Skanska will have another tenant. Anegis (they are currently headquartered at Renaissance Business Centre on Sw. Mikolaja Street), which specializes in digital transformation of businesses using Microsoft technology solutions, will open its office on 750 sqm. It's worth mentioning that Anegis and Microsoft Poland have created the "Digital Transformation Factory" project, which supports the digitization and innovation of manufacturing companies. The new tenants will move into the Centrum Poludnie office building in November 2022. The signed agreement means that Centrum Poludnie - Skanska's flagship investment in Wroclaw - is already 80 percent leased.
Anegis: designs and implements innovative IT solutions
Anegis is a company with British-Polish capital and experience in designing and implementing innovative IT solutions. It helps clients in Poland, the UK, Germany and Scandinavia with digital transformation, using tools that integrate modern technologies - IoT networks, cognitive systems, mixed reality, among others - to improve business productivity and efficiency. Anegis has offices in Wroclaw, Warsaw, Sieradz and London. It employs more than 150 experts specializing in Microsoft products and services - solutions from the Dynamics 365 family (ERP, CRM), Power Platform and HoloLens. ANEGIS has implemented CRM and ERP systems for many large entities in the manufacturing or retail industries, such as Nicols, Media Expert, AmRest, Saller Polbau. Development companies using solutions from the Dynamics 365 family include ERBUD, Unibep, Echo Investment and Warbud.
They are inviting Dynamics 365 consultants and developers to work with them
Due to dynamic growth, Anegis invites Dynamics 365 consultants and developers to work with them. The new employees will be based in Anegis' office in the South Center.
The key value of Anegis is people. The core of the team consists of people with competencies unique on the IT market, global experts in their fields. Our goal was to create conditions at the headquarters in Wroclaw that would ensure maximum working comfort for the Anegis team. That's why we decided to replace our cramped place at the Wroclaw market square with a modern, well-designed space that meets the highest security standards. In the project, we abandoned the outdated open space, because we wanted each Anegis employee to have his or her own personalized space, which will provide him or her with exactly the comfort he or she will find in London or New York

Krzysztof Langner, vice president and sales director of Anegis.
- It is a great honor for us that a company that places so much emphasis on ensuring the comfort of its employees has chosen the South Center as its new headquarters. This confirms that the solutions implemented in the building have a significant impact on the health of those working there. We're talking not only about the shape of the floor, which provides 95% of the office space with natural light, but also about the air quality or acoustic parameters that the new Anegis office will meet," says Aleksandra Kalina-Tacik, leasing manager for Skanska's CEE office company.
South Center next to Sky Tower, Wroclaw city business center with largest office buildings is under construction
17 floors, more than 21,000 sqm of office space, terraces for tenants or a basketball court - this is what the newest skyscraper in the Centrum Poludnie office complex, which Skanska is building on Powstancow Slaskich Street, will look like. Centrum Poludnie, which is being built right next to MidPoint71, is the largest office building in Wroclaw completed this year.
The 55-meter skyscraper under construction, by Skanska, is the second phase of the Centrum Poludnie complex. Priced at 47 million euros, the project is expected to be ready in the fourth quarter of 2022 and will provide 21,500 sqm of space to the Wroclaw office market.
The office building will have 15 floors above ground - including two technical floors - and two underground floors with 200 parking spaces.
The skyscraper will provide between 2,000 and 2,500 jobs.
A public dining and restaurant area is planned for the first floor.
The building will apply for numerous certifications: LEED Core&Shell at the Platinum level, WELL Core&Shell, Barrier-Free Facility, as well as the latest one - WELL Health-Safety Rating. The latter is awarded to office spaces with the highest safety ratings, reducing the risk of disease transmission and enabling healthy and safe workplaces.
Between the buildings, the developer has planned interesting landscaping, including a public basketball court and comfortable seating areas.
Centrum Południe Wrocław: history of Skanska's investment
Wroclaw's Centrum Poludnie business complex is Skanska's largest construction project in the capital of Lower Silesia. The cornerstone for Centrum Poludnie was laid in April 2019. There will be 85,000 sqm of office and retail and service space in five buildings. In August 2020, the first two buildings, totaling about 28,000 sqm, were made available to tenants. It was these buildings that Sweden's Stena Real Estate BV bought in January 2022. Among other things, Center South is home to a branch of Coventry University in Wroclaw.