Office real estate market in Poland and Wrocław in 2022. Forecast for 2023.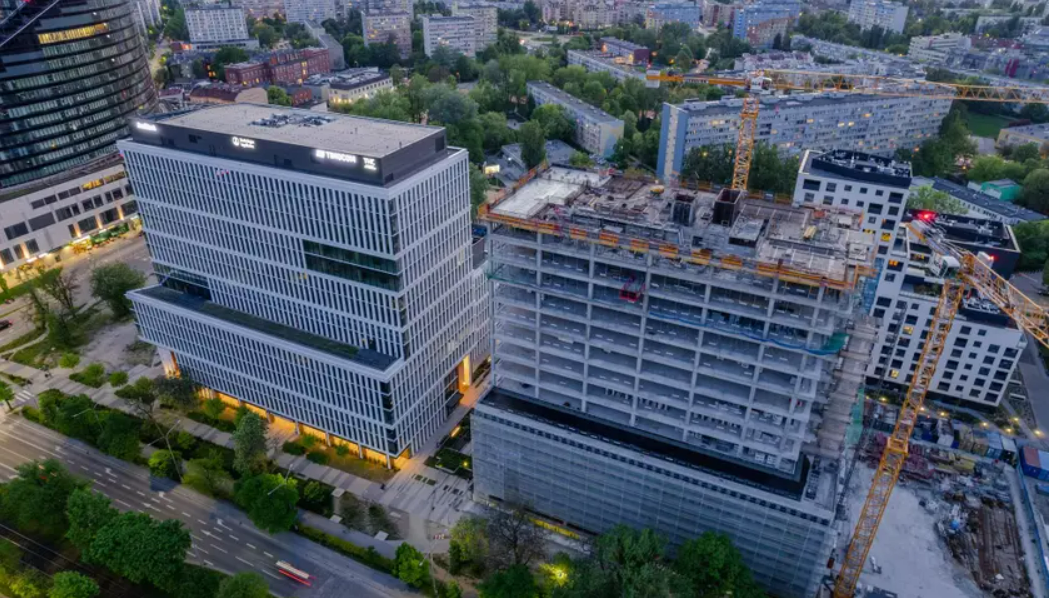 Newmark Poland, a global partner of Newmark - the world's expert in international real estate markets, has summarized the past year on the office real estate market in Poland and Wroclaw. See what the forecasts are for the office market in Wroclaw in 2023.
Experts from Newmark Poland emphasize that 2022 in the Polish office market was marked by measures taken to mitigate the effects caused by the war in Ukraine and the high cost of construction and office fit-out, as well as the further spread of the hybrid work model.
On the other hand, among the most important challenges of 2023, we can mention the limited availability and high cost of financing new office investments and the need to seek savings - both by tenants and office building owners.

Anna Osiecka, Associate Director in the Office Tenant Representation Department, Newmark Poland
Office market in Poland and Wroclaw
At the end of Q3 2022, there were more than 12.7 million sqm of modern offices in Poland. By the end of December 2022, more than 100,000 sqm more is scheduled to be completed. - These will supply only regional office markets.
Newmark Polska predicts that in 2023, due to the high cost and limited availability of debt financing, among other factors, we will see a further decline in developer activity in the office market across Poland.
- This phenomenon will be particularly evident in Warsaw, where new supply will reach only about 60,000 sqm. Regional markets, on the other hand, can expect about 400,000 sqm of new space in 2023. In 2023, Poland's total stock of modern office space will exceed 13 million sqm, with regional cities collectively overtaking Warsaw in terms of the amount of space to offer, Anna Osiecka calculates.
Among the largest investments in Poland completed since the beginning of 2022 are the A1 and A2 buildings within the Global Office Park complex in Katowice (a total of 55,200 sq. m., Q1), .KTW II in Katowice (39,900 sq. m, Q1), Midpoint71 in Wroclaw (36,200 sqm, Q1), buildings C and D within the Fusion complex in Lodz (total 18,700 sqm, Q2), Format in Tri-City (16,000 sqm, Q1) and Quorum Office Park D in Wroclaw (16,200 sqm, Q3).
Newmark Poland does not yet have data for Q4 2022, but in Q3 2022 the total stock of modern office space in the markets of Poland's largest regional cities (Krakow, Wroclaw, Tricity, Katowice, Poznan, Lodz, Lublin, Szczecin) rose to almost 6.36 million sqm. This means that there was less new office space in the regions for the second quarter in a row. At the end of Q3 2022, a total of 967,200 sq. m. of vacant space was available to tenants in eight regional office markets - the most in Krakow and Wroclaw.
New offices in Wroclaw in 2022 and an office building sold for €100 million
A record-breaking office market transaction took place in Wroclaw in 2022. The MidPoint71 complex on Powstancow Slaskich Street was sold for more than €100 million. This is the largest office building in Wroclaw completed this year. Thus, Echo Investment's investment increased the Wrocław office market by more than 36 thousand sqm of space.
MidPoint 71 was built in the vicinity of Sky Tower - the tallest skyscraper in Wroclaw and the Centrum Poludnie complex on Powstancow Slaskich Street.
Office buildings in Wroclaw in 2023. Wrocław city and business center is being built
17 floors, more than 21 thousand sqm of office space, terraces for tenants or a basketball court - this is what the newest skyscraper in the Centrum Poludnie office complex, which Skanska is building on Powstancow Slaskich Street, will look like.
What offices are tenants looking for: space, costs, coworking, hybrid work
According to an expert from Newmark Polska, offices that allow flexible adaptation of the leased space to the tenant's changing needs are invariably the most popular. Rising office operating costs have contributed to an increase in interest in technological solutions that allow optimization of utility consumption, especially reducing electricity costs.
Nowadays, leases are increasingly being signed for longer periods - for 7-10 years compared to the previous standard of 3-5 years. This has to do with the need to offset the higher expenses incurred by office building owners, as well as the growing awareness of tenants to use offices more responsibly.
Anna Osiecka notes that the hybrid working model has already become a permanent fixture in the Polish office market, with tenants increasingly expecting flexibility from the landlord and a quick response to changing needs. As a result, hybrid office lease solutions, i.e. combining traditional leases with flexible space (e.g. coworking spaces), are also becoming widespread.