PepsiCo's most eco-friendly factory in Europe - it's near Wroclaw. Billion-dollar investment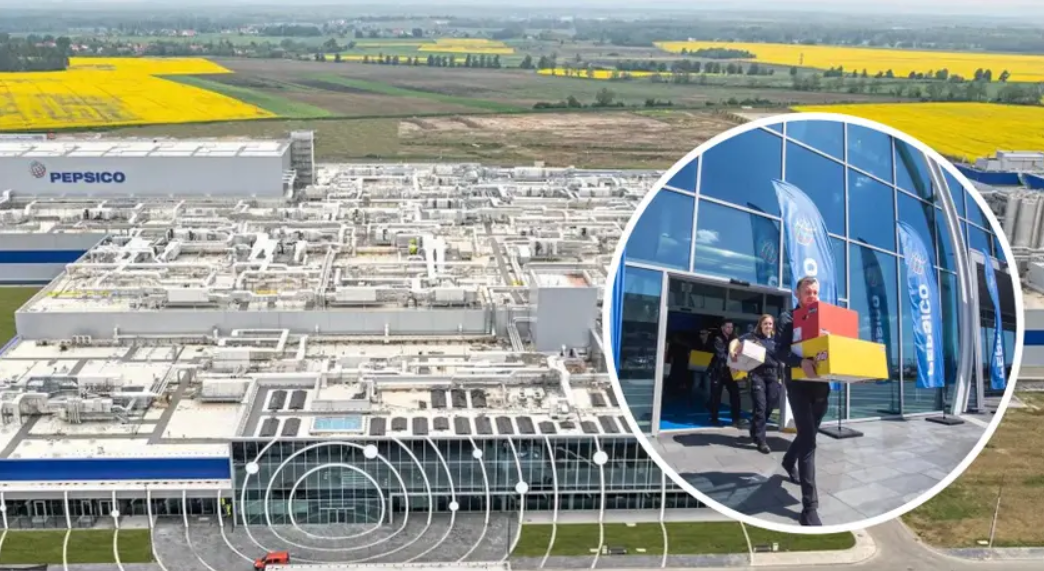 The most eco-friendly and environmentally sustainable US PepsiCo plant in the European Union is near Wroclaw. They produce world-famous snacks and chips there. The entire investment means hundreds of new jobs. The Americans have invested more than a billion PLN in the factory, and 30.3 million PLN ($7.3 million) in environmentally friendly solutions. See how the factory works.
We wrote about the opening of the PepsiCo plant in Swietem near Sroda Slaska on wroclaw.pl in May this year. The PepsiCo snacks plant was built near Wroclaw for more than 1 billion PLN. See what production at the PepsiCo plant looks like in the photo gallery.
It will shorten supply chains by 4.5 million kilometers per year, save energy and water, minimize waste and significantly reduce greenhouse gas emissions. The investment, which began in 2021 and opened after just 20 months, on May 31 this year, is part of the company's strategic transformation toward Pep+ sustainability (PepsiCo Positive)

Julian Krzyzanowski, communications manager at PepsiCo Poland.
PepsiCo near Wroclaw has the greenest plant in Europe
The new plant was designed based on measuring CO2 emissions throughout its life cycle: design, construction and operation.
- The result is the most environmentally sustainable, technologically advanced and innovative PepsiCo facility in the European Union. It is also a model EU-wide example of the use of the circular economy in the production process and in the operation of the entire facility, Julian Krzyzanowski adds.
Thanks to the use of circular economy, including heat and water recovery technologies, the plant is largely self-sufficient, and the consumption of utilities in the production process has been significantly reduced. The solutions used in it also make it easy to adjust the scale of production to current demand.
PepsiCo's new plant saves 4.5 million kilometers a year! How does it do it?
The effect of launching a new plant just in Swietem near Sroda Slaska is to reduce supply chains.
The plant will eventually supply 20 European markets. Thanks to its location near Wroclaw, the supply chains of its products will be reduced by as much as 4.5 million km per year.
However, the opening of the plant and the start of production there does not mean the end of the investment.
PepsiCo: own wind turbines, biogas plant, treatment plant and climate neutrality in 2035
Its next steps will bring new environmentally sustainable solutions, such as its own wind turbines, a decentralized biogas plant that uses biomass left over from the production process, and the expansion of the wastewater treatment plant to produce bio-fertilizer.
- We have recently introduced or will soon launch new environmentally friendly solutions at the plant. We are proud of our own wastewater treatment plant, which recovers biogas. This valuable resource is used for heating purposes in our plant, which not only benefits our production, but also our commitment to the environment," the PepsiCo representative enumerates.
The total value of the pro-environmental solutions used in the project is PLN 30.3 million. As a result of their implementation, the facility will achieve climate neutrality by 2035.
The PepsiCo Positive (PEP+) strategy calls for PepsiCo's comprehensive transformation towards sustainable development and achieving carbon neutrality in 2040 - a decade ahead of the Paris Agreement. The production facility in Swietem brings the conglomerate significantly closer to achieving this goal.
- We are currently just ahead of commissioning our state-of-the-art rainwater recovery technology, which will soon reach full capacity. As a result, we will be able to extract as much as 250 m3 of rainwater per day to be used in technological processes, while minimizing our environmental impact," Julian Krzyzanowski adds.
PepsiCo employment and new jobs
The corporation stresses that the new plant will not only benefit the environment and PepsiCo - saving on utilities and transportation - but also the local community. Eventually, the plant will employ about 450 people, mostly from the region.
PepsiCo is working with local communities and farmers - in total, more than 70 farms already participate in the company's agrarian program. With the new plant, there will be further opportunities for cooperation in the supply of potatoes or corn. Doritos nachos will be produced in Poland for the first time.
- Since we opened PepsiCo's fifth plant in Swietem at the end of May, production of Lay's snacks and Doritos nachos has been going according to plan. Our plant is growing all the time, so we continue to recruit new employees," Julian Krzyzanowski noted.
PepsiCo plant highlights:
Investment value: more than PLN 1 billion
Value of applied pro-environmental solutions: PLN 30.3 million ( USD 7.3 million)
Plot area: 30 ha
Total development area: 54 700 m2
Production hall area: 23 000 m2
Warehouse capacity: 8,800 euro pallets
Target 8 production lines: - 3 fully functioning production lines in June 2023. - 2 for Lay's fried potato chips - 1 for Doritos fried corn nachos
The plant will produce 30,000 packets of Doritos and 12,500 packets of Lay's per hour
Assumed pro-environmental effects:
2035 - Climate neutrality of the new plant
30.3 million PLN - allocated for pro-environmental solutions at the new PepsiCo plant in Lower Silesia
4.5 million km per year - the supply chains of the new plant's products to 20 markets in Europe will be shortened
PepsiCo - the US food giant is 56 years old
U.S. conglomerate PepsiCo was founded in 1965 when Donald Kendall, president of Pepsi-Cola, and Herman Lay, president of Frito-Lay, formed a single company.
Today, the company is one of the world's largest producers and marketers of soft drinks and food products.
It includes, among others: Pepsi, Lay's, Cheetos. They are available in more than 200 countries and regions around the world, with each of the 22 best-selling brands generating annual revenues in excess of one billion US dollars. With operations in more than 100 countries, PepsiCo employs 59,000 people.
PepsiCo has been in Poland since 1991 and has 3,200 employees. Production facilities are in Michrow, Znin, Grodzisk Mazowiecki and Tomaszow Mazowiecki.