Prestigious awards at Local Trends forum! Wroclaw best in Forbes' ranking of Business Friendly Cities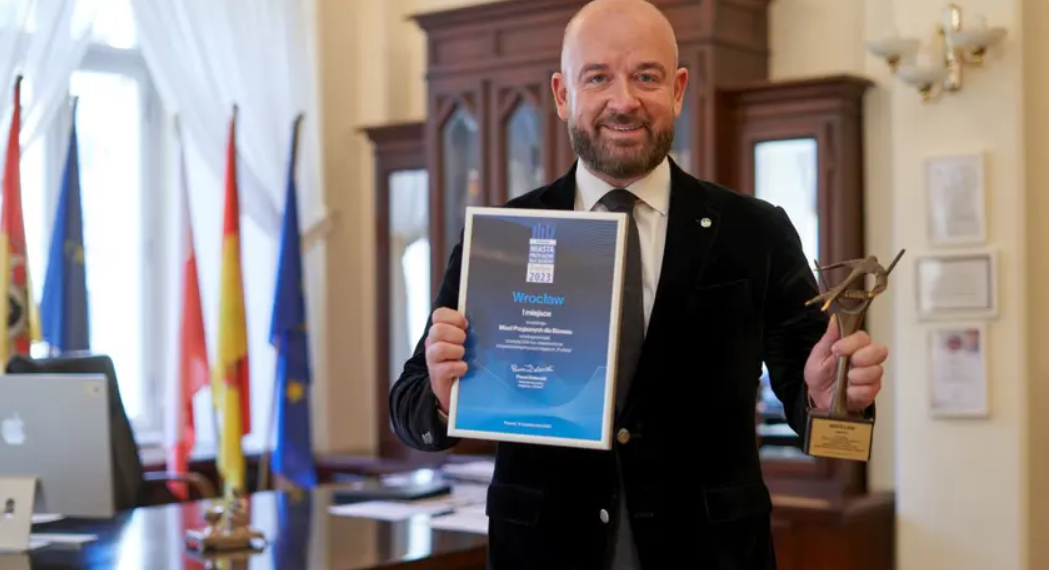 Wroclaw won two prestigious awards during the European Local Government Forum Local Trends held in Poznan. It turned out to be the best in the Forbes magazine's ranking of Business-Friendly Cities and in the "Cashless Cities" competition for the most "cashless cities in Poland."
The third edition of Local Trends - European Local Government Forum has come to an end. Local government officials and business representatives from all over Poland met at the Poznan Congress Center (October 17 and 18) to discuss the biggest challenges of local authorities in the changing reality twenty-five years after the second stage of system reform.
- The voice of local government - cities, municipalities, counties and provinces must be heard in the discussion of the country's social and economic development. This is how we understand responsibility for residents and our small homelands. We met again in Poznan at the Local Trends congress to discuss the future and cooperation.

Jacek Sutryk, Mayor of Wroclaw
Prestigious awards for Wroclaw at the Local Trends forum
During the forum, Wroclaw was recognized with two prestigious awards. It won first places in the ranking of "Forbes" magazine - Business Friendly Cities (last year we were overtaken by Warsaw) and in the "Cashless Cities" competition for the most "cashless cities in Poland" (Warsaw and Lublin were also recognized). The purpose of the latter ranking is to promote local governments that care about the development of electronic payments.
- We have a new reality in Poland. I believe that a successful and happy one for local government. That is why it is so important to strengthen cooperation and exchange experiences. Well, and enjoy the awards, because in the ranking of "Forbes" in the category of "Business Friendly City" and "cashless cities in Poland" Wroclaw won and was awarded. And more specifically you - the residents, who create such a great climate for doing business in our city.

Jacek Sutryk, mayor of Wroclaw
The awards were received on behalf of the mayor by Przemyslaw Galecki, director of the Department of Social Communication of the Municipal Office in Wroclaw.
Business is betting on Wroclaw!
Business is a sector that is thriving in our city. It is near Wroclaw that Intel, the world's largest microprocessor manufacturer, will invest record money in its factory. The capital of Lower Silesia is an academic city, with a technological base, with an open labor market filled with specialists and adequate infrastructure. More offices, factories or research centers are opening regularly.
- Business is betting on Wroclaw! During the Local Trends European Local Government Forum event in Poznan, Wroclaw won first place in the Forbes.pl magazine's Business Friendly Cities ranking! This is the result of creating favorable conditions for business, a developed academic base and friendly local government. This award motivates us to continue our hard work. We are proud of this award.

Jakub Mazur, Deputy Mayor of Wroclaw
The participants of the event also paid a lot of attention to the issue of environmental protection. - In order for cities to enter the path of climate neutrality, it is absolutely necessary for all entities that operate in these cities to get involved, first and foremost business," noted Katarzyna Szymczak-Pomianowska, Director of the Department of Sustainable Development at the Wroclaw City Hall.
Recall that last year Wroclaw also won awards at the European Local Government Forum Local Trends. These were honors in the Newsweek ranking for "Best Mayors of Cities," the Forbes ranking of "Business-Friendly Cities" (second place) and the "Cashless Cities" ranking (first place for the city's computerization and smart solutions, in which cashless transactions dominate).
Wroclaw Agglomeration Development Agency
It is worth mentioning that in 2005 a special company was established in Wroclaw - the Wroclaw Agglomeration Development Agency - whose main activity is to attract new investors and help them develop their businesses. Since then it has acquired more than 250 investment projects for the region. Among the companies that have chosen Wroclaw and its immediate surroundings are such brands as BASF, IBM, Google, Bosch, UBS, Volvo, 3M, Nokia, Dolby, Credit Suisse and LG.
The company also actively supports Polish entrepreneurs - both in the local development of their businesses and in the process of internationalization and brand building outside the agglomeration. Through such activities, ARAW has contributed to the creation of more than 130,000 jobs.
Last year alone, thanks to ARAW's efforts, as many as 18 companies decided to launch their operations in Wroclaw or expand their facilities, resulting in 4,000 jobs in innovative manufacturing and service companies. Worth mentioning is the German pharmaceutical company Boerhinger Ingelheim, which opened a service center, and the American giant, manufacturer of custom orthodontic braces, Align Technology, which invested in a manufacturing plant.
- I'm glad that ARAW's long experience is helping to attract investments such as the Intel factory. This venture is another leap forward for our economy, infrastructure and education.

Magdalena Okulowska, president of the Wroclaw Agglomeration Development Agency
Wroclaw and the agglomeration is an innovative hub with an established position as a city friendly to investors and startups. It is a place appreciated by foreign investors due to its location, academic base, quality of life and openness of the authorities, as well as good service. Over the years, more than 260 FDI - foreign direct investment - projects have been implemented with ARAW's participation. Also in 2023, 15 investors trusted us, which brought another 5500 jobs.
Wroclaw's ecosystem is attracting international attention. Last December, it was recognized in a Dealroom ranking, where it was named a "rising star of technology hubs," ranking first in Poland, second in Europe and eighth globally. A few days later, during the Wroclaw premiere of the Polish Startups report, the agency achieved another success, and Wroclaw was named Startup Capital of Poland (first place in terms of the number of registered startups).
Finally, confirmation of the city's openness to investors and innovative projects is Wroclaw's first place, for the third year in a row, in the world-class ranking of European Cities & Regions of the Future organized by fDi Intelligence.