Real estate in Wroclaw 2023. Business Link invests and opens new location in Wroclaw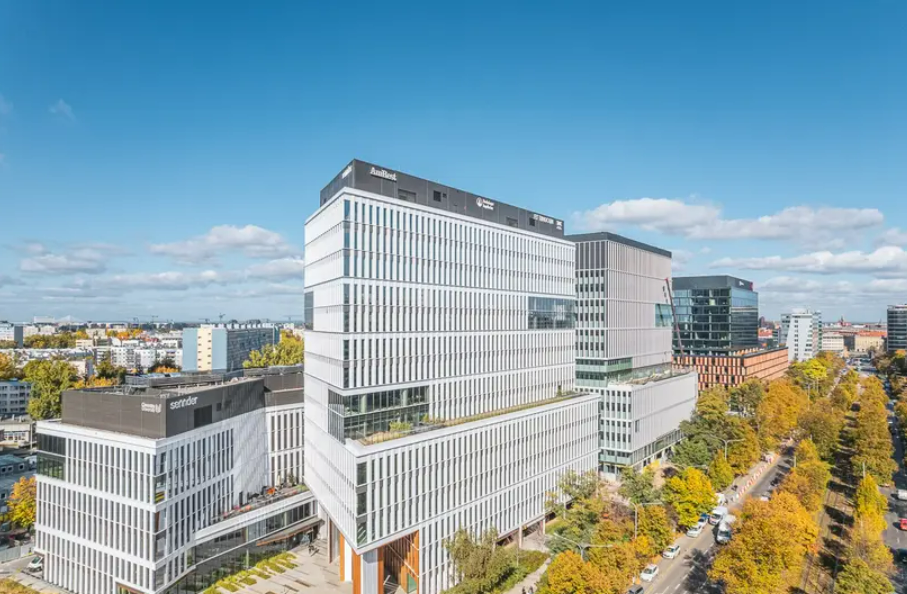 The Centrum Poludnie office building will be Business Link's second Wroclaw location. The flex office operator owned by the Skanska Group will offer future tenants more than 1,700 sqm of flex space. The opening is scheduled for May 2023.
The investor stresses that the premiere of the new location in the Centrum Poludnie office building (Powstancow Slaskich Street) will be an important step for Business Link in building a networked office offer in the capital of Lower Silesia. The company's first location in Wroclaw was the Green2Day building, located on Szczytnicka Street.
The opening of Business Link's second office in Wroclaw is a response to the growing interest in flex space, making it even more accessible to Wroclaw employees and companies operating in the city.
Wroclaw is currently one of the most dynamically developing cities in Poland, which consequently generates a huge demand for modern office space. Our research and market observations also indicate that Poles still want to work in offices, both traditional and flexible. The strengths of flex space are certainly the flexible lease terms, but also the high standard and comprehensively equipped, modern common areas, tailored to the most diverse needs and expectations of employees.

Ewelina Kaluzna Managing Director at Business Link and Director of Strategic Workplace Advisory at Skanska
Offices in Wroclaw 2023 Business Link in Centrum Poludnie
The new Business Link location will feature a number of amenities that future tenants will benefit from. The office spaces will be equipped with high-quality workstations, including desks with electric height adjustment and ergonomic chairs.
We are committed to ensuring that the space responds to the changes we are seeing in the way our clients do their work. In addition to classic desk work, they carry out a range of formal and informal meetings with frequent use of audiovisual equipment, so we provide diversified options for work and meeting space.

Tomasz Pater, Head of Workplace Advisory & Execution at Business Link
Business Link will feature, among other things, interior spaces that serve as meeting rooms, offices or zones for focused work, telephone booths and alcoves in the corridors, providing opportunities for informal meetings or individual work.
The common areas will be formed by a reception area also designed for easy access for people in wheelchairs, an area equipped with comfortable sofas and couches, a modern kitchen encouraging communal dining and team integration, a relaxation area with a game console and high-quality coffee-making equipment.
All of this will function surrounded by plenty of greenery and a color palette in a Scandinavian climate, which is the theme of Business Link's new locations, emphasizing the Swedish roots of the operator's parent company.
- In addition, tenants will be provided with public meeting rooms of various sizes, from small two-person rooms to larger ones accommodating up to 10 people. The rooms will be equipped with high-end audiovisual equipment, enabling convenient and easy use on a plug-and-play basis. The office will also feature two server rooms with a functional division allowing secure, individualized access to the equipment installed by our clients at any time they choose," explains Tomasz Pater.
Mackow Studio from Wroclaw will be responsible for the interior design of the new Business Link office.