Ryanair airline to expand its aircraft maintenance facilities in Wroclaw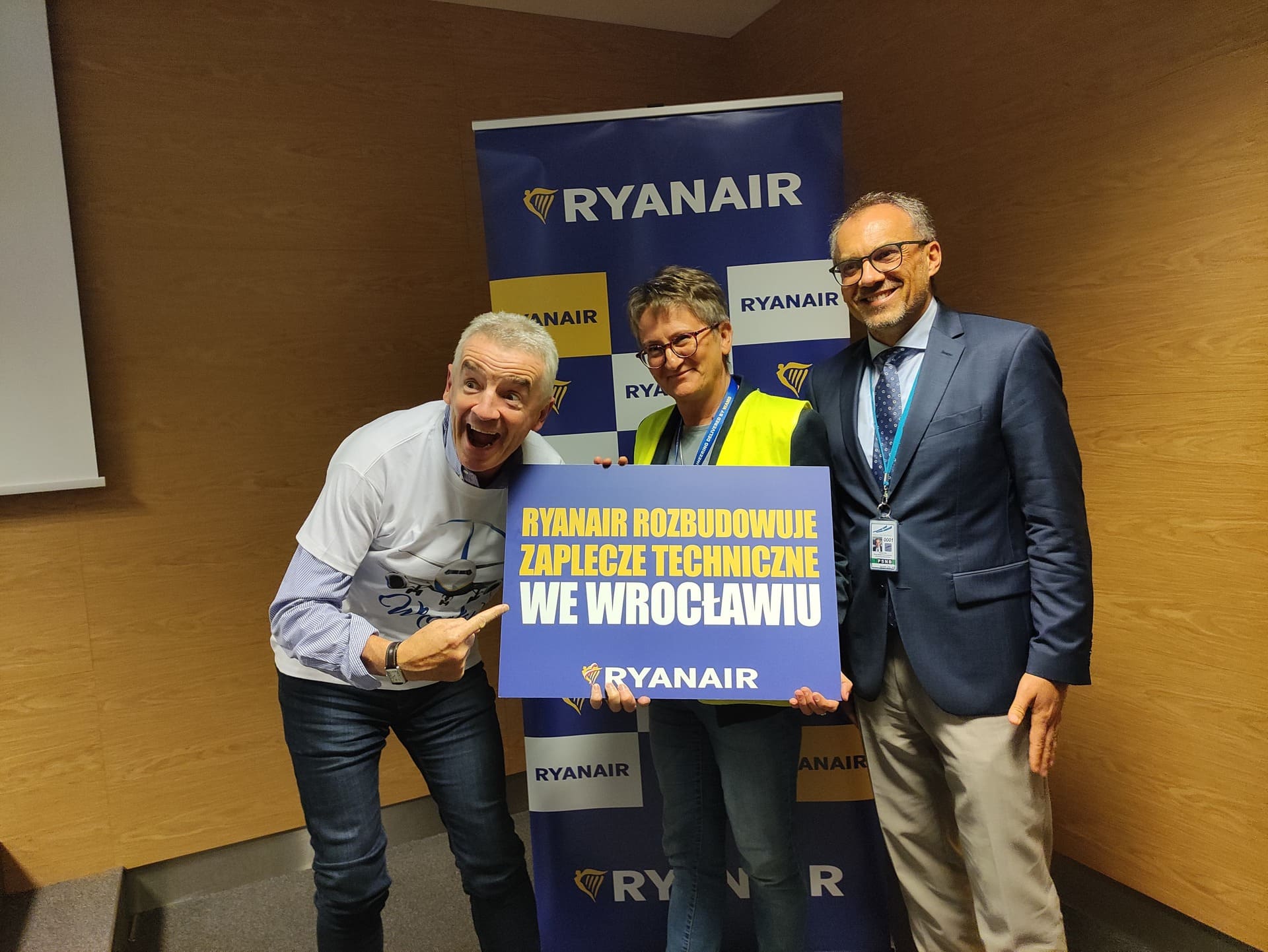 New hangars worth €25 million, more than 200 additional jobs for highly skilled engineers and mechanics, and the expansion of the route network from Wroclaw. Ryanair airlines has announced plans to expand its aircraft maintenance facilities. In total, Ryanair planes will fly from Wroclaw to 26 cities in 10 countries.
Ryanair airlines are among the largest low-cost airlines in Europe. The carrier's plans call for around 166 million passengers to use its services in 2023. Significantly, this year's figures are already more favorable than in the corresponding period before the COVID-19 pandemic.
In the coming years, the statistics should be even better, helped by new Boeing planes that accommodate more passengers while burning less fuel. However, this requires the development of infrastructure and maintenance facilities. Ryanair has announced that additional facilities will be built in Wroclaw.
Today we celebrate the Ryanair airline's decision to invest true cash in Wroclaw. Ryanair has begun construction of two more hangars and is expanding its technical base, established at our airport several years ago. This means doubling the operational capacity of this base, where major technical overhauls are being carried out. This perpetuates the presence of this carrier at our airport. Ryanair does not have a second such technical base in Poland.

Dariusz Kuś, president of Wrocław Airport
More than 200 new jobs in Wroclaw
Ryanair operates at 13 airports in Poland, and six of them are base airports. In Wroclaw alone, the carrier employs about a thousand people. The investment just announced is expected to create additional jobs for highly skilled professionals.
- We want to expand our facilities with a new two-station hangar. To date, the Wroclaw hangar has already serviced 335 aircraft - these were complex maintenance. We will soon have a new facility with an area of 8.2 thousand square meters. We will employ more than 200 engineers, technicians and aircraft mechanics here - announces Michael O'Leary, CEO of Ryanair airlines.
The investment is worth 25 million euros.
Twice the capacity of Ryanair airlines
The hangar, where aircraft maintenance of Ryanair's fleet is carried out, has been operating in Wroclaw since 2016. By the end of August next year, the capacity of the maintenance facilities in the capital of Lower Silesia is expected to double. It is possible that the airport will employ graduates of Wroclaw schools and universities as a result.
We have been cooperating with the Wroclaw University of Technology for a long time, from which a lot of fry have found their way here. We also have a partnership agreement with the Aeronautical Research Institute in Wroclaw, where our patronage class exists. The first graduates left the walls of this facility in the summer.
Barbara Kaśnikowska, general manager of Wroclaw Aircraft Maintenance Services
Key support from the city
Wroclaw Agglomeration Development Agency is an agency that has been involved in the entire process from the very beginning and first base a few years ago. It helps recruit people and organize the presence of such a large foreign investor in Wroclaw. ARAW's support in bringing the new hangar to full operational strength will be much needed.

Dariusz Kuś, president of Wroclaw Airport