Science ambassador from 3M with a motivational message to Wroclaw's youth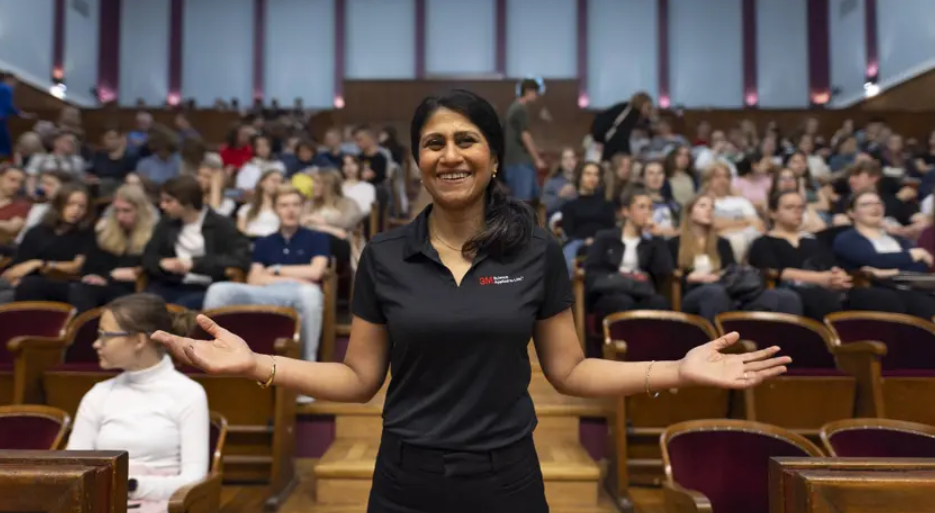 "The world needs innovation. Innovation needs science. Science requires diversity. Diversity guarantees equality," Dr. Jayshree Seth, a science ambassador from the 3M company, gave a motivating and inspiring lecture to Wroclaw high school students with this message.
The meeting with about 170 students and teachers of high schools in Wroclaw took place on June 15 in the NOT cinema hall on Pilsudski Street. It was an opportunity to make young people, standing on the threshold of choosing their career path, aware of why science, especially the sciences, is important for young generations and can meet the needs of sustainable development.
Motivational speaker for many years
Jayshree Seth is 3M's corporate science ambassador, known for her public statements on the importance of science, a promoter of the role of women in science, author of books and nearly 80 patents, and one of the protagonists of the documentary "Not the Science Type."
Seth has been acting as a motivational speaker for years and knows how to appeal to young minds to make them aware of what science actually is in the modern world. She also knows how to encourage students to consider a career based on STEM education, a group of science, technology, engineering and mathematics (from science, technology, engineering, mathematics) fields.
As she points out, the benefits of a science education and a career in science are not obvious in the public mind. This is due, among other things, to the fact that science is not properly communicated. Put another way, people are not aware that the products they use every day are based on science. As one student noted, the general public doesn't think about science, doesn't notice it, while being consumers of it. And it is science that has led to all inventions, including all products made by 3M. In recent years, a key moment when the positive public perception of science achieved a significant increase was the Covid-19 pandemic - it was in scientists that all of humanity based its hopes in solving the problems that were caused by the global epidemic.
Jayshree Seth - from a small town in India to discussing solutions to the world's biggest problems today
Seth bases her lectures on her own experience. Growing up in a small town in India herself, she had no idea that if you wanted to change the world for the better, you could trust science and develop a career based on it. She was one of only a handful of women in the early stages of her education, which is why she now places a special emphasis precisely on encouraging women to break through barriers and consider a technical educational path. She argues that anyone can become a scientist and contribute to solving the biggest problems in the world today, starting with climate change and demographic challenges.
What did the students of Wroclaw schools ask?
Students of Wroclaw schools flooded the science ambassador with questions - about the role of artificial intelligence in the emergence of modern inventions, about her exceptional communication skills or about inventions she made by accident. Jayshree Seth has a very good rapport with young people and was able to hold the students' attention throughout the lecture. The very fact that invitations to the meeting at NOT sold out in half an hour was testament to the popularity of this speaker.
3M operates in Wroclaw, among other places
3M in Poland is part of a global technology and manufacturing company that, using science and acting in accordance with the principles of sustainable development, creates innovative solutions to improve the quality of people's lives. The company has been operating in the Polish market for more than 30 years. Currently in Poland, 3M has a headquarters for Eastern Europe in Kajetany near Warsaw, a Global Service Center in Wroclaw and 4 manufacturing centers: two in Wroclaw, in Janinowo near Grodzisk Mazowiecki and in Rabka.
3M employs 4,200 people in Poland within 4 business groups: Safety and Industry, Transportation and Electronics, Healthcare, and Consumer Market offers 60,000 products, of which 12,000 are manufactured in Poland.