SmartBear is opening a new office in the Business Garden complex. This means more recruitment and training for programmers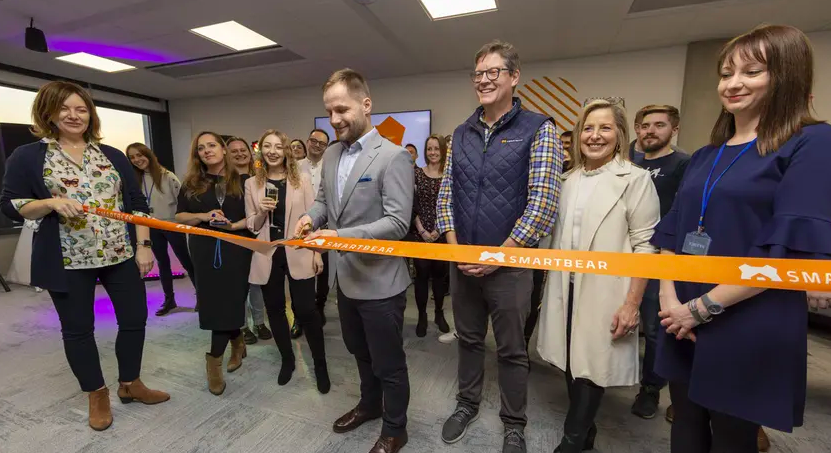 Representatives of SmartBear, one of the leading providers of software tools and visibility solutions, unveiled its new office on Legnicka Street on Wednesday (February 15) as part of an open day. The ceremony was accompanied by the launch of a 12-week training program for programmers.
More space for employees
The new office was unveiled during an open day on February 15. The larger space was created to accommodate more than 150 employees working with SmartBear. The additional space will also enable the company's plans to engage with the Wroclaw community by recruiting, training and mentoring budding developers.
We are pleased to unveil our new office in Wroclaw, which has been designed to improve the quality of work for our employees.

Dan Faulkner, product director at SmartBear
- In our office, we prepare engineers to become confident programmers. We look forward to adding new employees to the SmartBear team," adds Dan Faulkner.
Training and internship programs at SmartBear
SmartBear's office is already home to a new SmartBear initiative - Developer Academy, a 12-week training program that includes classroom, remote and hands-on courses. The training aims to develop a career path in programming at SmartBear. This is the first of many activities planned by the company to help programmers advance their careers.
SmartBear's stronger presence in our business ecosystem is undoubtedly promising. We believe the company will quickly expand its role as an important part of the local community's DNA and strengthen Wroclaw's position as an internationally recognized and respected technology hub.

Mateusz Jarzombek, director of the Business Support Center at the Wroclaw Agglomeration Development Agency
Last year, SmartBear launched the company's first internship program in user interface design. Four graduate students participated. All of them were hired at SmartBear, and one of them, Kamila Jania, was among the finalists of the Female Frontier Awards campaign in the Mentor of the Year category.
SmartBear also funds the work of students from the Wroclaw University of Science and Technology conducted on software projects in accordance with the company's guidelines.
There is also ongoing recruitment.
Not only programming
SmartBear is also committed to global environmental, social and governance (ESG) goals.
In addition to conducting annual measurements and setting carbon reduction goals, the company's employees participate in International Volunteer Day and actions like park cleanups or the IT industry run ("Run for IT").
SmartBear provides tools to give development teams visibility into end-to-end quality levels through test management and test automation, the development lifecycle of application programming interfaces (APIs), and application stability.