Space project! SpaceX will launch SatRev satellite with cells from Saule Technologies of Wroclaw, Poland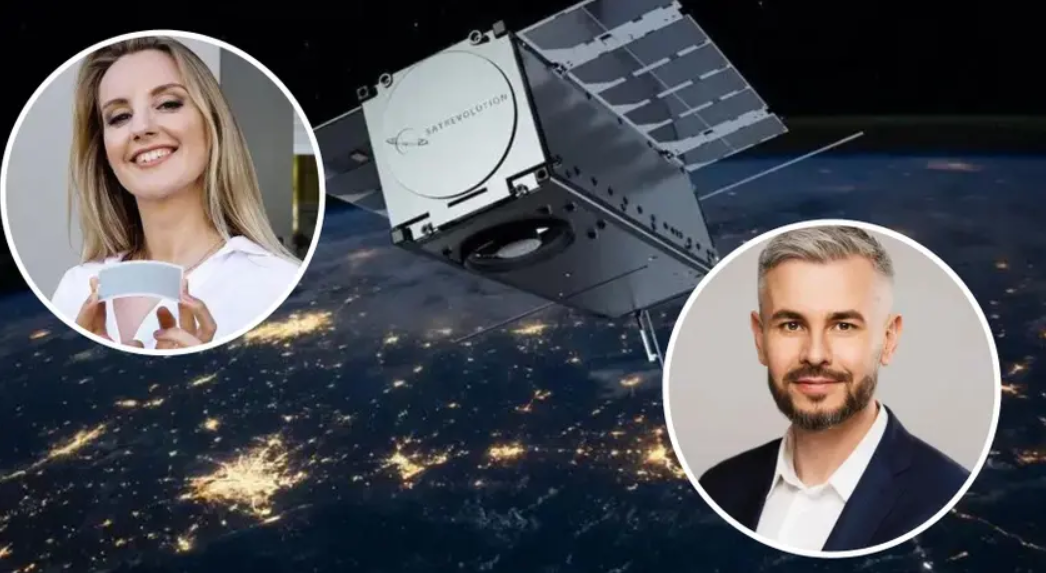 They started from scratch, today they are at the business top, but they haven't said their last word yet. Wroclaw-based SatRev and Saule Technologies are revealing details of their space venture.
Here's a sure thing! Saule Technologies' perovskite cells (the company owns the world's first perovskite cell production line in Wroclaw, an innovative photovoltaic solution) will be tested in orbit for the first time ever. Equipped with perovskites, the STORK-7 observation satellite - from the Wroclaw-based SatRev company - will be sent into orbit in a few days by a Falcon 9 rocket, owned by Elon Musk's SpaceX. See details here.
SatRev satellite with Saule Technologies perovskites and Elon Musk's rocket.
Poland's STORK-7 observation satellite, which has been equipped with 28 perovskite cells from Saule Technologies, will appear in space in the coming days. The satellite will be launched using a Falcon 9 rocket, from SpaceX, as part of the Transporter 9 mission.
It will be the first-ever demonstration of perovskite operation in orbit. The SatRev company from Wroclaw, Poland, is responsible for the construction, software, launch and operation of the satellite in orbit.
Our new satellite was equipped with a camera giving 5m GSR of resolution per pixel, with a total mass of 4kg. The groundbreaking technology that we will integrate into the satellite for the first time will be perovskite cells from Saule Technologies. We want to test the work of perovskites in space and see if they are as effective a transmitter of energy as on Earth

Grzegorz Zwolinski, CEO of SatRev S.A.
Saule Technologies and SatRev space tests
Olga Malinkiewicz, CEO of Saule Technologies, believes that this mission will confirm the resistance of Saule Technologies' perovskite cells to space radiation, as tests in the laboratory have already shown.
This is an ideal power source in space for many reasons. Perovskite cells are much lighter than conventional cells, which is crucial given the cost of transporting each kilogram to orbit. They are flexible, so they can be packed into a small space. In turn, because they are digitally printed, they can take on any shape. This means you can make the most of available space to generate power

Olga Malinkiewicz, CEO of Saule Technologies.
For the first time ever, there will be an opportunity to see if perovskite cells will work in orbit.
If the tests are successful, a whole new and very interesting area of exploitation will open up for this technology! I am glad that Columbus, as the largest shareholder of Saule Technologies, can support such groundbreaking projects

Dawid Zielinski, President of Columbus Energy S.A., member of the Supervisory Board of Saule Technologies S.A.
SpaceX will launch SatRev satellite with Saule Technologies perovskites
Saule Technologies' perovskite cells will be monitored all the time during the mission. Measurements of current, sunlight intensity and temperature, sent successively to ground stations, will allow real-time analysis of the cells' performance. According to Vivek Babu, Director of Astronautics at Saule Technologies, this mission paves the way for ultra-low-cost energy solutions in the space industry.
Recall that in 2021 SatRev, Saule Technologies and Columbus Energy had the opportunity to cooperate on a project called Mission Andromeda. At that time, two Polish satellites, STORK-4 and STORK-5 Marta, were launched using Virgin Orbit's launcher, LauncherOne.
The satellites collected multispectral images and medium-resolution data for agricultural and energy customers in Poland and the US. Both satellites completed their missions this year, providing valuable information with which SatRev can improve its technology.
What does SatRev do? Where are their satellites used?
SatRev is a Wroclaw-based company operating in the space industry - the first of the Polish commercial entities to place their objects in orbit. The company specializes in developing broad constellations of observational nanosatellites that collect optoelectronic data. In total, it has already launched 11 satellites into space.
SatRevolution S.A. was founded in June 2016 by Grzegorz Zwolinski, Damian Fijalkowski and Radoslaw Lapczynski, creators of the Wroclaw-based T-Bull S.A. studio, a leading Polish mobile game developer.
The creators of SatRevolution are the winners of the award - "30 Creatives of Wroclaw 2017".
Saule Technologies the world's first perovskite cell plant in Wroclaw.
Saule Technologies is a company, created in 2014 by physicist Olga Malinkiewicz and businessmen Piotr Krych and Artur Kupczunas.
The company currently employs scientists and engineers who have constructed the world's first production line of ultra-thin printed perovskite cells in the Wroclaw Technology Park. The plant opened in 20221.
Olga Malinkiewicz is the winner of the award - "30 Creative of Wroclaw 2015".
Perovskite cells are an innovative photovoltaic solution that allows generating energy from both the sun and artificial light, so they have versatile applications. The company is currently working on commercializing the product (Wroclaw perovskites at Orlen and Google. See how they will change commerce).
What does Columbus Energy do?
Columbus Energy S.A. is a service provider in the modern energy market. The company offers comprehensive renewable energy solutions for households and businesses, and makes long-term investments in photovoltaic farms and large-scale energy storage.
Columbus is a WSE-listed company and one of the largest shareholders in the photovoltaic installation market in Poland.
Elon Musk's SpaceX giant and SatRev.
Space Exploration Technologies Corp. known as SpaceX is a U.S. aerospace equipment manufacturer and space transportation services company. It was founded in 2002 by Elon Musk to reduce the cost of space transportation and enable the colonization of Mars.
SpaceX operates from a number of airstrips, including on the US East Coast from SLC-40 at Cape Canaveral Space Station and the historic LC-39A at Kennedy Space Center. The company works with a number of carriers that handle all the process and documentation associated with rocket launches for their clients.
Wroclaw in the space industry
Wroclaw has an increasingly strong position in the Polish space industry. It is worth recalling that on Tuesday, January 3, 2023, at 3:56 p.m., a Falcon 9 rocket with the Polish STAR VIBE satellite was launched. Scanway, a Wroclaw-based company, is responsible for the project.