Spyrosoft plans 3,000 jobs and a European or U.S. stock market debut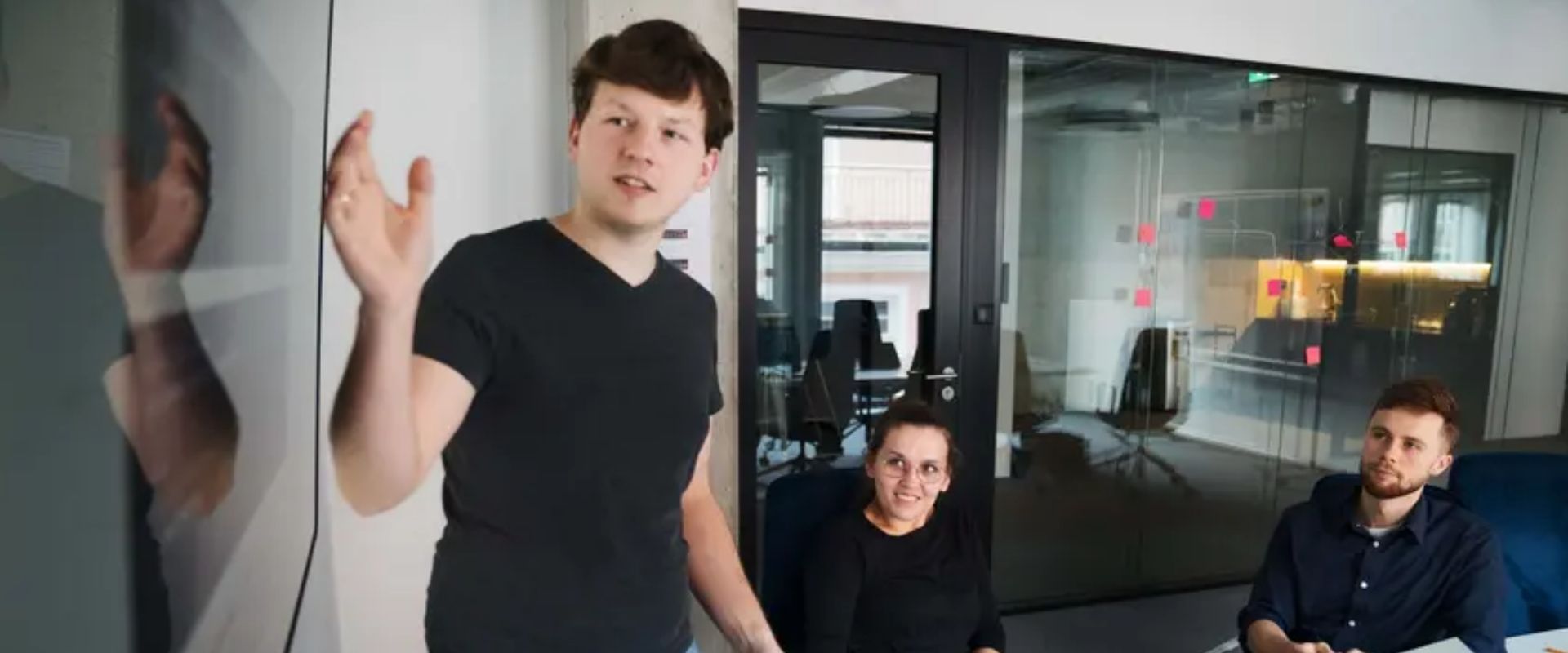 60 million PLN revenue in the first quarter of this year and a new strategy until 2026. Spyrosoft from Wroclaw has just announced how much they have already earned on their products and what their plans are. They want to hire 3 thousand employees by 2026, go public on the European or American market and open research and development centers abroad, including the Far East. The founders of the company are the winners of the ranking "30 Creatives of Wroclaw 2020".
Spyrosoft Group in 2022: revenues, profits, strategy
Wroclaw-based Spyrosoft Group has announced its latest achievements and plans: revenue growth in Q1. 2022 by almost 70% and new strategy for 2022-2026.
- In 1Q 2022 revenue of Spyrosoft Group amounted to PLN 60 million, an increase of 69% y/y and confirms the rapid pace of growth of the group.
- Consolidated EBITDA (i.e. operating profit plus depreciation and amortization) increased in 1Q by 47% to PLN 10 million.
- Spyrosoft Group's net profit in 1Q. 2022 r. PLN 5 million, an increase of 25%.
- The company's new strategy for 2022-2026 assumes an annual revenue growth of 25-35%, an EBITDA margin of 11-14% and an increase in the number of employees to 3 thousand.
- Opening new R&D centers abroad, including in the Far East.
- Spyrosoft plans to debut on the American or European stock exchange.
Spyrosoft new customers and growing profits
Sebastian Lekawa, board member of Spyrosoft S.A., emphasizes that the increase in revenue is a result of continued high demand for IT services and the acquisition of new customers.
- In 1Q 2022, 21 companies joined the group of our customers, it is the highest quarterly result in our history. The services provided were accompanied by an increase in rates, thanks to which the growing revenues translated into higher operating results and net profit. New customers are coming from all sectors in which we operate: automotive, industry 4.0, medical, finance, media and entertainment, HR and geospatial data. In the first quarter, we launched 66 new projects for new and existing customers - says Sebastian Łękawa, Spyrosoft S.A. board member.
Spyrosoft increases employment
Following the increase in the number of projects, also increases the number of employees and associates of Spyrosoft Group, which at the end of March 2022 reached 964 people. In the first quarter, the average number of new hires increased to 50 per month. Spyrosoft job openings.
- In March, Spyrosoft Group launched another developer center, opening an office in Timisoara (Romania). With this, the Group plans to increase the employment of developers specializing in software development for the automotive sector. In addition, in the first quarter of this year the Group hired the first employees in the newly launched office in Argentina, and specialists from the rapidly growing team in Krakow moved to a new, larger office (High Five) - says Sebastian Lekawa.
What Spyrosoft does and where it applies
Wroclaw-based Spyrosoft, whose headquarters is in the Nowy Targ office building, has been offering comprehensive software development services since 2016. About 88 percent of the company's revenue comes from contracts with foreign clients, primarily in the UK and Germany. The company works with clients from 8 countries. They have clients in several specialized industries: automotive, industry 4.0, medical, finance, media and entertainment, HR, and geospatial data.
- In 2022, the company expanded its services to include cyber security. In this segment, the Group has already acquired two new customers. They have also been joined by two new clients in the area of robotics, one of the newest fields served by Spyrosoft Synergy from Szczecin, which is part of the Group.
- In 1Q 2022 r. The Group expanded with the newly formed Spyrosoft E-commerce company. Due diligence was also completed on Better Software Group, which Spyrosoft acquired in April 2022.
The company operates offices in Poland, the UK, Germany, Croatia, the US, Romania, Argentina and India.
Spyrosoft business outlook
Spyrosoft representatives emphasize that the Russian invasion of Ukraine has not affected the company's business activities. The company has no development centers in Ukraine, Russia, or Belarus and does not provide services on these markets. At the same time the company observes increased interest in Spyrosoft's services among customers looking for IT providers to replace those lost in the East.
- Business prospects for the next quarters of 2022 are still optimistic - we observe increased demand for IT services, the number of our customers is growing steadily, we are also still planning a dynamic increase in employment. We are acquiring customers ready to develop cooperation even in the conditions of economic downturn and we are expanding our offer by new elements: e-commerce, salesforce, customer support - adds Sebastian Łękawa.
Spyrosoft among the fastest growing companies in Europe
In 2021 Spyrosoft ranked 1st in Europe among technology companies in the Financial Times ranking "FT1000: Europe's Fastest Growing Companies". It was fifth overall.This year, Spyrosoft also made it to this prestigious list.
Spyrosoft is the winner of the ranking organized by the portal www.wroclaw.pl "30 Creative Wroclaw 2020".