Statues distributed. Winners of the Smart City Awards Wroclaw 2022. The best project of the Internet of Things in Poland is in Wroclaw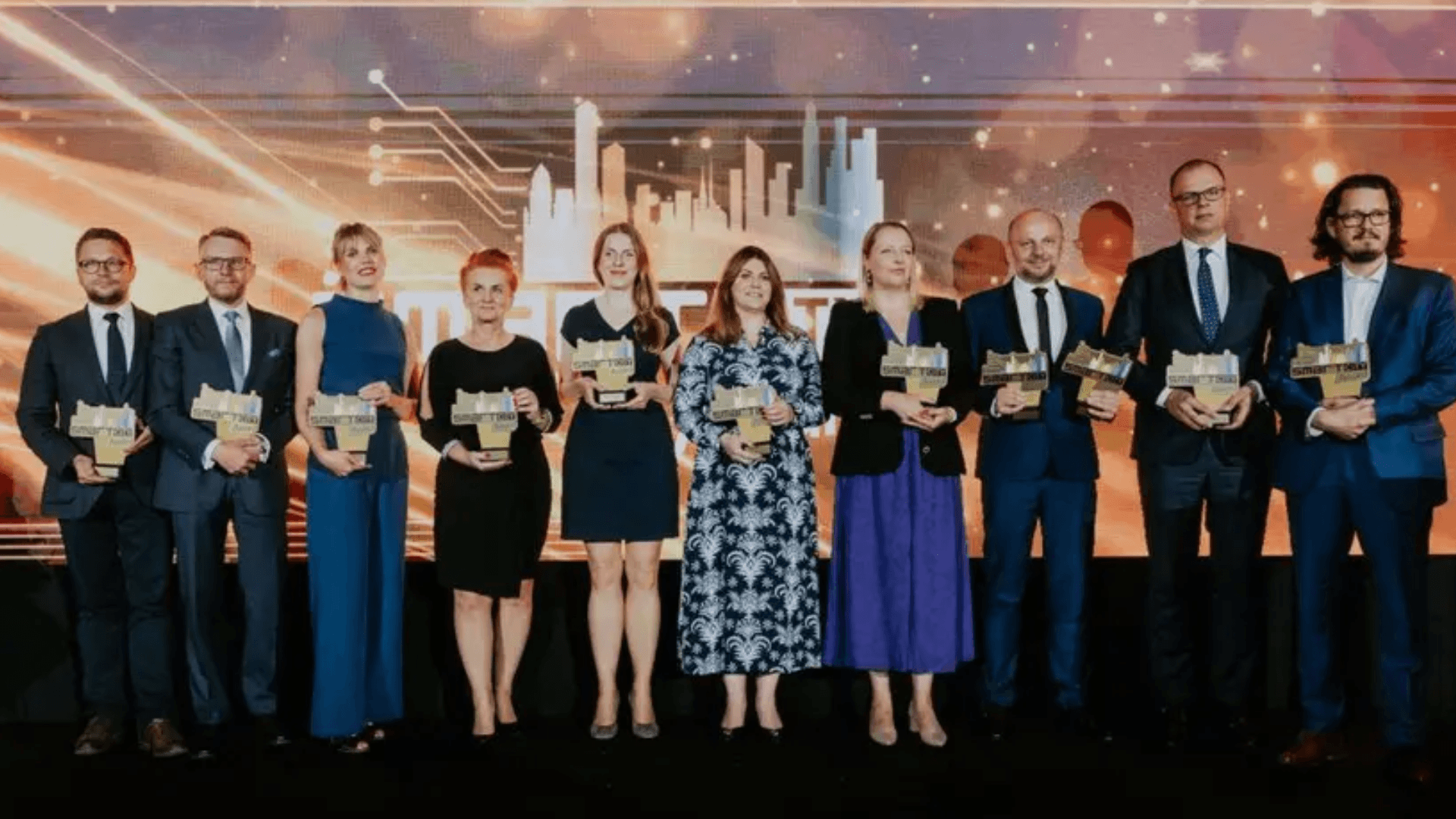 Remote water meter reading system for MPWiK Wroclaw appreciated at the Smart City Awards 2022. The award was granted for one of the largest urban projects of the Internet of Things in Poland, implemented by the Emitel company in Wrocław. Winners were announced during the congress on the functioning and development of smart cities - Smart City Forum, which took place from 14th to 15th of June this year in Wroclaw at The Bridge Wroclaw MGallery hotel.
Smart City Awards Wroclaw 2022: competition results
During the Smart City Forum congress in Wroclaw (14-15.06.2022) the winners of the Smart City Awards competition were announced. The competition promotes personalities and projects that help to build smart cities in Poland.
Awards were given out in the following categories: Man of the Year, Smart City Solution Provider, Smart City Solution, Smart City up to 30 thousand inhabitants, Smart City up to 100 thousand inhabitants, Smart City from 100 to 300 thousand inhabitants and Smart City over 300 thousand inhabitants. Below is the list of winners and justification by the organizers.
Smart City up to 30 thousand inhabitants - City of Duszniki-Zdrój
Duszniki-Zdrój is distinguished not only by its beautiful location and health resort properties. It is also a well-thought-out investment strategy and consistency in the implementation of intelligent urban solutions. It is here, where the first in Poland urban rental of electric mountain bikes Smart Bike from Orange and Smart Light - an intelligent lighting management system - have been created. In the spirit of ecology and being Smart, Duszniki-Zdrój educates its inhabitants in the field of pro-ecological behaviour by implementing original ecological projects such as Green Local Governments.
Smart City up to 100 thousand inhabitants - City of Kolobrzeg
The award was granted to the City of Kolobrzeg - for the implementation of the Smart City concept in the project "Kolobrzeg. Human, Part and Space". Within the framework of the project, among others: a Smart City Strategy for the City of Kolobrzeg has been elaborated; Spatial Information System of the City of Kolobrzeg has been created together with a 3D model, including tools for the modern social participation; a Hackathon has been organized and a platform for Open Data has been created.
Smart City from 100 to 300 thousand inhabitants - City of Rzeszow
Awarded for an effective implementation of Smart City strategy. Rzeszow has earned its position among pioneers and leaders in smart and friendly cities by the effective implementation of modern projects, including implementation of an innovative system of monitoring occupancy and navigation to free parking spaces. Successful realization of the largest project of this kind in Poland ensured ongoing monitoring of occupancy of every single parking space in the zone covered by the implementation and with the use of modern mobile application "E-Parking".
Smart City over 300 thousand inhabitants - City of Gdansk
Gdansk is a leader in Poland in the autonomization of public transport. It has piloted autonomous vehicles twice. In the first project on an excluded lane of a public road, in the second on a closed area with unorganized pedestrian and car traffic, providing last-mile transportation in a non-obvious space, supporting people with mobility constraints and the elderly. In addition, the city disseminates knowledge about the legal and organizational aspects of autonomous mobility and works to accelerate the autonomization of transport.
Smart City Solution - T-Mobile Poland, Big Data traffic analysis in the service of local governments
T-Mobile combines modern technology with commercial use of data, giving local governments the opportunity to make urbanization decisions based on real operator data. The Pomeranian Office of Regional Planning has taken advantage of this opportunity. Together with T-Mobile, it has analyzed tourist traffic, transit and residents, thanks to which the actual spatial diversity of population distribution and flows has been obtained. This information was supplemented by registration data from the Central Statistical Office.
Smart City Solution - Emitel, Remote water meter reading system for MPWiK Wroclaw
The award was granted for one of the largest municipal Internet of Things projects in Poland, implemented by Emitel in Wroclaw, which will cover the entire city. Thanks to this project, the Municipal Waterworks and Sewage System Company obtains data on water consumption without a need to send employees out in the field or engage customers. It allows efficient water flow management, which translates into real savings.
Smart City Solution - Mobility Hubs
"Mobility Hubs" is an innovative concept that introduces a new form of transportation - shared transport, which is an effective and ecological form of individual mobility. "Mobility Hubs" are special parking places dispersed throughout the city, which in one place gather various shared mobility services - e.g. city bikes, electric scooters, car sharing cars - thus offering an alternative to owning and using private car in the city.
Smart City solutions provider - Orange Polska
Orange Polska is much more than cell phones and Internet, which we traditionally associate with the company. Already almost 100 towns are turning into real smart cities together with Orange. Systems for water and heat management, intelligent lighting, city bikes, chargers for electric cars, garbage cans that let you know when they are full - these are just a few examples of the Orange smart city ecosystem. These solutions translate into significant savings in city budgets, comfort and safety of residents and invaluable benefits for the environment.
Smart City solutions provider - InPost
The InPost Group has been taking key actions in many important social and environmental areas for years. For a year now, it has been successfully implementing the InPost Green City Programme, which has already been joined by 35 cities. Thanks to this cooperation we support, initiate and implement specific ecological activities and develop modern city logistics based on environmentally friendly Paczkomaty and electric courier trucks. The use of easyPack machines contributes to the reduction of air pollution and noise associated with transport.
Man of the Year - Konrad Fijolek, Mayor of Rzeszow
The award was given for proving that it is possible to be an authentic promoter of the smart city idea and then become a non-partisan mayor of a provincial city with a bold, innovative, progressive and thrillingly fresh election program.
Special Prize - The City of Przemysl
The ongoing war in Ukraine has forced thousands of people to seek shelter in Poland. One of the most important places and stops where they seek help after crossing the border is Przemysl. In recent months, about one million refugees from Ukraine have passed through Przemysl. Most of them continued their journey to other cities in Poland and abroad, but a small part remained in Przemysl. The commitment of Przemysl, its authorities and residents was noble and needs to be honored and set as an example in these difficult times.
14th edition of Smart City Forum congress: date, location
Smart City Forum is the most important and largest initiative devoted to smart cities. Every year innovative solutions proven both in Poland and abroad are presented there. The event brings together representatives of government, local administration and experts from industries such as transport, construction, security, energy, data management and public services.
Smart City Forum started at The Bridge Wroclaw MGallery Hotel, a series of debates, presentations and meetings are scheduled for June 14 and 15.
We are very happy to meet in Wroclaw, a city that is open, tolerant and multicultural. Wroclaw is one of the best cities to invest in. During the last 17 years 250 projects have been carried out here, which created 100 thousand jobs.
The mayor of Wroclaw emphasized that many projects are the result of relations between business, universities and local government. He mentioned the challenge of taking in and caring for thousands of Ukrainians who fled the war in Wroclaw.
The costs of servicing residents are rising, and on the other hand, as a result of changes introduced by the central government, the local government is losing sources of its own income. Today the most important thing is to stabilize the financial and legal situation of local governments, because the changes in taxes are not followed by the best accountants.
Local governments towards war refugees from Ukraine
A series of speeches and debates opened the Summit of the Authorities of Polish Cities. Beside Jacek Sutryk, Jacek Karnowski, the mayor of Sopot, Wojciech Bakun, the mayor of Przemysl, Krzysztof Matyjaszczyk, the mayor of Czestochowa and Piotr Krzystek, the mayor of Szczecin took part in the Summit.
Przemysl on the first day became a frontline city. In total, one million one hundred thousand refugees from Ukraine has passed through Przemysl. Yes, we had a plan for the emergency situation, with measures in place in case of a mass movement of people. But after two days this plan became outdated, because nobody expected such an influx of refugees. Flexibility and quick decision-making were needed when organizing aid to refugees.
Wroclaw was one of the three cities (next to Warsaw and Krakow) most often indicated by refugees as their destination. Today there are about 200 thousand Ukrainians living in the Wroclaw agglomeration, twice as many as before the Russian aggression.
In crisis situations, it becomes apparent how important a role citizens, NGOs and local governments play in organizing assistance. Close contacts between local government officials were very important, as were hints concerning the implemented solutions and wise observations
Jacek Karnowski, the mayor of Sopot, mentioned that the arrival of refugees was a challenge for city service structures.
It quickly became apparent that thirty percent of officials were taking action on behalf of refugees. MOPS, for example, received 100 percent of its clients
The mayor of Szczecin, where some 40,000 Ukrainians have arrived, stressed that in the face of the crisis, the independence of local government officials had proved its worth. He said that officials from Germany came to Szczecin to see how Poles were coping with the mass of refugees
And they were full of praise
The Mayor of Czestochowa, Krzysztof Matyjaszczyk, pointed out that in the face of the refugee crisis the state services failed.
All the help was provided by ordinary people and local governments
Smart City Forum: modern technologies in city management
During the meeting in Wroclaw the participants have talked about using modern technologies in city management in times of pandemics and crisis. The programme also included topics concerning e-services in local governments, ecology and modern urban transport. The substantive value of the meeting is taken care of by the Program Council chaired by Maciej Bluj, an expert in the field of smart city solutions, Deputy Mayor of Wroclaw in 2007-2018. The Honorary President of the Program Council is Jacek Sutryk, Mayor of Wroclaw.
Smart City Forum in The Bridge Wrocław MGallery
The Bridge is the perfect meeting place for anyone with an affinity for the "smart city" concept, not just because of its state-of-the-art meeting spaces and streaming capabilities. Our facility is fully automated and uses many environmentally friendly solutions, such as charging stations for electric cars. We are also the only hotel in Wroclaw with an international LEED Gold certificate, which is a confirmation that our investment meets the rigors of sustainable development
The 14th edition of Smart City Forum is also a great opportunity to combine a business visit with a rest in Wroclaw. Congress participants have a special offer of accommodation at The Bridge Wroclaw MGallery with the possibility of extending their stay for the long weekend in June.