The most energy-efficient refrigerators are produced in Wroclaw. BSH concern uses green steel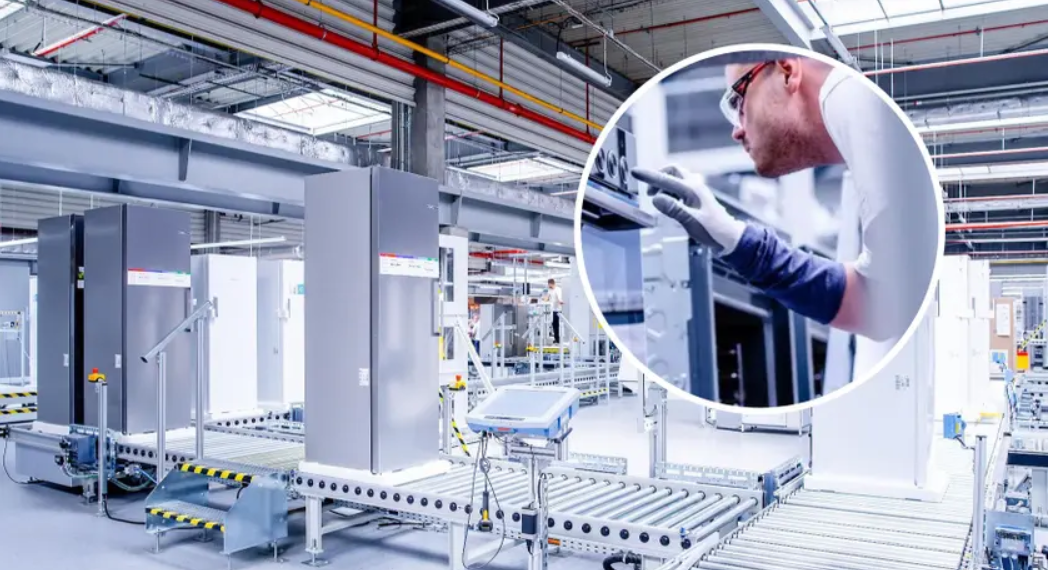 BSH's big investment in the development of a refrigerator factory in Wroclaw and the start of production of new appliance models. The Zmigrodzka-based concern presented the details on September 13.
BSH, which produces refrigerators and ovens of the Bosch and Siemens brands in the capital of Lower Silesia, is increasing the capacity of its plant on Zmigrodzka Street. The company has launched production of a new model of Green Collection refrigerator-freezer, which uses more environmentally friendly materials. The most energy-efficient refrigerator models in the company's portfolio are already being made in Wroclaw. On September 13, BSH presented its latest developments and plans in Wroclaw.
BSH. They use green steel and make the most energy-efficient refrigerators.
The launch of production of advanced refrigerator models was made possible by the construction of a new production platform at BSH's Wroclaw factory.
The investment of more than 52 million zlotys was another milestone in the development of the plant. Thanks to it, not only the production capacity of the factory is increasing. It also becomes possible to manufacture the most technologically advanced equipment there.

Hector Lanuza Cerzocimo, director of the BSH refrigerator factory in Wroclaw
Green steel, what is it? Green Collection BSH refrigerators
BSH uses so-called "green steel" in the production of Green Collection refrigerators. It differs from traditional steel in the way it is created, during which huge amounts of carbon are not burned.
As a result, the amount of carbon dioxide emitted in the process is significantly lower. Green steel is used to make the side panels of the refrigerator. In addition, all the movable parts of its equipment, drawers and door shelves, are made from bioplastics.
The carbon footprint of the materials used in the production of the Green Collection refrigerator is 33 percent lower compared to models made from traditional materials. In doing so, it is important to note that as of the end of 2020, all BSH factories, warehouses and offices worldwide are carbon neutral. The company is offsetting unavoidable emissions through Gold Standard and Verified Carbon Standard certified projects

Daniel Goszczynski, press office of BSH Home Appliances Ltd
BSH. Savings champions. The most energy-efficient refrigerator in the company's portfolio.
Another most energy-efficient refrigerator in the company's portfolio is also being built at the BSH factory on Żmigrodzka Street in Wroclaw. Last year it was presented in Berlin at Europe's largest consumer electronics fair, IFA. The best energy class A refrigerator from Wroclaw consumes only 104 kilowatt-hours per year.
In comparison, ten-year-old refrigerators consume an average of about 500 kilowatt-hours a year. This means annually higher electricity bills of about PLN 400.
Replacing an old and inefficient appliance brings significant savings. According to estimates by APPLiA Poland, an association of household appliance employers, up to 25 percent of refrigerators in Polish homes are more than 10 years old. Replacing them with modern equipment would save a huge amount of electricity and reduce annual carbon dioxide emissions by several tons.
BSH ovens and refrigerators from Wroclaw.
Recall that in January 2022 the two-millionth BSH oven rolled off the production lines of BSH Domestic Appliances in Wroclaw and at the end of 2021 the one-millionth BSH refrigerator in Wroclaw. The German BSH corporation is developing its facilities on Zmigrodzka Street.
BSH in Wroclaw. They have invested 840 million zlotys.
Two Wroclaw factories: refrigerators and ovens of BSH Home Appliances were launched in 2017. They were built on the site of former household appliance factories at 143 Żmigrodzka St. BSH has invested more than half a billion zlotys in new facilities and modern production systems here.
- We have invested more than PLN 840 million in new facilities and modern production systems at this site. Ultimately, the factories will produce about one million appliances each year," said Andreas Marek, director of the BSH location in Wroclaw.
In 2020, the company opened a new 30,000-square-meter logistics center in Wroclaw with its own rail infrastructure. To prepare for upcoming production increases, last year the company leased an additional warehouse of about 45,000 sqm.
In 2021, BSH received an award - Socially Responsible Business - from Jacek Sutryk, the mayor of Wroclaw, during the Economic Forum in Karpacz.
BSH is committed to sustainable development. See what they are doing.
In recent years, in Wroclaw alone, BSH has reduced the annual electricity consumption of two factories by a value equal to the electricity consumption of about 1,400 single-family homes.
The plants have also reduced gas and water consumption. All of BSH's six factories in Poland are powered by electricity from only renewable sources, primarily wind farms.
In addition, at all locations in Poland BSH is installing photovoltaic panels on the roofs of factories, warehouses, offices and parking lots. Such installations are already in operation in Warsaw and Rzeszow. They will also be built in Wroclaw.
As a result, the company will annually convert the sun's rays into about 10 percent of its annual electricity needs. The BSH Group has also decided that globally by 2030. 95 percent of the plastics it uses in production will be recyclable, and its products will consist of 50 percent recycled materials.
BSH what is the concern?
BSH Home Appliances Ltd is part of the multinational BSH Home Appliances Group.
The company offers a portfolio of household appliances of the Bosch, Siemens and Gaggenau brands on the Polish market.
BSH has six factories in Poland. Three plants in Lodz produce washing machines, dishwashers and clothes dryers, two in Wroclaw produce ovens and refrigerators, and one in Glogow Malopolski, near Rzeszow.
BSH in Poland has shared service centers in addition to manufacturing. They work for BSH worldwide in areas such as IT services, accounting, foreign trade and central purchasing.
BSH in Poland is developing Research and Development Centers in Lodz and Rzeszow, as well as a Digital & E-Commerce Competence Center. As a result, Polish technical thought is contributing to the design and production of high-tech household appliances and the introduction of new solutions tied to the Internet.