The most important economic investments in Wroclaw in 2022. On the list of initiatives for millions and small businesses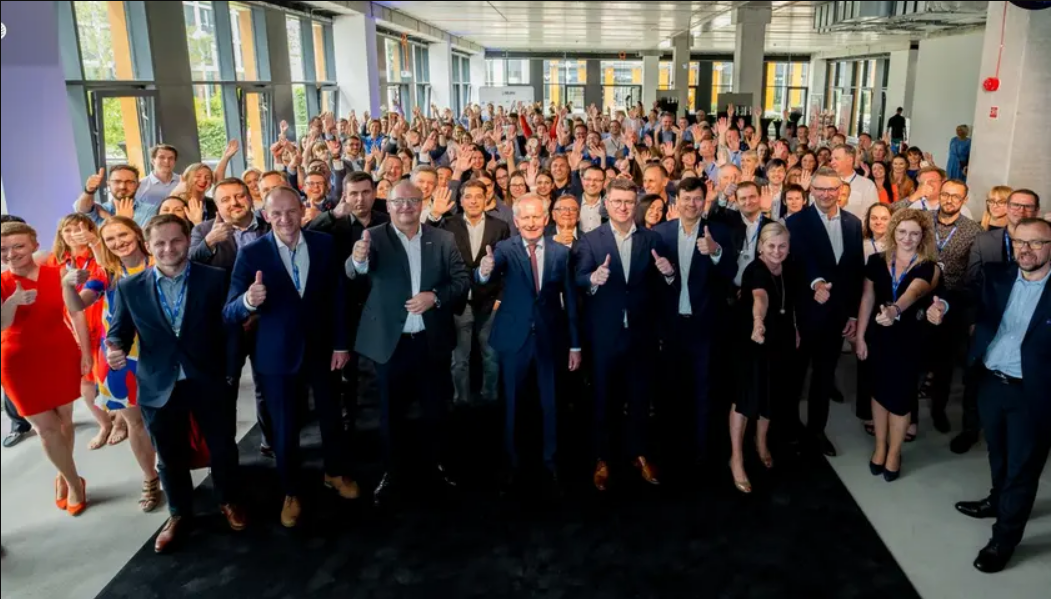 Multi-million dollar investments and smaller businesses, successes of Wroclaw companies and prestigious awards and developer projects - that is, what was happening on the economic map of Wroclaw in 2022.
The year 2022 proved that the capital of Lower Silesia is still among the leaders in attracting foreign capital.
This is confirmed by reports and rankings, including one of the most important: European Cities & Regions of the Future 2022/23, in which Wroclaw took first place in the medium-sized cities category for business friendliness and was third among all medium-sized cities. In three other categories, the Lower Silesian capital ranked among the top.
The awards in the European Cities & Regions of the Future ranking are given by a panel of independent experts. If we win in the category of medium-sized cities, it is a great honor for us. It shows that Wroclaw is a good place to invest, and this translates into, among other things, tax revenues or the image of the city.

Jacek Barski, director of the Department of Strategy and City Development.
Few of the most important investments and economic events in Wroclaw 2022:
Wroclaw-based Infermedica has won PLN 120 million for technology development. The largest investment in Polish startups.
What Infermedica has come up with is being used for the initial diagnosis of patients by Allianz, Microsoft and PZU Health, among others. Now, the Wroclaw-based startup has raised PLN 120 million from investors to develop an artificial intelligence-based solution to support primary medical care. The company is increasing its headcount and looking for engineers, developers and medical staff.
Billionaire Richard Branson and Virgin Orbit the largest investors of SatRev of Wroclaw. Space business worth millions.
Richard Branson, the British billionaire, has invested in the Wroclaw-based SatRev company from the Oder Prachs. Now together they want to conquer space, with plans to fly to Mars and Venus, among other places.
Grzegorz Zwolinski, president of SatRevolution (the SatRev startup operates in Pracze Odrzanskie, on the premises of the Łukasiewicz Research Network - Port Polish Technology Development Center in Wroclaw) wrote on his Facebook profile: - SatRev achieves further successes and closes the investment process with Virgin Orbit. Virgin Orbit is now officially SatRev's largest investor in the Series B investment round that the company is currently finalizing.
Virgin Orbit is a company founded by Richard Branson. It specializes in sending small payloads into space. At the end of 2021, we wrote that Virgin Orbit, an American space company, would invest in SatRevolution, a Wroclaw-based manufacturer of nanosatellites. The deal was signed last December 14 during the Paris World Satellite Business Week summit. The investment means that the startup, which began its career in the Oder Prairies and has been conquering space for the past five years, was worth $150 million.
airSlate opens in Wroclaw. The Americans chose us for one reason.
Boston-based IT company airSlate has just announced that it is expanding its global presence and opening a branch in Wroclaw. The office at Grunwaldzki Square will take on more than 200 employees by 2025, and they will run operations and software development, as well as cooperate with airSlate's headquarters in the US and the company's other subsidiaries.
The US-based airSlate is a leader in business automation. It is a global SaaS technology company that provides users with the ability to connect to cloud-based applications via the Internet. They specialize in solutions such as digital signatures, document management and workflow automation, among others.
American Coherent Solutions is hiring in Wroclaw.
Coherent Solutions, an American company with Belarusian roots, has opened its first branch in Poland in Wroclaw. They specialize in software development and consulting. They are looking for employees in the capital of Lower Silesia and want to help IT specialists in distress in Belarus and now Ukraine.
- The establishment of the office in Wroclaw was related to the political situation in Belarus. The company wants those who had to leave Minsk for fear of repression to find employment in Wroclaw. Now we are also open to employees from Ukraine. Starting in March, we are starting to recruit in the local market and are looking primarily for programmers. In addition to them, we also have work for business analysts and project managers, as well as QA engineers," says Grzegorz Piatkowski, general manager of Coherent Solutions in Wroclaw.
Wroclaw in the prestigious ranking of European Cities & Regions of the Future 2022/23 Awards were presented in Cannes.
At the MIPIM International Real Estate Fair in Cannes, France, awards were presented in the world-recognized ranking European Cities & Regions of the Future 2022/23. Wroclaw took first place in the medium-sized cities category for business friendliness and was third among all medium-sized cities. In three other categories, the Lower Silesian capital ranked among the top.
The awards in the European Cities & Regions of the Future ranking are given by a panel of independent experts. If we win in the category of medium-sized cities, it is a great honor for us. It shows that Wroclaw is a good place to invest, and this translates into, among other things, tax revenues or the image of the city.

Jacek Barski, director of the Department of Strategy and City Development
Wroclaw-based Techland has a worldwide hit. Dying Light 2: Stay Human.
Techland is one of the most recognizable producers and distributors of computer games in Poland. In February 2022, 7 years after the release of the first part, the second installment of the cult game Dying Light hit the market and was immediately hailed as a hit. It was played by 160,000 people on the premiere night. Pawel Marchewka, the creator and head of Techland, is the winner of the "30 Creatives of Wroclaw 2015."
Techland is a company known around the world. It has been producing popular computer games since 1991. The most important are: Extermination, Crime Cities, Call of Juarez or Dead Island. A real hit turned out to be Dying Light in 2015, in which the world was overrun by "infected." Its long-awaited sequel, Dying Light 2: Stay Human, has just been released.
BSH in Wroclaw has produced 2 million ovens.
BSH Home Appliances in Wroclaw is breaking production records, introducing modern Industry 4.0 solutions and increasing warehouse space. The manufacturer of household appliances brands Bosch and Siemens is seeking 100 additional employees for its oven and refrigerator factories on Zmigrodzka Street.
At the end of 2021 was the millionth refrigerator, and in January 2022 the two millionth oven rolled off the production lines of BSH Home Appliances in Wroclaw. In connection with the expansion of its facilities on Zmigrodzka Street, the German BSH is looking for 100 new employees for production-related positions.
In Wroclaw, BSH manufactures refrigerators, fridge-freezers and ovens under the world-renowned Bosch and Siemens brands.
Global medical device manufacturer Align Technology has opened its first manufacturing facility in the EMEA region in Wroclaw.
Align Technology, a global medical device manufacturer that manufactures and sells the Invisalign® system, iTero™ intraoral scanners and exocad CAD/CAM™ software used in orthodontics and restorative dentistry, has opened its first manufacturing facility in the EMEA region in Wroclaw, Poland. This is Align's third regional manufacturing center worldwide, following Juarez in Mexico and Ziyang in China.
In September 2022, the company says the state-of-the-art factory in Wroclaw will serve as Align Technology's EMEA operational site and will join in the global production of more than one million unique parts of clear orthodontic trays per day. The grand opening ceremony was held on September 15 in Wroclaw, Poland, with the participation of Wroclaw Vice Mayor Jakub Mazur, company management and employees.
Boehringer Ingelheim Business Services Center officially opened. The pharmaceutical giant wants to expand in Wroclaw.
Boehringer Ingelheim has announced the opening of a GBS Center in Wroclaw in May 2021. Since starting operations in the Lower Silesian capital, the pharmaceutical giant has been building a team and developing new departments. A year later, the Wroclaw branch is fully operational. The Boehringer Ingelheim Business Services Center has officially opened.
Boehringer Ingelheim is one of the largest pharmaceutical companies in the world. In 2021, the company was certified by the Top Employers Institute as one of the 11 best employers in the world, and this was the second such award in a row. The tycoon employs about 52,000 people in more than 130 markets in three business units: Human Pharma, Animal Health and Biopharmaceutical Contract Manufacturing.
Wroclaw will have a hotel like never before in Poland.
The Hatzfeld Palace will be a hotel. The new owner, Wroclaw-based developer Rafin, has signed an agreement with the international chain Marriott International, for the premium Autograph Collection brand. The rebuilt Hatzfeld Palace will operate according to the highest hotel standards in the world.
On November 17, 2021, Rafin Company won the tender for the historic Hatzfeld Palace, the former headquarters of BWA at 31/32 Wita Stwosza Street in Wroclaw.
After 9 months of work and analysis - as declared after winning the tender - Rafin signed a franchise agreement with Marriott International in August 2022. This means that the rebuilt palace will operate according to the highest hotel standards in the world, and the revitalization of the building will be closely supervised by an international partner, according to a proprietary, jointly prepared premium design.
The famous Gates of the US is setting his sights on Wroclaw. He wants to have a huge financial center here.
The world-famous Gates wants to have a huge financial and business center, Gates Business Services Europe, in Wroclaw. What the American Gates produces can be found in almost every mechanical device in the world.
Gates is one of the market leaders in the production of high-tech rubber belts and hoses that are used in industry, hydraulics, agriculture and automotive applications.
- Gates chose Wroclaw because of the availability of high-class specialists, as well as students and people who are just entering the job market, says Edyta Kwiatkowska, CFO of Gates Business Services Europe in Wroclaw.
Ryanair airlines will expand its aircraft maintenance facilities in Wroclaw.
New hangars worth €25 million, more than 200 additional jobs for highly skilled engineers and mechanics, and the expansion of the route network from Wroclaw. Ryanair airlines has announced plans to expand its aircraft maintenance facilities. In total, Ryanair planes will fly from Wroclaw to 26 cities in 10 countries.
Ryanair airlines are among the largest low-cost airlines in Europe. The carrier's plans call for around 166 million passengers to use its services in 2023.
LG Energy Solution Wroclaw boosts battery production and works more strongly with Ford. The iconic Mustang on batteries.
LG Energy Solution Wroclaw has announced that it is doubling production capacity for Ford by 2023. This is a result of Ford's greater demand for electric cars. Electric Ford's Mustang Mach-E and E-Transit are running on batteries manufactured near Wroclaw.
Jabil is opening a new design center in Wroclaw, Poland. It will invest $3 million and employ 30 people.
Jabil Inc. a company that develops manufacturing solutions for enterprises, will launch a new design center for the automotive and healthcare sectors in Wroclaw in October 2022. It will invest $3 million and employ more than 30 highly skilled engineers.
Jabil is a manufacturing solutions provider that works with the world's leading brands on end market, technical and design capabilities, manufacturing expertise, supply chain knowledge and global product management. Companies around the world use its solutions to bring their products to market. It employs more than 260,000 people in 100 locations in 30 countries.
A new luxury apartment building in the heart of Wroclaw is now complete.
Studio Plac Dominikanski is a luxury seven-story apartment building with a total area of 3860.42 sqm, located in the heart of Wroclaw. It stands a stone's throw from Galeria Dominikanska, Slowackiego Park and the Market Square. It is a new development by Wroclaw-based TOSCOM Development.
Selena Group - an international giant, after 30 years in business, has revealed its recipe for success. The capital of Lower Silesia has something to celebrate.
Their recipe for a business that inspires respect and recognition is short: - Speed and flexibility of action, as well as a team of fantastic people, says Jacek Michalak, president of Selena Group's management board, are the key factors for a globally successful company. In mid-July 2022 Selena Group - a global manufacturer and distributor of construction chemical products, hailing from Wroclaw, celebrated a round birthday with more than 250 employees and guests.
They will build a private dormitory in Wroclaw.
Signing of the foundation act and laying of the cornerstone - on July 20, 2022, a new investment in Wroclaw was officially launched. Construction of the new MILESTONE Student Living dormitory in Wroclaw has started.
The MILESTONE Student Living dormitory will be built at 22 Fabryczna Street, near the new Bus and Tramway Route (TAT) to Nowy Dwor, Wroclaw Business Park and the Higher School of Banking. The new dormitory will have 512 rooms. The building will include a supermarket, a gym, a music room and a common study area. The dorm is scheduled to open in the fall of 2023.
American concern in a state-of-the-art office building in Wroclaw. 3M Global Service Center Poland in its new headquarters.
What connects American giant 3M with MidPoint71 - the largest office building in Wroclaw? Since June 10, 2022, it has been a shared address on Powstancow Slaskich Street - on that day, 3M Global Service Center Poland celebrated the opening of its new headquarters in the capital of Lower Silesia. 3M GSC Wroclaw is the most modern 3M office in Europe and there is a chance to work there, as the corporation is looking for employees.
3M Global Service Center Poland's new headquarters in Wroclaw (Shared Service Center) is impressive because it's in the state-of-the-art MidPoint71 office building - the largest completed office building in Wroclaw in 2022. Right next to MidPoint71, the Centrum Poludnie office complex in Wroclaw is under construction, with the newest 55-meter skyscraper - Wroclaw's business center with the largest office buildings.
Fresenius Kabi is expanding its operations in Wroclaw. Recruitment has begun.
Dozens of new employees will be hired by the Fresenius Kabi Shared Services Center. Candidates with experience in accounting and finance are already being sought. This is in connection with the expansion of the company's operations in the capital of Lower Silesia.
Fresenius Kabi is a global pharmaceutical company offering comprehensive support in the care of critically and chronically ill patients. Its mission is "caring for life," according to which affordable services and products are provided to patients around the world, including foods for special medical purposes, intravenous drugs, infusion fluids, medical equipment and apparatus, and biosimilar drugs.
LG Energy Solution is expanding near Wroclaw.
Every year, batteries for some 700,000 electric cars leave the LG Energy Solution factory near Wroclaw. All indications are that soon there will be as many as one million a year.
Currently, the plant, which covers an area of about 100 hectares, has dozens of modern production lines. Their current capacity is 86 GWh. However, the company is in the process of expanding its technological park and plans to reach a capacity of 115 GWh in 2025.
MidPoint71 - the largest office building in Wroclaw sold for more than 100 million euros. Record-breaking transaction.
MidPoint71 on Powstancow Slaskich Street sold for more than 100 million euros. This is the largest office building in Wroclaw completed this year. Echo Investment's investment expanded the office market in Wroclaw by more than 36,000 sqm of space.
The MidPoint71 office building was bought by the Czech Trigea Real Estate Fund. On June 30 this year, office building investor Echo Investmet announced that MidPoint71k had been sold to the Czech fund for more than €100 million.
The German company will hire consultants and specialists. New jobs in Wroclaw.
CAMELOT Consulting Group is recruiting consultants and IT specialists by offering them jobs at the company's Wroclaw branch. German company CAMELOT is a consulting firm specializing in supply chain management. The company has set its sights on expanding in Central and Eastern Europe, and its representatives stress that Wroclaw is key here as one of the fastest growing IT centers in Poland
Viessmann, whose plants and centers have been present in Wroclaw and Lower Silesia for years, is moving forward with the construction of a large factory.
This means that the latest investment of the global leader in heating, industrial and cooling systems in Europe will be in our region. Viessmann will offer new jobs at the tens of millions plant and is already looking for employees.
The new Viessmann Heat Pump Manufacturing Plant will be built in Legnica within the Legnica Special Economic Zone. The Viessmann concern has been present there for more than 20 years and has now decided to build a new factory due to the company's dynamic growth and expansion of heat pump production.
Company representatives say that the new Viessmann plant will primarily produce heat pumps for residential and institutional customers and, as before, components included in pumps and other heating equipment. The scale of Viessmann's new investment is impressive.
Impressively growing software house Scalo has moved into Wroclaw's largest business center.
Scalo - one of the fastest growing software houses in Poland, opened an office in CitySpace MidPoint71 in July 2022, located in the 14-story MidPoint71 skyscraper in Wrocław's South Center.
- We develop innovative software for our clients and build expert development teams for them. We implement projects in areas such as automotive, fintech, AI, e-commerce, high-tech or gamedev. Our portfolio has no shortage of unicorns and global brands," says Grzegorz Witkowski, head of marketing at Scalo.
Boehringer Ingelheim sets its sights on Wroclaw and opens Legal & Compliance legal services department.
German pharmaceutical company Boehringer Ingelheim is expanding its Business Services Center in Wroclaw. The company announced on May 19 that it is opening a legal services department in Wroclaw. The company will triple its headcount in 2022 and has jobs for specialists in finance, tax, customer service, accounting, HR and legal services, among others.
JABIL has opened its project center in Wroclaw. It will support the development of manufacturing sectors.
JABIL, an international provider of manufacturing solutions for the automotive and medical sectors, among others, has officially opened its new design center in Wroclaw. Dozens of highly qualified engineers will find work there. Recruitment for the positions has already begun.
The just-opened JABIL design center is located in the Business Garden office complex on Legnicka Street. On an area of 950 sqm there are modern workstations for highly qualified engineers of various specialties.
- We are an international company engaged in the production of various types of assemblies for clients around the world. Our Wroclaw branch will be part of the automotiv, transportation and healthcare division. Here we will design and analyze new products. We are currently hiring mechanical and electronic engineers. We are still recruiting for technical positions. Ultimately, our team is to number 30 people," says Michal Drwiega, manager of JABIL's design center in Wroclaw.
Wroclaw startup with one of the most important European awards in the technology industry.
It's what makes online storefronts fast, modern and efficient. Wroclaw-based Vue Storefront has just received The Europas Tech Startup Awards 2022 in the category of hottest technology startup in the e-commerce and retail market.
The Europas Tech Startup Awards one of the most prestigious technology plebiscites in Europe, which recognizes the most ambitious and successful startups.
Past winners of the plebiscite, which is now in its fourteenth year, include companies such as Spotify, Wise, SoundCloud, Deliveroo and Starling. Now this group also includes a company founded in Wroclaw - Vue Storefront.
- We are honored by this award and a place among such notable winners from previous editions. It is a testament to the hard work of our talented team and proof that our company is heading in the right direction," says Patrick Friday, CEO of Vue Storefront
President Andrzej Duda recognized Centrum South in the Accessibility Leader competition. Construction of the group of office buildings has been underway for several years.
One of Centrum Poludnie's buildings was among the office buildings best adapted to the needs of people with disabilities. The honor in the annual Accessibility Leader competition was awarded by President Andrzej Duda. Centrum Poludnie is a complex under construction on Powstancow Slaskich Street.
The first store in Wroclaw under the Sweet Factory Store banner has opened at Solny Square and Market Square.
Credit is a rather bitter pill to swallow, which additionally has long-lasting hiccups. What's different is lollipops, jellies, chocolate-covered fruits - pure pleasure-money. Of course, the same as with loans: their excess harms. Why this distant comparison of a loan to sweets? In the corner tenement on Market Square, from which Getin Noble Bank moved out, a store full of sweet variety has opened - Sweet Factory Store.
Wroclaw airport will be much bigger. Modernization and reconstruction for PLN 350 million.
Among other things, a new apron, taxiway and aircraft de-icing apron will be built at the Wroclaw airport. The project to modernize and expand the port will consume PLN 350 million, including PLN 175 million from EU funds. The new infrastructure will be designed for civilian and military aircraft.
The project to expand and modernize the Wroclaw airport has received PLN 175 million from EU funds.
As a result, an apron, a parallel taxiway and an expressway will be built at Wroclaw Airport, among other things. The new infrastructure will benefit civilian and military aircraft.
In terms of the amount of EU funding, this is the largest aviation project in Europe. The modernization and expansion of the airside of Wroclaw airport will amount to 350 million zlotys, of which 50% (about 175 million zlotys) of the amount will come from European funds.
Quorum newest office building in Wroclaw commissioned.
The Quorum D building has just received an occupancy permit and it's already clear who will have their offices there. Two massive Quorum towers are under construction on Sikorskiego Street: the office one will be 140 meters high and the residential one 73 meters. The complex, which will include cafes, restaurants and boulevards on the Oder River, will be on Szczepin.
The Quorum D office building, created as the first building in the complex and, as the investor points out, combines modern architecture with the renovation of an existing building made in historic brick. The office building offers its tenants more than 16,200 sqm of Class A office space, spread over six floors, along with about 1,000 sqm of retail and service units. It also features parking for more than 220 cars and an interior patio. The building is already more than half leased.
- Quorum is attracting most of the IT sector players. Although in recent months we have signed agreements with entities from various industries. Our tenants have included: IT-Dev, CBRE, Hairmate hair salon or Doraco, which operates in the construction industry. The Quorum project has all the advantages that will make it simply good to work and live here - a high standard of space, good design, premium apartments in an apartment tower, proximity to the river and recreational areas or a wide range of services and retail," says Patryk Czernik, Leasing Director at Cavatina Holding.
Wroclaw with three awards at Local Trends in Poznan. Among others for smart city and business development.
Local Trends - European Local Government Forum was on October 17-18, 2022 in Poznan. Wroclaw received awards in all three categories: the Newsweek "Best Mayors of Cities" ranking, the Forbes "Business Friendly Cities" ranking and the "Cashless Cities" ranking.
The awards for Wroclaw were received by Deputy Mayor Jakub Mazur. The most important distinction is the first place in the "Cashless Cities" ranking. This award was given to the capital of Lower Silesia for the computerization of the city and smart solutions, in which cashless transactions dominate.
- Thank you for this award! This is an appreciation of the system solutions that we have been implementing in Wroclaw for more than a decade. Both in Poland and in Europe, we are setting trends regarding the city's cashless payment system. We can pay this way for the use of public transportation, toll machines in offices or many attractions. This is important for both residents and tourists, who when visiting the city can conveniently pay by card or phone," says Jakub Mazur, Deputy Mayor of Wroclaw.
BASF is opening an office in the Silver Tower Center. From Wroclaw, they will deal with catalysts and precious metals.
BASF announced on October 17 that it is opening a new office in Wroclaw for its catalysts and precious metals business. In December 2021, BASF decided to establish an independent subsidiary, BASF Environmental Catalyst and Metal Solutions, to focus on automotive catalysts, precious metals trading, recycling and related products and services.
This newly formed group, wholly owned by BASF, will operate in more than 15 countries and include nearly 20 production facilities and more than 4,000 employees.
The first Primark in Wroclaw is being built in Magnolia.
The iconic store of the Irish brand PRIMARK will be the first such store in Lower Silesia. In connection with preparations for the opening, Magnolia Park is rebuilding a section of the current retail space. For the duration of the work, walls with colorful graphics have appeared in the shopping center, where you can take a selfie.
Preparatory work is currently underway at Magnolia Park. - Opening such a large salon is quite an undertaking, which requires us to partially rearrange the current retail space. We need to combine several existing units into one two-story unit," explains Anna Fabianowska, Senior Asset Manager at Multi Poland.
Prestigious Lower Silesia Construction of the Year award for Angel City.
Angel City Wroclaw, a mixed-use building on Walonska Street (on the Olawa River waterfront), has been awarded the title "Lower Silesian Construction of the Year 2021", in the residential and commercial construction category, in a competition organized by the Polish Association of Construction Engineers and Technicians. The investor is Angel Poland Group, a company specializing in the premium real estate segment.
Panattoni's gigantic realization in the region. DSV will be in the Wroclaw Logistics South Hub.
Panattoni, a leader in the industrial real estate market in Europe, is leasing nearly 80,000 sqm to DSV - a global logistics operator - at the Wrocław Logistics South Hub.
Panattoni with the largest project in Lower Silesia. Wroclaw Logistics South Hub will occupy nearly a quarter of a million sqm. 120000 sqm of speculative space to start. Panattoni, a leader in the industrial real estate market in Europe, is not slowing down and is launching another giant business platform in Lower Silesia - Wroclaw Logistics South Hub in Magnice, just 15 km from the center of Wroclaw.
3M SuperHub Wroclaw with important award The Best of Industry 4.0 in prestigious competition.
During the "New Industry 4.0" conference, 3M won the title of "The Best of Industry 4.0" in the "Production Plant" category for putting into practice the idea of a "factory of the future." The competition, organized by the economic portal WNP.PL, recognized the application of Industry 4.0 technologies, using machine learning and artificial intelligence, in solutions for maintenance, logistics, as well as in training at the 3M SuperHub plant in Wroclaw.
The 3M SuperHub facility in Wroclaw is the largest 3M production center in Europe and one of the fastest growing 3M factories in the world. It employs more than 3,000 people and produces more than 12,000 products within four business groups: safety and industry, transportation and electronics, healthcare and consumer solutions. More than 90 percent of Wroclaw's production is exported. 3M in Wroclaw has the most modern office in Europe. June 2022. 3M GSC Poland opened.
City Port will be built in Wroclaw: a massive investment and a large residential development with a park, boulevards and a marina.
Wroclaw already has well-known large residential developments along the Oder River with the word "port" in their names are Port Popowice and Olimpia Port. This group will be joined by City Port: a large development on 35 hectares of land will change the center of Wroclaw, especially Kleczkow and Nadodrze.
Wroclaw-based design studio BCM Architekci Sp. z o.o. has developed a master plan for the City Port site on Kleczkowska Street, where City Port is to be built. The revitalization concept was prepared on behalf of the site's owner, Wozniak Poultry Farm and ATC Development.
The visualizations presented are impressive: the post-industrial area there is being transformed into a modern, green neighborhood on the Oder River with a marina, park, restaurants, boulevards, school and kindergarten. These plans show that the developer wants to use the wharves as is done in Amsterdam or Hamburg. The Oder River waterfronts are already changing in Popowice where one of the largest residential developments on the Oder is being built.
iTechArt is spreading its wings in Wroclaw. It already employs more than a hundred specialists here.
International technology company iTechArt has just surpassed one hundred employees in its Wroclaw branch. It took it less than a year to assemble such a team. However, this is not the end of recruitment. The new office is expected to accommodate more than 150 people.
iTechArt is one of the fastest-growing technology companies in the US, according to Deloitte and the Financial Times. Its headquarters are in New York, but it also has offices in Europe and Asia. It currently already employs more than 3,500 engineers on nearly 300 projects diverse in technology and scale. Among iTechArt's clients are Silicon Valley's rising stars as well as large Fortune 500 organizations, and its staff at the Wroclaw branch exceeded 100 during the year.
One headquarters and joint distribution of beers - this is the result of cooperation between Profesja Brewery and the Stu Mostow Brewery.
The two companies came to an agreement after Profesja had to leave its current headquarters for premises reasons. All indications are that the cooperation will benefit both parties.
Profesja is a craft brewery founded in 2015 in Wroclaw, brewing kraft beers, which came under the wings of Mazurska Manufaktura S.A. at the end of 2021, and its owners became shareholders in the Szczytno-based company. Due to problems with the existing premises, which were regularly flooded by rainwater, it was decided in November this year to move part of the production to the brewery in Szczytno. However, part will remain in Wroclaw, and Profession's beers will be brewed in cooperation with the Stu Mostow Brewery.
Poland's first satellite factory will be built by SatRevolution, a Wroclaw-based company.
Hundreds of very small satellites will be produced in Poland's first nanosatellite factory by the Wroclaw-based SatRevolution Company. A letter of intent on this innovative investment from the space sector was signed in Wroclaw. The satellite plant is expected to cost PLN 50 million, and production is scheduled to start at the end of 2023.
A letter of cooperation on the construction of Poland's first nanosatellite factory was signed in Wroclaw, at the research center of the Lukasiewicz Port Research Network in Pracze Odrzanskie, where SatRevolution (SatRev) has its headquarters. The agreement was made by representatives of the SatRevolution company in Wroclaw and the Legnica Special Economic Zone (LSSE).
- We plan to create a constellation of one thousand satellites by 2026. For this goal to come true, we need a place to develop and I believe we have found such a place in the Legnica Special Economic Zone. The signed letter of cooperation is another step in the development of both the company and the Polish space sector," says Grzegorz Zwolinski, president of SatRevolution.
Shein - online clothing store famous for its low prices and promotions will open a distribution center near Wroclaw.
Shein, a global fashion and lifestyle e-commerce company, will open a giant distribution center for Central and Eastern Europe by the end of the year. Shein's distribution center will be built on 40,000 sqm of space at GLP Wroclaw V Logistics Centre in Magnice near Wroclaw. Shein is the world's fastest growing platform for shopping for clothes, shoes and accessories.
The state-of-the-art Lower Silesia 3D Printing Center is ready for commercialization.
The Lower Silesia 3D Printing Center - DC3D is now fully equipped. And this means that the next phase of DC3D's activities begins, namely, making the entire facility and its infrastructure available to external entities from the micro, small and medium-sized enterprise sector.
- Conditions have been created in the building for training new employees in 3D printing, among other things, and the existing infrastructure of the Lower Silesia Innovation and Science Park has been expanded. The Lower Silesia 3D Printing Center also supports knowledge transfer between companies using the incubator and the scientific community. The facility is fully adapted to the needs of the disabled," says Kacper Cecota, plenipotentiary of the management board of the Lower Silesian Innovation and Science Park in Wroclaw.
The best delicacies from Ukraine to buy in Wroclaw. The grand opening of the Best Market Ukrainian store.
The Best Market in Wroclaw offers Ukrainian pork fat, dried fish, beer snacks, sturgeon or trout caviar, cold meats, pierogi pielmieni, among others. From baked goods, among others, Lithuanian black bread or Latvian rye bread to a lot of sweets and cakes.
- On the shelves we have a lot of products from Ukraine and from Lithuania, Moldova, Armenia or Georgia. In Ukraine, a lot of factories have closed down, or are working with problems because they have no electricity and gas. We try to attract goods from Ukraine, but if we fail, we look for producers, for example from Germany where delicacies from Ukraine are produced, as an alternative with the delicacies of Eastern Europe. We also orient ourselves to Poles, who are very supportive of Ukrainians in these difficult times," stresses Yelyzaveta Pavlova.
BSH's latest investments in Wroclaw.
Thanks to investments in modern technologies, the German company BSH in Wroclaw has reduced annual electricity consumption at its refrigerator and oven factories. The energy savings of the Żmigrodzka Street plant amount to the amount of electricity used annually by 1,400 families in their homes. BSH's Wroclaw plants also need less gas and water. Soon there will be photovoltaic panels on the roofs.
In January 2022, the two-millionth BSH oven rolled off the production lines of BSH Domestic Appliances in Wroclaw and at the end of 2021 the one-millionth BSH refrigerator in Wroclaw. The German BSH corporation is developing its facilities in Zmigrodzka Street.
The company is developing in accordance with the principles of sustainable development, which is embedded in the strategy of the entire BSH Group. Recently, for example, the company has modernized the area of degreasing oven bodies.
- Thanks to the new degreasing technology, we have reduced the water consumption needed to fill the machines once by more than 80%, and gas consumption is reduced to zero in the process. This means a decrease in production costs, which at the same time becomes more sustainable," says Adrianna Krzysztofik, Process Engineer at BSH.
Luxury Lifestyle Hotel in Europe is in Wroclaw.
Results of the prestigious World Luxury Hotel Awards 2022 competition. Among the winners was The Bridge Wroclaw MGallery hotel. The 5-star hotel, located in Ostrow Tumski, was the winner in the Luxury Lifestyle Hotel in Europe category. The World Luxury Hotel Awards are awarded on the basis of public voting.
Large warehouses and offices will be built at Ideal Idea City Park Wroclaw. The halls will have a modular design.
The newly built SBU facility at the Wroclaw airport is another investment from Ideal Idea. The flexible business spaces under construction: warehouses and offices were instantly appreciated by the market, making City Park Wroclaw II fully leased already during construction. There will be more jobs in Wroclaw.
City Park Wroclaw II is already the second Lower Silesian project under the SBU model - "Small Business Units" - implemented by Ideal Idea, a pioneer in implementing such solutions in Poland. SBU facilities from Ideal Idea can be used for both small warehouses and representative offices.
- Flexible spaces, modern solutions and the highest standard of finishing offered in SBU facilities from Ideal Idea perfectly match the current market needs. The commercialization process of City Park Wroclaw II was the fastest in the history of our company - says Justyna Markowska, Member of the Management Board, Ideal Idea.
New shopping mall in Wroclaw opened in 2022.
Punctually at 9 a.m., a new shopping center in Wroclaw opened on Thursday, November 24, 2022. The stores have prepared special promotions that will last for the next few days. Customers can choose from stores of popular brands, including clothing, pet, sports and drugstore. Galeria Dlugosza 66 is located near Kromera Avenue in Karlowice.
The Dlugosza 66 shopping mall in Karlowice features popular brands with a variety of offerings. The investor asked for there to be a multi-industry mix and stores including clothing, pet, sports and a drugstore. The Dlugosza 66 shopping center has more stores in Wroclaw of retail chains such as Dealz, Action, Tedi, Maxi Zoo, KiK, Rossmann and Pepco.
It is worth mentioning that popular discount stores Kaufland, Lidl and ALDI are already operating in the vicinity of the new center. All of these facilities are by RB Group, which designed the Dlugosza 66 retail park.
Wrocław the leader of the startup market in Poland. Startup Poland 2022 Foundation report.
In 2022 Wroclaw and Lower Silesia had special reasons to be happy, because it is here that the largest number of technological companies in Poland are registered. This is according to the Startup Poland 2022 Foundation Report.
Wroclaw has been working for years to become the startup capital of Poland. Subsequent editions of our "Polish Startups" report indicate that the startup ecosystem is doing very well here - the Lower Silesian region leads the way when it comes to the number of innovative companies. There is also the most recent Dealroom.co ranking - the authors analyzed 201 cities from 65 countries and selected those where innovation is developing most efficiently. Wroclaw ranked eighth in the "Rising Stars" category and ahead of Warsaw, which landed at eleventh. Let the premiere of the eighth edition of "Polish Startups" - which we are organizing for the first time in Wroclaw, and not in Warsaw as before - will be further proof that startups feel comfortable in Wroclaw

Tomasz Snazyk, president of Startup Poland
In 2022, Wrocław's high position in the startup ecosystem is confirmed by yet another recent ranking. Wroclaw topped Polish cities in the category of rising stars of technology hubs in the just published report "The next generation of tech ecosystems" prepared by Dealroom. The capital of Lower Silesia was ranked second in Europe and eighth in the world in this category, which clearly indicates that it is a great place to set up startups and develop innovations.
This confirms that we can feel like a leader, and shows that Poland as a place for startup development is getting more and more attention. This is extremely important, especially now that investors are quite cautious about investing in startups. We especially see this by looking at the stalling of funding for startups in the US market. In Poland, this market is still stable

Magdalena Okulowska, president of the board of the Wroclaw Agglomeration Development Agency S.A.