They will build LCube Wroclaw East. A powerful industrial complex in Dobrzykowice.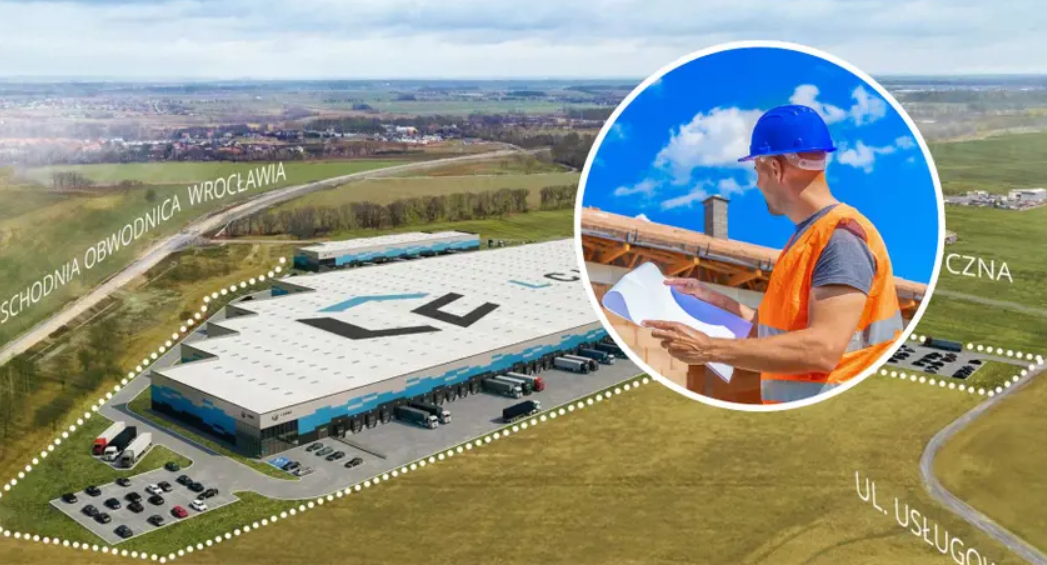 There is a lot of buzz about Dobrzykowice, as a massive investment will be built there. See details here.
Dobrzykowice is located in the municipality of Czernica, 13 kilometers from Wroclaw. Now Dobrzykowice has become famous for a massive investment, whose official name is LCube Wrocław East and LCube Wrocław East II. It will be a large industrial and warehouse complex to be built right next to Wroclaw's Eastern Ring Road.
LCube Wroclaw East in Dobrzykowice.
Developer LCube will build a total of 125,000 square meters of warehouse and industrial space in two phases on plots of over 25 hectares. The powerful complex will create at least dozens of new jobs.
Construction work on the first phase began on Monday, October 2 and is scheduled for completion in July 2024.
Hillwood and LCube are joining forces on a project near Wroclaw.
The developer announced on October 3 that LCube and Hillwood Poland have signed an agreement to cooperate on a logistics project located in the eastern suburbs of Wroclaw. The Hillwood & LCube Wrocław East industrial and warehouse facility will comprise more than 60,000 sqm of Class A warehouse space and will be prepared in accordance with the high standards of BREEAM certification at the Excellent level.
LCube, as Development Manager for the joint project, will cooperate with Hillwood in both the development execution and commercialization of the facility.
Lower Silesia is one of the most important markets on the warehouse map of Poland. The region is particularly conducive to the development of e-commerce, logistics or light manufacturing companies handling deliveries to various markets, both domestic and Western. Hillwood is steadily expanding its investments in this location, and the planned warehouse park in cooperation with LCube fits in with our development strategy

Damian Slaby, member of the management board of Hillwood Polska
The first lease agreement for the Hillwood & LCube Wrocław East facility has recently been finalized with the international logistics company, which will occupy 22,869 sqm of warehouse space and 285 sqm of office/social space, about 40 percent of the facility.
For LCube, the 60,000-square-meter facility is the largest of its investments in Poland to date. The opportunity to work with a very demanding investor such as Hillwood Poland and the acquisition of a strong partner should result in further well-designed investments in the future. We are already preparing to start construction works, we have signed a contract with the general contractor Rex-Bud and we expect Hillwood & LCube Wrocław East to be handed over to tenants as early as next July

Michal Stachura, LCube board member
LCube Wrocław East. Technical specifications.
Storage height 10 - 12 m
Floor load capacity 5 - 7 T/m2
Class A warehouse space, flexibly shaped modules
Class A office space as required
Interior and exterior LED lighting
Loading docks and gates from "0" level
Gas heating by radiant heaters or heaters
Facility designed in accordance with BREEAM criteria
Spacious maneuvering areas
In the Wroclaw agglomeration they are building huge warehouses and huge logistics parks. What is inside the giant halls?
More than 600,000 square meters of modern warehouses are under construction in Lower Silesia. Almost two-thirds of them, developers are building in Wroclaw and the immediate vicinity.
Lower Silesian halls are awaited primarily by tenants from the e-commerce and logistics sectors. Powerful warehouses in the region are being built by Panattoni, Hillwood and GLP. And it doesn't stop there, as more developers are already lining up with new investments. New investments, means lots of new jobs.