Wroclaw Technology Park presents "Wroclaw Microenterprise" report and Innovation Sector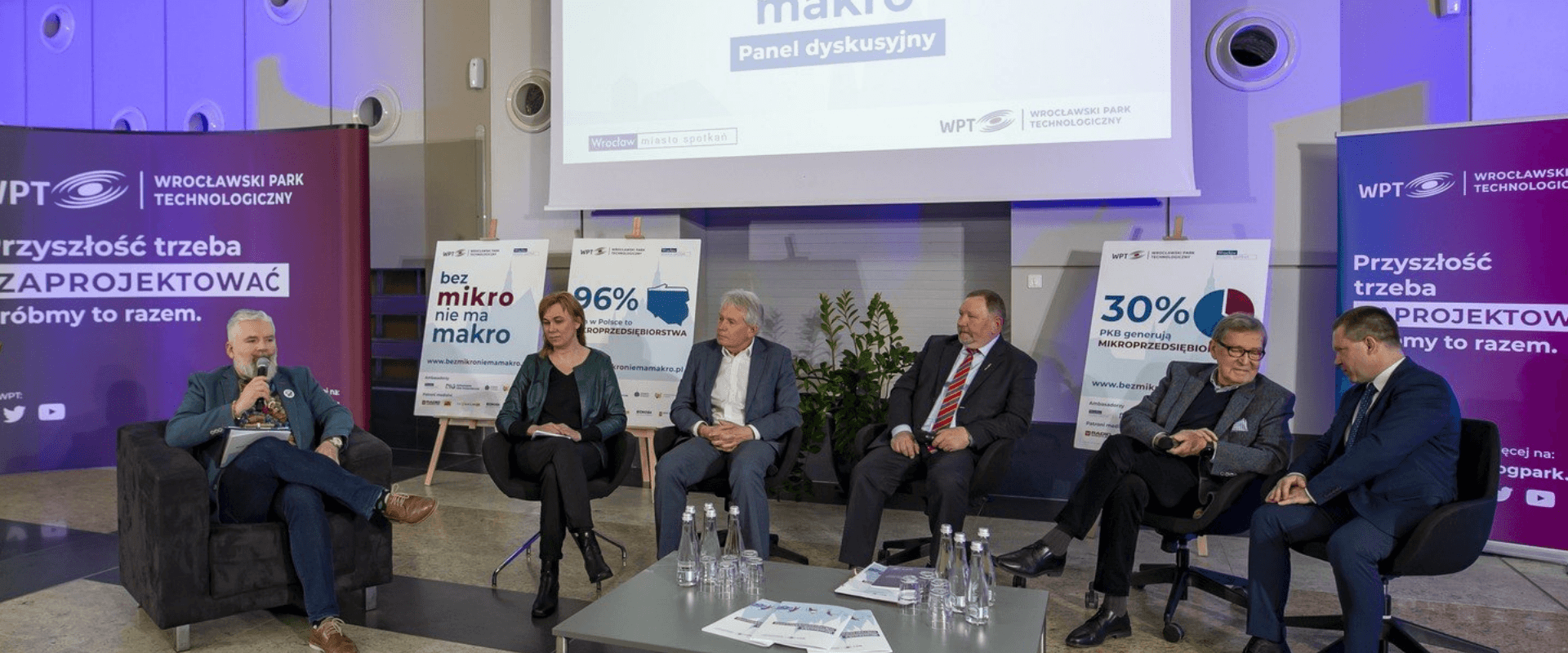 Two premieres - the report "Wroclaw Microentrepreneurship" and Innovation Sector, as well as panel discussions about business and science - all this could be found at the conference "Wroclaw is enterprising".
During the meeting various forms of entrepreneurship in Wroclaw were discussed and the question of what and who drives the development of entrepreneurship in Wroclaw was considered. The conference was attended by representatives of Wroclaw entrepreneurs, the municipality of Wroclaw and business environment institutions and universities.
- Figures prove how important micro-enterprises are for Wroclaw: there are over 125 thousand of them in the city and they employ over 33 percent of all employed men and women in Wroclaw
The report "Wroclaw Microenterprises"
Tomasz Wislinski, deputy marketing director of the WPT, presented the results of the "Wroclaw Microentrepreneurship" report, which was based on research of over 100 Wroclaw companies. The entrepreneurs answered questions in a special survey.
The publication summarizes the survey and presents the challenges and needs of local microenterprises.
The report was prepared by the Wroclaw Technology Park as part of the project "There is no macro without micro", which was implemented in cooperation with the City of Wroclaw from May 2021.
As part of the "Without micro there is no macro" project, the #bezmikroniemamakro contest was organized, through which the WPT encouraged the residents of Wroclaw to show the microenterprises they like, know and want to support.
A new Wroclaw Craftsman (Wrocławski Rzemieślnik) portal was also prepared, in which we can find contact details of local shoemakers, tailors, watchmakers, confectioners, or mechanics.
The ambassadors of "No micro, no macro" were: Lower Silesian Chamber of Crafts, Lower Silesian Chamber of Commerce, Wroclaw University of Economics and Economic Development Office of Wroclaw City Hall. This is what Jacek Sutryk, mayor of Wroclaw, says about the project:
- Wroclaw is a city of active, creative and entrepreneurial people. Nearly 130 thousand enterprises operate here. Most of them are microenterprises that make our city, our region, develop dynamically. Thanks to the commitment and ingenuity of our Wroclaw entrepreneurs we all gain, and Wroclaw gains. Through the project "There is no macro without micro", together with Wroclaw Technology Park, we want to show the citizens of Wroclaw how important micro-businesses are for our city
The report describes, among others: the condition of Wroclaw micro companies, their innovativeness and competitiveness, digitalization, barriers to development, financial situation, their investments and the impact of the COVID-19 pandemic on Wroclaw micro companies.
Micro-businesses important for Wroclaw's development - tax income
According to the report, there are almost 129 thousand companies operating in Wroclaw, 97% of which are micro businesses. They operate in various industries, but in terms of their number such sectors stand out as:
trade and vehicle repair - 16%,
professional, scientific and technical operations - 16%,
construction - 10%,
information and communication - 10%,
real estate services - 9%.
It is also worth noting that 33% of Wroclaw citizens working in enterprises work in microenterprises, most of them in the sectors:
trade and repair of vehicles (22%),
professional, scientific and technical operations (17%)
construction (11%).
Micro businesses also have a considerable impact on shaping the Wroclaw budget.
- It is easy to calculate that it is over 600 million zlotys of income from taxes to our budget, which means that many investments realized in Wroclaw are created thanks to these family companies, these professionals who work every day providing us with services and products which are necessary and which raise our comfort and quality of using this city
Key results of the report "Wroclaw microenterprise"
The report shows that 54% of Wroclaw microenterprises assess their condition as good or very good. Less optimism is visible in the way microentrepreneurs assess their financial standing. 17% of them assess it as bad or very bad.
However, they pay less attention to their innovativeness. 96% of micro companies take actions improving their competitiveness, yet only 37% consider themselves more innovative than their competitors.
Microentrepreneurs focus on the quality of customer service, which, according to 61% of them, is a way to improve competitiveness of their companies. Expanding the range and improving the quality of their products and services are also important for them.
According to micro enterprises, knowledge and experience and not technological or production background are the main source of innovative advantage.
On the other hand, growing costs of running a company are the main barrier for the development of Wroclaw micro companies. Issues related to access to information and range of support for micro companies are also perceived as obstacles.
The project "There is no macro without micro"
Maciej Potocki, president of Wroclaw Technology Park, emphasizes that by launching the campaign "There is no macro without micro", the intention was to show Wroclaw citizens that micro enterprises are all around us, that we come into contact with them every day. Although they are the smallest, the scale of their operations makes them drive the city's development.
- Over the last few months, we have been showing the value of local microenterprises, their successes, ideas, products and services, and encouraging you to get to know them, appreciate them and recommend them. Preparing a report on the condition of Wroclaw microenterprises is the next stage of our activities. It will be a guideline for us, but also for the City of Wroclaw and other institutions supporting business, showing what microenterprises really need and what we can and should do for them to develop our city together
During the conference meetings about Wroclaw entrepreneurship were summed up, held under the motto "Entrepreneurship designs the future".
During the panel "What connects science and business" there were talks with representatives of Wroclaw universities, large international companies, enterprises from the SME sector and startups about the potential of cooperation between business and science.
Innovation Sector - a new Wroclaw Technology Park project
During the conference the
new WPT portal - Innovation Sector
- was presented. It is a space dedicated to innovations, exchange of contacts, know-how flow, and development of cooperation between business, innovators and the scientific community.
The Innovation Sector portal will feature an Innovation Exchange - a database allowing free-of-charge addition and search for innovative services, products and technologies created by innovators, companies and institutions from various industries. It is a place for everyone who develops innovations, regardless of whether they do it on their own, at a university or within an international organization.
Innovation Sector is a project developed in Wroclaw, so there could not miss the stories about the successes of Wroclaw entrepreneurs and scientists who develop innovations, known not only in the country but also around the world. In the form of case studies you will be able to read them in the Wroclaw Innovations section.
The portal will have an Innovation Verifier, a free of charge tool, where experts from the WPT will give advice to interested innovators, entrepreneurs or scientists on how to develop their ideas, e.g. what steps to take to turn an idea for an innovation into a business plan. This will be done on a confidential basis.
- Also the Innovator's Knowledge Base will be constantly expanded, where it will be possible to find expert information concerning issues important for entrepreneurs, but also a collection of information about business environment institutions with which they can cooperate.