Wroclaw the capital of startups. Wolves Summit 2023 has launched, a festival of investment, networking and talent.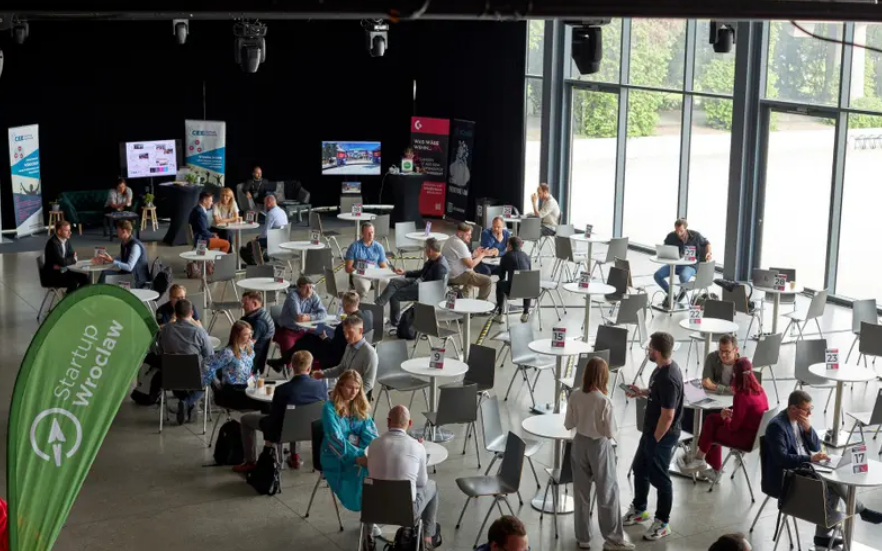 Entrepreneurs, startup owners and recruiters looking for ambitious and talented people met for the third time at the Wrocław Congress Center during the international Wolves Summit 2023 festival, which has just started in Wroclaw.
The Wolves Summit 2023 international technology festival has begun at the Wroclaw Congress Center, and will last three days. It brings together entrepreneurs, investors, representatives of corporations, as well as recruiters looking for young, ambitious and talented people ready to start a career in the world of technology and innovation. It's also an opportunity to build networks and test your negotiation and self-presentation skills.
A place for effective meetings between startups and investors
Wolves Summit is a large business event, which is a place to talk about good practices in creating and developing companies and products, exchange knowledge and experiences related to acquiring new customers and building good relationships in business. The event is being held in Wroclaw for the third time. As Jakub Mazur, Deputy Mayor of Wroclaw, noted, these meetings also take place in London and Vienna, which shows the importance of this event.
More than a thousand startup applications came to this year's Wolves Summit, which shows the enormous scale of the event. There was also a large amount of capital not only from Europe, but also from Asia or the United States. We try to make sure that the best ideas that are created here find the best investors and can grow. Last year Wroclaw was number one in terms of the number of startups. This was also made possible by events such as this one. Wroclaw is a meeting city that fosters such contacts. The Wolves Summit is attended by the biggest players who are looking for the best ideas and find them here. The atmosphere of creativity, but also hard work fosters such contacts.

Jakub Mazur
More than 1,000 technology startups
Each Wolves Summit attracts more than 1,000 technology startups from all over Europe. Over the course of the three-day event, dozens of speakers from all over the world will share their knowledge in areas such as the future of work, new employment trends, creating and scaling your own startup or sustainability. In addition, some 70 representatives of selected startups will present their business ideas.
Meetings held during the event, will allow young companies to attract commercial clients and collaborate with industry leaders. They are also conducive to bringing innovations to the market, reaching a wider audience and, consequently, generating revenue.
Wolves Summit, like any major international stratup event, is very important for Wroclaw. We are the capital of startups, something we are very proud of. That's why both as ARAW and Startup Wroclaw we are very eager to organize such events.

Mateusz Jarzombek, director of the Business Support Center, ARAW
A chance to present your business idea
Wolves Summit is a meeting place for representatives of startups operating in the field of new technologies and innovation. It is a chance for them to present their projects and make many interesting contacts with both similar companies and potential investors.
We are a startup coming from Lithuania, which is developing probiotics for mental health. At Wolves Summit we are there to show others our offerings and introduce ourselves to investors. It is also a great opportunity to meet other startups. There really is a lot going on.

Anna Chwalibog of Integral Solutions

I am starting my business related to the preparation of ergonomic workstations for breastfeeding women. This is the first such event I'm participating in. I'm already scheduled for a few meetings and hope to get acquainted with other startups and their interesting projects here.

Klaudia Kasprzak
Zones for the innovative and entrepreneurial
This year there are also dedicated sessions for deep tech, smart city, socially oriented investors and startups developed in times of crisis. Wolves Summit also showcases success stories, offering, among other things:
Expo Zone - the largest exhibition zone in Wolves Summit history
Great Pitch Contest - a competition for innovative projects, where 50 semifinalists will compete for the title of best startup in thematic tracks
Corporate Innovation Challenges & Side Events - initiatives to support the ecosystem in times of crises for a sustainable future
Talent Matchmaking - an opportunity to meet with potential co-founders or employers.
The content part of the event will culminate with a networking event for event participants. The current agenda is available on the organizer's website. All presentations are held in English.