Wroclaw University of Science and Technology today opened a Faculty of Medicine with a major in medicine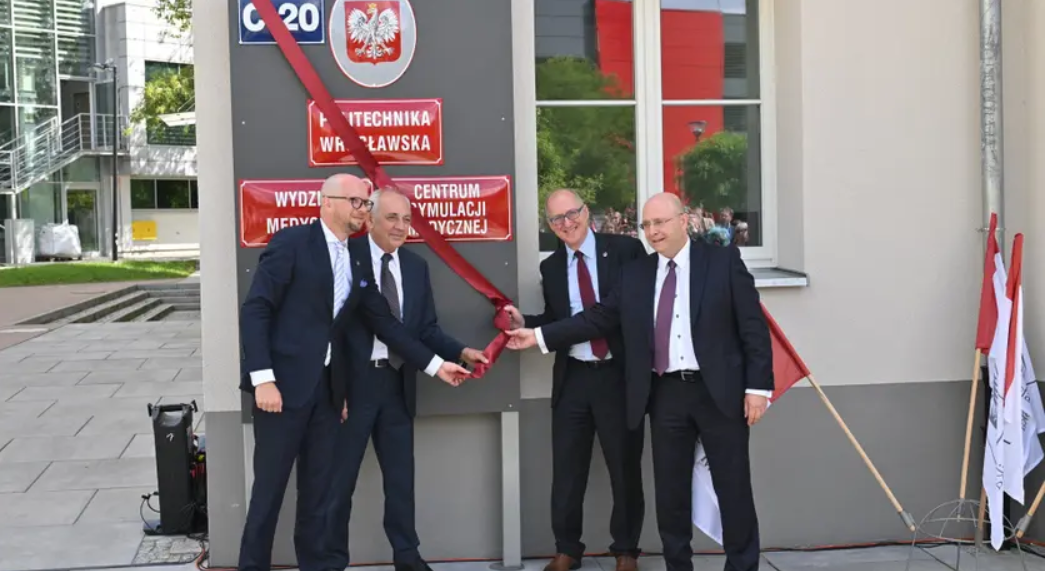 Today (September 4), Wroclaw University of Science and Technology ceremonially inaugurated a new faculty with a medical specialty - as the first technical university in Poland. Laboratories and other rooms are, among others, in the C-20 building.
Sixty students will begin studying medicine at the Faculty of Medicine at Wroclaw University of Science and Technology in the fall. The university officially opened it on September 4, 2023. First there was a guided tour of the C-20 building on Hoene-Wronski Street (photos in the gallery), then a meeting with professors, and finally the official part.
After two years of effort and overcoming many obstacles, today we celebrate the academic year with the new Faculty of Medicine. It will be created not only by excellent staff and modern laboratories, but also by excellent students. It is with great optimism that we open the next chapter in the history of our university.

Prof. Arkadiusz Wojs, Ph.D., Rector of Wroclaw University of Science and Technology
From the beginning, internships will be held in hospitals
The Polytechnic has established cooperation with seven hospitals and Dolmed medical center. - We put a lot of emphasis on training students in a practical sense, and this will set us apart. From the first semester they will have contact with patients," announced Prof. Tadeusz Wieckowski, D.Sc. (Faculty of Computer Science and Telecommunications at PWr). - We focus on modernity, which is why we have a medical technology center. At the moment, it is being equipped with apparatus and equipment. We are ready to conduct classes," he stated.
A cardiologist from the Wroclaw Military Hospital on Weigl Street was also at the inauguration ceremony. - A huge event for Wroclaw University of Technology and for the medical world," stressed Dariusz Jagielski, PhD, advisor to the rector of PWr for medical affairs, "for doctors, Wroclaw hospitals. We are very well prepared to bring students to hospitals from the first semester and teach them medicine there," he reassured.
From the doctor Jagielski's point of view, it is very important that students will learn to treat people in several centers, which will give them a wide range of experience. - This will allow them to learn different kinds of customs, practices of communicating with patients, but also with medical staff. Different kinds of ways of managing departments, clinics," argued cardiologist and consultant Dariusz Jagielski. - I think this will make them much better prepared to practice medicine right after graduation," he predicts.
The medical faculty proved to be the most popular at the polytechnic this year, despite the fact that recruitment started the latest. There were 1,600 applicants, which gives 27 candidates per place. Rector Wojs admits that 60 accepted students is relatively few to create a student community, but it is an adequate number to start with.
For the time being, no more, because in medicine, the quality of education is critical. We can't afford to teach worse or less credibly than reputable medical schools. If everything goes well, which I have no doubt it will, then in time there will probably be a wider teaching offer and an increase in enrollment.

Prof. Arkadiusz Wojs, Ph.D., rector of Wroclaw University of Science and Technology
They promise a very high level
The creation of a medical faculty is the first stage of a major undertaking to implement a new strategy for the development of the university as a multidisciplinary technological center. - We are taking the example of the great European and American polytechnics, which are not just technical, vocational schools," noted Professor Tadeusz Wieckowski. - Due to public expectations of all academies, polytechnics are expected to deal with the greater challenges of civilization, which are usually interdisciplinary. Therefore, close interaction between technical sciences, social sciences all the way to health sciences is becoming the standard. This is the case at technical universities around the world, which have the greatest contribution to the development of civilization, economy, quality of life," the professor noted.
Representatives of the Wroclaw university point out that medicine at polytechnics and universities is the norm in the world, not something exceptional. During the inauguration of the faculty, they guaranteed that from the very beginning the level of education will be very high. New technologies and even artificial intelligence will play a big role.