Wroclaw's partnership agreement with Cheongju. The LG Energy Solution concern originates from this city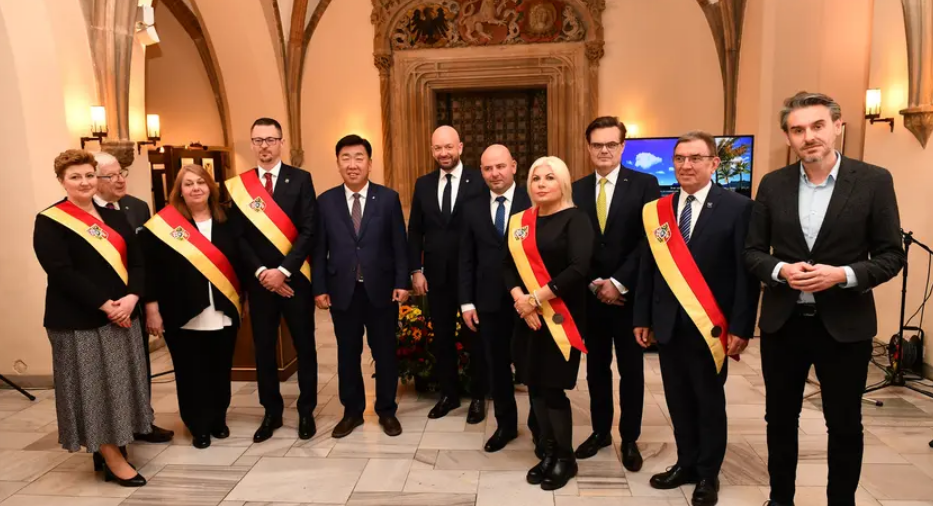 On Thursday, April 13 in the Great Hall of the Old City Hall, a partnership agreement between Wroclaw and the South Korean city of Cheongju was signed, and this is the 17th partnership city. From Cheongju comes the LG Energy Solution Wroclaw concern - the first in Lower Silesia and the largest electric car battery production center in Europe, one of the largest employers in the region, employing more than 10,000 people.
Historical partnership between Wroclaw and Cheongju
The partnership between Wroclaw and Cheongju is the first agreement that the capital of Lower Silesia signs with a city in South Korea. In 2019, the mayor of Wroclaw and a delegation traveled to Cheongju - the motherland of the LG Chem Solutions corporation, which has been operating in the Wroclaw metropolitan area for more than a decade. And in February 2020, the Wroclaw City Council adopted a resolution to establish partnership cooperation with Cheongju.
The facts are indisputable: during its operation in Lower Silesia, the Cheongju-based LG Energy Solution Wroclaw created the first and largest electric car battery production center in Europe. This has resulted in the introduction of cutting-edge technology and attracted many other investments to Wroclaw.

Mayor of Wroclaw Jacek Sutryk
Present at City Hall during the signing were - on the part of Wroclaw - President Jacek Sutryk, Vice President Jakub Mazur, Chairman of the Wroclaw City Council Sergiusz Kmiecik, city councilors, while on the part of Cheongju - Mayor Lee Beom Seong, foreign cooperation coordinator Kim Bo Kyung, foreign trade director Lee Myeong Ok, while from the Cheongju Mayor's Secretariat - Ban Yeong Jun.
It is an honor to visit such a great city. We are happy to host in Cheongju, a place full of respect for the community that we hold in such high esteem in our country. Cheongju is happy to have friends from Poland, from the capital of Lower Silesia, in its circle, so illustrious. I would like to thank President Jacek Sutryk, who visited us in 2019 and who each time expressed great respect for our Korean community, emphasizing how important it is to him and to other residents of Wroclaw.

Lee Beom Seong, mayor of the city of Cheongju
Mayor Jacek Sutryk reminded the audience that more than 5,000 Koreans live in and around Wroclaw. - We are happy that you are with us and that so many of you have chosen Wroclaw as your home. This confirms that our city is indeed a "city of meetings". - admitted the president.
It is also worth mentioning that LG Energy Solution Wroclaw has recently invested not only in technology, but also in the future of the agglomeration's residents. In September 2022, a public kindergarten for 240 children from Wroclaw and the surrounding area was established in Biskupice Podgorne.
According to data from the Central Economic Center as of March 1, 2022, there are 548 companies in Poland, 47% of which are located in Lower Silesia. Major investors are: LG Electronics, LG Energy Solution, LG Display, LG Innotek, Enchem.
Cooperation in the Wroclaw-Cheongju partnership agreement
Economy: facilitating communication and meetings between local entrepreneurs in both cities to promote goods and services, and stimulate economic development, further development of Korean multinational companies;
Culture and tourism: organizing cultural exchanges involving artists and creators (especially in connection with anniversary events in both cities), organizing exhibitions and study visits;
Science and technology: exchange of good policies in areas such as IT and SmartCity;
Sports: participation in sports events involving residents of both cities;
Education: exchange of students and teachers to promote human resource development in the short and medium term;
Public transportation: exchange of good practices and knowledge to improve the quality of public transportation;
Environmental protection: exchange of good practices and solutions to further improve local environmental policies.
What will Wroclaw gain from the partnership with Cheongju? A new space for the development of Polish-Korean relations, the opportunity to organize joint conferences, workshops, study visits. More frequent and intensive exchange of human and technological capital will be possible.
Cheongju, the second metropolis after Seoul
Cheongju is the capital of the centrally located North Chungcheong Province and is located about 140 kilometers south of Seoul (45 minutes by train and 2.5 hours by car). The city has a population of about 854,000, making it the second most populous city in South Korea, after the metropolis of Seoul.
The city is a dynamic economic (in 2016 it recorded GDP growth of 5.7%) and industrial center. About 60,000 companies operate on its territory, offering their products and services in the following industries: pharmaceuticals, smart IT, biotechnology, transportation, engineering and new technologies in energy.
The city has special significance for Wroclaw and Lower Silesia. It is from Cheongju that the LG Energy Solution Wroclaw concern - one of the largest employers in the region - originates. The concern employs more than 10 thousand people from more than 100 localities in Lower Silesia and Opole provinces. Annually 700 thousand batteries for electric cars are produced here, and in the perspective of development, in the coming months, it is expected to be 1 million. In 2019, we visited our friends in South Korea. I was and still am delighted with the infrastructure and potential of this city, which is very similar to Wroclaw - in terms of the dynamics of development and the projects it undertakes.

Jacek Sutryk, Mayor of Wroclaw
Cheongju, like Wroclaw, is an important academic center. Approx. 60,000 students study at 9 universities, including 3 public universities, and enjoy access to modern scientific and laboratory infrastructure.
Since 2002 Cheongju is listed on UNESCO's Memory of the World list as the site of JIKJI (read: jikji), the oldest book printed using movable metal type (it was created in 1377, 75 years before Guttenberg's Bible).
JIKJI is an important part of the city's cultural heritage, with the annual JIKJI Korea International Festival regularly attracting more than 40,000 visitors. Another important cultural event is the Cheongju Craft Biennale, whose successive editions attract approx. 30,000 artists from 60 countries around the world and an average of 350,000 visitors.
Korean studies at UWr, inter-communal projects
Thanks to talks with South Korean partners long before the agreement was signed, it became possible to carry out projects of an international and intercommunal nature. In 2019, Wroclaw and Kobierzyce signed an agreement to expand a water supply network that will serve the LG Chem plant, a Cheongju-based company.
It's a water pipeline with a diameter of 500 millimeters and will be more than 2 kilometers long on the Wroclaw side. Thanks to this, the so-called southern trunk line of the city, i.e. the pipeline running from Kobierzycka Street to Oltaszynska Street, will be completed in Wroclaw.
From 2019, at the University of Wroclaw at the Institute of Classical, Mediterranean and Oriental Studies, you can study Korean Studies. The direction is very popular among student applicants. There are more than 13 applicants per place. Children and adults also learn the language by learning about the culture and customs in private schools and foundations.
Cheongju - 17th twin city of Wroclaw
Cheongju has become the 17th partner city of Wroclaw. The Lower Silesian capital also has partnerships with Dresden, Lviv, Wiesbaden, Lille and Oxford, among others. In 2019, an agreement was concluded with Georgia's Batumi, and in March this year with Ukraine's Kiev.