Year 2021 in Wroclaw Agglomeration Development Agency and Invest in Wroclaw - summary of activities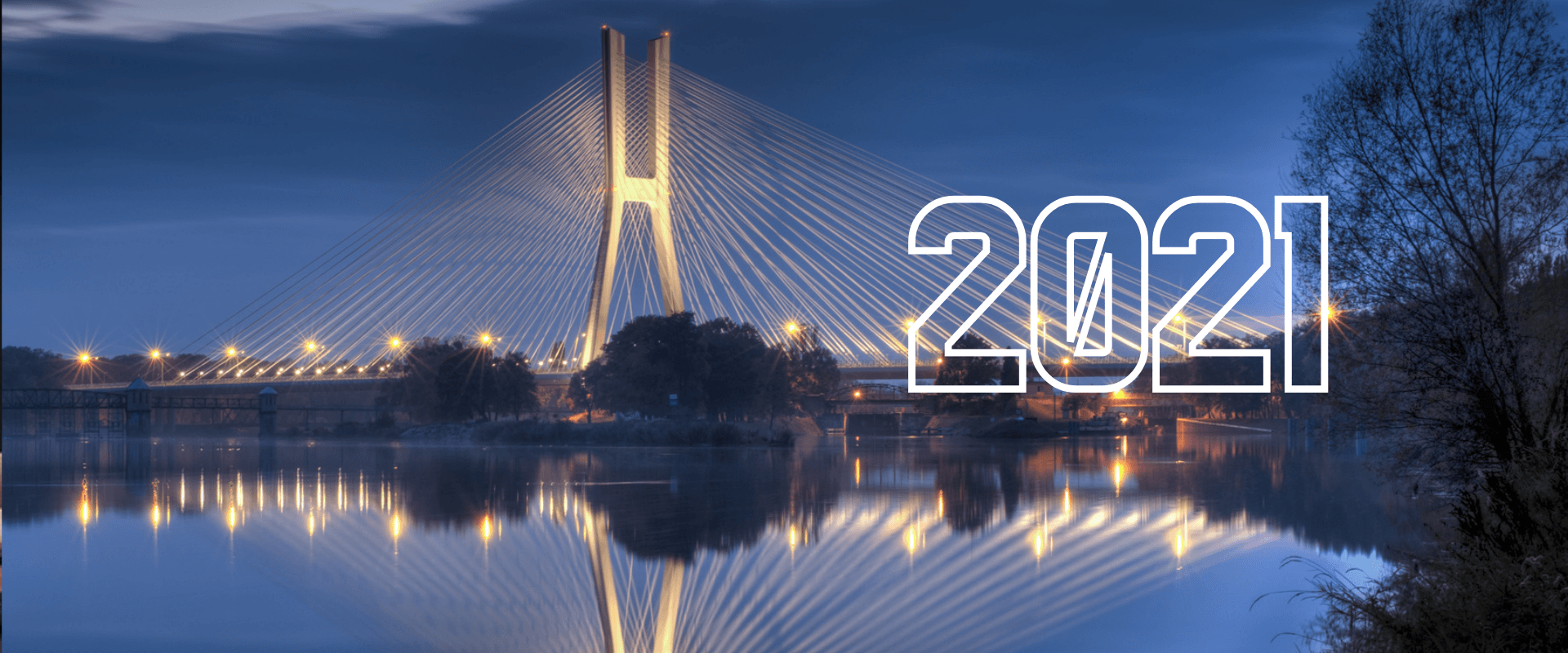 - 4000 jobs in innovative manufacturing and service companies, effective urban social campaigns, successful projects and initiatives carried out with many partners. We would like to thank all institutions and companies for their cooperation in 2021. Only together could we achieve these satisfying results - says Magdalena Okulowska, President of Wroclaw Agglomeration Development Agency (ARAW).
- Unlike last year, we did not have to resign from any of our activities, and moreover, we have undertaken new ones. We've had the opportunity to present Wroclaw at major international events such as EXPO in Dubai and Web Summit in Lisbon. We have also carried out an economic and educational mission to Kazakhstan - enumerates Magdalena Okulowska.
New jobs for residents of the agglomeration
One of the primary measurable effects of ARAW's work in the field of economic promotion is the number of jobs declared by investors. This is the result of comprehensive handling of investment projects. - In 2021 we regularly responded not only to inquiries from new potential investors but also from enterprises that were already operating in the local market and decided to expand their operations - says Aleksandra Kłonowska-Drozd, Head of Investment Support Team. - In total there were about 80 different projects. Companies that have decided to launch their business in Wroclaw or decided to expand their operations were as many as 18, which is a very good result compared to 2020, when we had 7 projects.
The key investments include the German pharmaceutical company Boerhinger Ingelheim, which has opened a service center in Powstańców Śląskich Street, and the American giant, manufacturer of individual orthodontic braces, Align Technology, which has invested in a production plant in Psie Pole in Wrocław.
- This year we have also refreshed the Invest in Wroclaw and Startup Wroclaw business websites and prepared the latest version of the report on the investment potential of the agglomeration "Driven by Knowledge, People and Innovation". We have not overlooked the clear technological acceleration among entrepreneurs in the region. That is why we have issued a brand new report examining the artificial intelligence sector in the Wroclaw Agglomeration "The AI Sector in the Wroclaw Agglomeration 2021" - summarizes Ewa Sondej, Head of Development Projects Team. - It should also be emphasized that we have introduced a new support tool for key investors. It is the Foreign Employees Support Team established within the ARAW Business Support Centre which is responsible for smooth processes of legalizing work and stay of employees of companies operating in the agglomeration. This is one of Wrocław's additional assets which increases its investment attractiveness - adds Mateusz Jarzombek, Director of Business Support Centre.
- In 2021, cooperation with our partners developed very well, which is very important for ARAW. We supported the promising Concordia Design Accelerator project, carried out as part of the Poland Prize, as well as the extremely important initiative for technical and professional education 3M MAP. We have also cooperated with Knight Frank on the report "Wroclaw city attractiveness and office market" and we have become a partner of the Hays report "Modern forms of employment - enumerates Paulina Muszyńska, responsible for business marketing activities in Business Support Centre.
ARAW also operates a Spatial Analysis Center which is responsible for supporting the city in planning infrastructure development in the context of emerging investments.
- We monitored the housing investment market, collected data, prepared analyses and updated the database on developer investments to assist in the planning of city infrastructure. We have also researched investment processes in the areas of housing and residential-service development - concludes Natalia Kinga Matyja, Director of the Spatial Analysis Center. - Our unit has also reviewed properties for the development of public functions, as well as those with investment potential for commercial activities.
Events not only online anymore
After a difficult year in terms of events in 2020, in 2021 it was possible to organize a large part of cyclical events again in a stationary formula with the participation of the audience. The region's flagship economic event, Made in Wrocław, was organised this year in partnership with Wolves Summit and took place both offline and online.
- Four discussion panels, 23 panelists, over 300 participants, and 20,000 people watching the conference online: that is, in a nutshell, how the fifth edition of Made in Wroclaw can be summed up - says Mateusz Jarzombek, director of Business Support Centre ARAW. - A new feature of this year's edition was the Made in Wroclaw Studio. It was an opportunity to find out what's going on in Wrocław startups and check what international companies operating in Wrocław that develop various innovations are working on. We were able to meet 15 innovative companies and institutions that develop their businesses in Wroclaw. As part of Made in Wroclaw we also organized an international networking event "Softwarehouses, startups, VC and accelerators - how to cooperate effectively within this highly competitive environment". Our partners were ITCorner, SIBB, Wolves Summit and Concordia Design Accelerator.
The company also organized a series of workshops "Startup Wroclaw: Evolutions" (Startup Wroclaw: Ewolucje). Experienced experts were invited to share their knowledge with Wrocław startups, strongly emphasizing the practical dimension of these meetings. Panel discussions "Industry 4.0 - multidisciplinary future" were also continued during the September Economic Forum in Karpacz.
Partnership projects - values measured by indicators
ARAW conducts large projects with external funding to implement specific solutions on a large scale. The beneficiaries of these activities include municipalities, vocational schools and universities. - We will close the year 2021 with quite good results that can be measured with specific indicators. However, the most important is the effect in the form of new quality, which we provide thanks to these projects. For example, we managed to implement investor service standards in several municipalities of Lower Silesia and organize two valuable study visits in Wrocław for their representatives. Thanks to this, the Lower Silesian local governments will certainly have better results in attracting investments in their areas. The second edition of the "Good Internship, Better Tomorrow" (Dobry staż, lepsze jutro) project was also a success: a total of 350 students from 9 schools improved their professional qualifications in 18 specialties through participation in internships and apprenticeships that we organized for them in 120 companies throughout the Wrocław agglomeration - sums up Tomasz Śpiewak, Director of Promotion and Service Centre.
- With EU funding we are also implementing infrastructure projects. In nine municipalities near Wroclaw, work is underway to develop a network of bicycle paths and build P&R and B&R parking lots, for a total cost of over PLN 30 million - adds Dariusz Ostrowski, Managing Director of ARAW. In addition, the company supports migrants residing in Lower Silesia by providing them with a consultation point as part of the "reSTART" project, implemented in cooperation with the Ukraine Foundation, WCRS and the MODE Foundation.
With good results this year the company sums up our flagship project promoting Wrocław as a place to study and the offer of Wrocław universities - Study in Wrocław. Admittedly, the pandemic forced a change in the way we attract foreign candidates to study in Wrocław and the vast majority of educational fairs were moved online. - This change did not reduce the number of high school graduates interested in Wrocław, but what's more, it allowed us to reach new markets. So far, we focused mainly on Eastern European countries and former Soviet republics: Ukraine, Belarus, Russia, Georgia, Moldova. Thanks to online events we reach candidates from such countries and regions as Indonesia, Ethiopia, Vietnam, Kyrgyzstan, Uzbekistan, Turkey, India, Latin America, North Africa - says Mirosław Lebiedź, Project Manager. - In 2021 we attracted a new university to the Study in Wrocław project: Coventry University Wrocław, and during the mission to Kazakhstan we established cooperation with two universities. In November, for new international students we organized a series of meetings of the Study in Wrocław Academy, where practical knowledge was imparted on their stay and study in Wrocław.
Information for the inhabitants of Wrocław in many ways
An important part of ARAW's activity is the implementation of a wide communication policy with the inhabitants of Wrocław, the agglomeration and tourists. The city's websites (Wroclaw.pl, a website with events go.wroclaw.pl and Visitwroclaw.eu for tourists) generated almost 64 million page views this year, which means a significant increase compared to last year - by 10 million page views. - The websites have been used by over 8.2 million users. The highest number of users, 70 thousand, was recorded on October 11, 2021. The content that interests our readers the most is invariably communication information, news from the city life, information on pandemics and vaccination possibilities, tourist information and information on events in Wroclaw and its surroundings - says Ewa Waplak, editor-in-chief of Wroclaw.pl.
Special services were created for the purposes of informing the inhabitants: Wrocław gets vaccinated (Wrocław się szczepi), Elections to housing estate councils (Wybory do rad osiedli), National Population and Housing Census 2021 (Narodowy Spis Powszechny Ludności i Mieszkań 2021), Year of Różewicz (Rok Różewicza), Safely to school (Bezpiecznie do szkoły). In addition, the editors continued cyclical campaigns: 30 Creative of Wroclaw (30 Kreatywnych Wrocławia), How much does Wroclaw cost (Ile kosztuje Wrocław), Gifts from Wroclaw (Prezenty z Wrocławia), as well as prepared special occasional services: service for Easter and Christmas (with the possibility to send, among others, wishes via the Internet, tips on how to prepare the holidays, where to buy from local craftsmen), service for All Saints (transport, guide to necropolises), May Day in Wroclaw and surroundings (offers, events, trips outside Wroclaw). The Environment (a new Green Wroclaw portal) and Business (replaced by the Entrepreneurial Wroclaw portal) were redesigned in a friendly and legible form.
In 2021 the distribution network of the printed edition of Wroclaw.pl newsletter also developed strongly. The weekly is currently available for the citizens of Wroclaw in nearly 260 points throughout the city, including: libraries, shopping malls, discount stores, neighborhood stores, municipal offices, kindergartens and churches. The increase in the number of places where the printed bulletin was available was combined with the frequency of its publication - this year a new issue appeared on average every week. A total of 46 issues were published, including a special issue devoted entirely to the Change the Furnace (Zmień piec) campaign.
The aim of publishing and distributing the city bulletin is to reach a wide group of Wrocław citizens with the most important information concerning transport investments, space revitalization, social actions, changes and investments in housing estates. The publication is of particular interest to those who do not use the Internet on a daily basis as a source of information about the city.
- This year on the pages of wroclaw.pl bulletin we kept up to date on all the most important issues for the citizens of Wrocław, such as investments, transport, events on housing estates, public transport, education - there was certainly no lack of that in our weekly. At the same time we left a lot of space for the citizens of Wrocław themselves, describing their achievements, passions, professional paths and businesses they run. At the end of the year we launched a new series: I'm asking about Wroclaw (Pytam o Wrocław), in which we will be answering various questions of the inhabitants - also the difficult ones - in talks with city officials and representatives of city companies - says Anna Aleksandrowicz, coordinator of Wroclaw.pl bulletin.
After the start in 2020, the video channel Wrocław TV recorded a dynamic growth. It featured 640 videos that generated 1.3 million views, followed by 3.5 million views on channels in other social media. ARAW's Video Department accompanies with a camera the most important events in the life of the city, including its biggest investments or municipal social campaigns such as Change the Furnace (Zmień piec), Wrocław gets vaccinated (Wrocław się szczepi) or WBO. This year we also produced four series of interesting podcasts and conducted over 20 live broadcasts of events. - What we care most about is to be close to the residents, so that our information is useful in everyday life in Wroclaw. That's why we devote a lot of space on Wrocław TV channel to news related to city projects, public transport and investments. We also make sure that our information is accessible for people with limitations. Every week we prepare a special "Summary of the week" service with sign language interpretation - says Janusz Krzeszowski, Head of the Video Department.
Campaigns and events for residents
The campaign "Change your furnace" (Zmień piec) carried out from the beginning of 2020 enjoyed a record interest this year. The wide-ranging campaign made it possible to reach the citizens of Wrocław with information on co-financing offered by the city to replace non-organic heat sources. Announcements appeared in local media, in urban space and on the Internet. All these activities translated into a 50% higher number of applications in comparison with the previous year. - As part of the campaign we managed to reach inhabitants of Wrocław, who have already exchanged their old furnaces and shared their stories with us. This allows us to look at the effects of our actions not only through statistics but also through the real impact on the quality of life of concrete people - says Dorota Osowska, manager of the "Change your furnace" project at ARAW.
The September family picnic in Przedmieście Oławskie called "Saturday with Green Wrocław" (Sobota z Zielonym Wrocławiem) was also a success. It included 500 wingflowers to be exchanged for electro-waste, competitions with prizes, tree planting and the main reason for all the action, i.e. raising awareness of ecology. - Attendance results of the event confirmed our belief that ecology is important for Wrocław citizens. The Frog Path (Żabia Ścieżka) was visited by whole families with children to play together and talk about the "green" aspects of functioning in the city. The picnic was organized for the first time on behalf of the Department of Sustainable Development of the Municipal Office, together with partners, including the City Guard, ZZM, Hydropolis, Ecosystem, The Association for Critical Education and the OnWater Foundation - says project coordinator Robert Reptak.
As in previous years, in 2021 ARAW organized, on behalf of the city, the promotion of project recruitment and voting in the Wrocław Civic Budget. - This year, for the first time, it was possible to vote in three languages - Polish, Ukrainian and English. The voting was attended by 90 thousand people who cast 86 thousand valid votes - summarizes Przemysław Wronecki, Head of the Municipal Projects Department. - The vast majority of voters chose the electronic form. Among the voters there were more seniors and children than last year, which can be considered a success of the promotional campaign.
Throughout the year, ARAW's social projects team promoted the "Wrocław talks" (Wrocław rozmawia) public consultations throughout the city. The consultations concerned "all-city" topics, such as the organization of traffic on the Osobowice Bridges or the design of the water streetcar route. There were also local issues, such as the development of individual backyards.
The editors of Wroclaw.pl awarded distinctions for the seventh time as part of the 30 Creative of Wroclaw (30 Kreatywnych Wrocławia) competition. As in previous years, the winners were recognized in four categories: culture/art/design, business, society/city and science. The project culminated with a gala organized at The Bridge Hotel at Katedralny Square. During the ceremony, the profiles and achievements of this year's winners were officially presented and the statuettes were given to them.
- We will all remember 2021 as the year of waking up after the pandemic. A slow return to normality, punctuated by successive reports of the third and fourth wave - all this will remain with us. But Wroclaw did not stop. As an urban medium and source of information, we reported on the Internet, in print, audio and video form on all the changes affecting us in everyday life or work, to help residents return to normality. We showed that the city, its investments and development have not stopped, that normality is still around us. Our mission and guiding principle for 2022 will remain accessibility and being close to the residents - concludes Adrian Staniszewski, Director of Centre for Social Communication.
Wrocław on more than one podium
The passing year should certainly be remembered for the fact that the capital of Lower Silesia managed to take high positions in many economic rankings. This is a collective success of the city's business ecosystem, the commitment of its authorities and institutions, including ARAW.
Among the rankings prepared in 2021, attention should be drawn to Wrocław's results in the rankings:
- ranking "Modern Business Services Sector in Poland 2021" prepared by ABSL: first place for Wrocław in the subjective ranking according to managers; moreover, the capital of Lower Silesia was ranked high in the following categories: availability of talent pool / highly qualified staff (2), communication accessibility (3), perception of general quality of life (2), cooperation with local universities (2), cooperation with the local investor service unit (3), office space rental costs (2);
- "Business Environment Assessment Study" prepared by Antal, Cushman & Wakefield and Vastint: Wrocław is the best city in Poland both to live and to invest in;
- "Ranking of Polish Cities of the Future 2050", prepared by Saint-Gobain Group and Polish Society for Future Studies: Wrocław in second place among cities of the future;
- a report published by the Startup Poland Foundation - "Polish Startups 2021" - Wrocław in second place;
- FDI report - Wrocław No. 1 in the category of small and medium-sized cities and 15th in the ranking of Global Cities of the Future.