'Bez mikro nie ma makro' : Wroclaw and Sroda Slaska on business development in new business incubator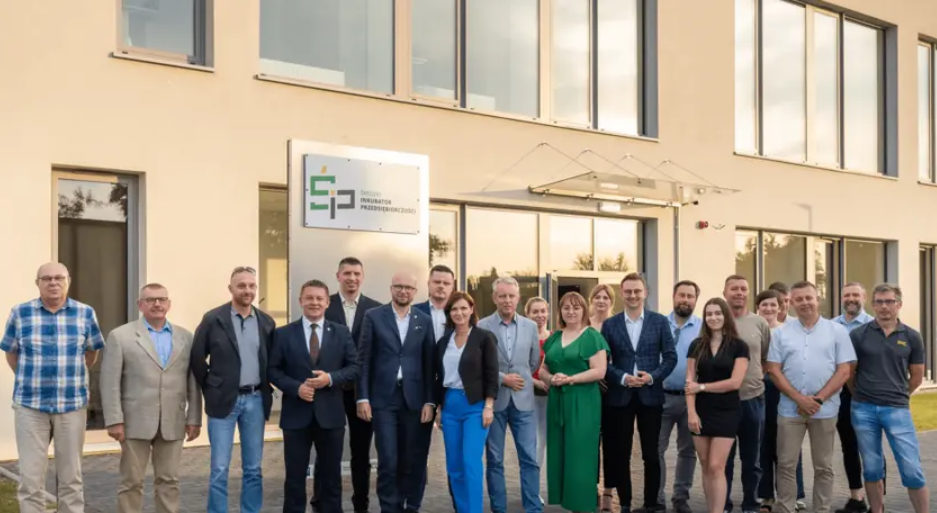 Dozens of entrepreneurs from the Sroda Slaska municipality met at the new business incubator to talk with representatives of the Wroclaw Technology Park, the Wroclaw Agglomeration Development Agency and the Wroclaw and Sroda Slaska mayors about opportunities for regional business development. This was the next installment in the "Bez mikro nie ma makro" project.
"Bez mikro nie ma makro" is a project initiated by the Wroclaw Technology Park. It has already included competitions promoting support for local companies, the creation of a database of information on micro-enterprise, and the Wroclaw Craftsman campaign.
A series of business meetings throughout the agglomeration
Since April this year, Wroclaw Technology Park, together with the Wroclaw Agglomeration Development Agency and the Wroclaw Agglomeration Association, have been conducting a series of meetings with micro-entrepreneurs, covering all municipalities neighboring the province's capital. Their goal is to promote and strengthen companies doing business in the Wrocław Agglomeration.
We are currently the largest and most active voivodeship supporting startups. This is primarily the result of good cooperation. What do we do? We produce knowledge that is useful for entrepreneurs. These are reports from various sectors, we run information services, but we are also active in social communication.

Magdalena Okulowska, president of the Wroclaw Agglomeration Development Agency
Another city, another conversation with entrepreneurs
Another meeting within the framework of the program "Bez mikro nie ma makro" took place on June 21 in Sroda Slaska, in the new business incubator. Giants have been investing in the Sroda Slaska area for years. But also a lot of micro-enterprises are still emerging, looking for business contacts.
- Recently Intel opened, a while earlier a Pepsico factory, many companies have been investing here for years. This fabric has been developing for more than 20 years. For this development to be healthy, for more players to benefit, there must be cooperation between giants and small, medium-sized companies and regional boards. This is the future," said Adam Rucinski, mayor of Sroda Slaska.
Build the right business environment - an incubator in Sroda Slaska
WPT played a key role in its creation.
- The Wroclaw Technology Park supports entrepreneurs in various forms. One of the forms is business incubators, where the path of adventure with business in the broadest sense of the word really begins. Among others, such an incubator was established in Sroda Slaska, for entrepreneurs who want to start their business adventure," said Pawel Korzeniowski, vice-president of the board of directors of the Wroclaw Technology Park in Wroclaw.
During the meeting, entrepreneurs learned what opportunities they will have in it to receive support.
I believe that creating business conditions for the broader Wroclaw agglomeration, among other things, is the role of such institutions and business environment. Our incubator in Sroda is a very young institution, so in fact it will only be creating its position, but it will operate primarily office space, coworking space, training and business consulting. We will also provide support in applying for external funds

Adam Rucinski, Mayor of Sroda Slaska.
We have a lot to offer, but we need discussions, contacts and communication with big companies
Entrepreneurs in the launch of a business incubator in their region see many benefits for their own businesses. As they admitted - in the incubator they will join forces, they will not be a lonely drifting boat.
- We have a lot to offer, but we need discussions, contacts and connectivity with great companies," said one of the entrepreneurs, "This is a place that can bring us together, where we will work, we can meet, talk among ourselves and establish cooperation.
Magdalena Okulowska of ARAW summed up the meeting by pointing out that the business incubator is a place that will form a link for the support that the Wrocław Agglomeration Development Agency can provide. It will scan in one place for many entrepreneurs, which will enable more effective access.
- We presented our offer and training and networking, the one we present to startups, small and large entrepreneurs on a daily basis. Our offer, is primarily knowledge and excellent networking," added Magdalena Okulowska.
"Cooperation, is fuel for the development of the entire region"
It is gratifying that in the heart of Sroda Slaska, dozens of entrepreneurs want to talk about how to build an economy, how to build a community. To talk about how to actually improve the prosperity of not only the municipality, but the entire Wroclaw agglomeration. It's important because we see each other, we see the micro and we see the macro, we also see those connotations and those connections that are so important for the development of business in the agglomeration.

Vice Mayor Jakub Mazur